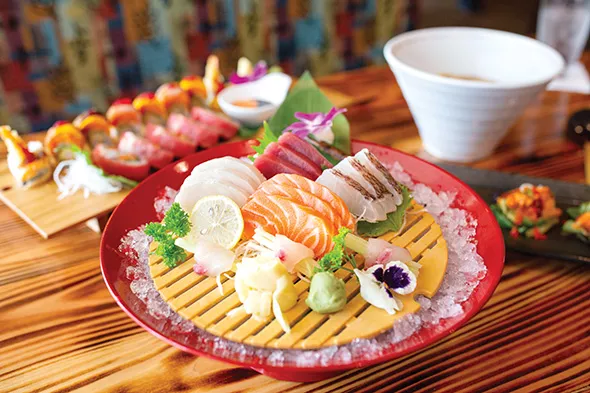 Alexa Ace
Sashimi at Masa Ramen & Sushi is served with artful garnish.
When Masa Ramen & Sushi co-owner Leo Chen told the other owners his idea for a grand opening would be four days of free-food giveaways, it took some convincing that it would be a good idea.
"I wanted to make a big splash," Chen said. "It was like an advertisement so that more people would know about and talk about Masa. I don't care how much money we spend; I want to get the word out and make business better. I knew the sushi chefs and kitchen could handle it."
Chen also runs Szechuan Bistro, which is located across the street from Masa, near the intersection of Memorial Road and Western Avenue, with his wife Sophia. He worked on the Masa concept for over a year and put his blood, sweat and tears into the concept with the help of only a few people to paint and install the bar and other showstopping items like lights leading to the bathrooms. Many days, he was by himself, modeling the space after his own designs.
After all of that hard work, he wanted to think of a gesture that would match his enthusiasm for the restaurant.
"Friends and other [restaurant] owners told me that I was crazy," Chen said. "Maybe now other owners will copy this idea."
Masa didn't place any restrictions on the amount of times a customer could visit for its grand opening free meal, held August 19-22, which included a limited menu for both lunch and dinner.
"The line wrapped all the way outside the building," manager Don Kerr said. "Periodically, I'd go out and talk to people and make sure they knew we were thinking about them. We made everything to-order, and even though we were giving food away, we didn't want to diminish the quality."
Kerr said people came multiple times during the four days, and he has already seen a few of them back in the restaurant to pay in full.
"I love the response we've had from people," Kerr said. "I've already had multiple people say it's the best sushi in OKC. The difference is the quality of ingredients, not just fish, but down to the rice. We spend the money to get a higher grade of rice, and the rice ratio is smaller compared to everything else in there, so you're not getting a mouthful of rice in there, and it's a nice balance with the fish."
Masa offers an extensive sushi selection prepared by trained chefs and presented in an elevated manner with flowers for garnish. It offers 20 chef's special rolls like the house Masa roll with tempura shrimp topped with spicy tuna, eel and yellowtail. The Passion Roll is served to look like a heart as spicy salmon, seaweed salad and crunchy yellowtail line the roll.
They also have seven "crunchy" rolls and five offerings of naruto, which is rolled paper-thin with a cucumber replacing rice, for those looking to reduce their carb intake.
The kitchen staff spends eight hours making the broth for its ramen. Masa is currently serving pork, chicken and miso broth — the latter is vegetarian — but a standalone vegetarian broth is in the works.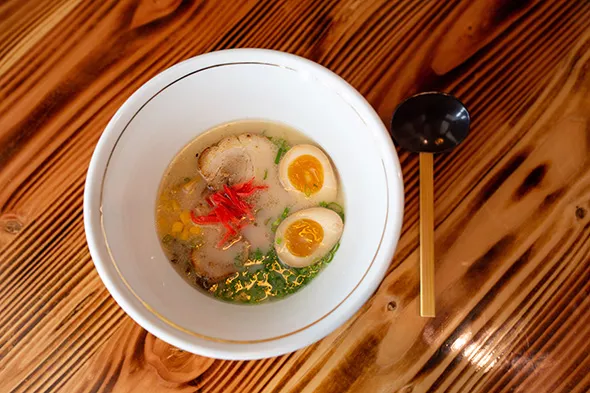 Alexa Ace
Tonkatsu ramen
"It's all homemade and no MSG," Kerr said. "It is low sodium and not like the packets at home where you're dumping a truckload of salt. It is clean, and you can taste the ingredients as well."
Masa even offers its ramen for takeout orders by utilizing a container that separates the broth, noodles and toppings, to replicate the dine-in experience at home.
In addition to offering takeout, Masa sets itself apart from other ramen shops by offering a full bar that features an extensive Japanese liquor selection.
"We're trying to have more of a bar than most sushi places, most Asian restaurants," Kerr said. "We have a full-service bar and not just a choice of wine and sake."
Masa offers a flight of Japanese whiskey for tasting as well as rare bottles like a 16-year Fukano. Kerr said there were only six bottles in the state and they have a 25-year Fukano on order.
Masa also offers Japanese gin and vodka. Its Japanese cocktails are named after flowers. The Carnation is a version of an Old Fashioned with Japanese ingredients. The commitment to Asian-inspired drinks continues to its beer selection, which includes an imported bottle selection as well as local Vanessa House Beer Co.'s ginger and lemongrass lager on tap.
Alexa Ace
A Japanese whiskey flight is part of Masa Ramen & Sushi's extensive offerings of Japanese liquor.
Concept building
The Chens opened Szechuan Bistro in 2011, and they began to search for a home for Masa about a year ago after business partners pushed them to chase the popularity of ramen and sushi in the market.
After a successful opening for Masa, the Chens are already beginning to eye an expansion of the Masa brand over the coming years.
"It gives us more confidence to search for more locations," Sophia Chen said. "We want to keep the quality up here first and then look to expand."
"We're looking to go anywhere from here down to Norman," Leo Chen said.
"We might just have to have free food for four days again," Sophia Chen said in response with a smile.
Visit masaramensushi.com.