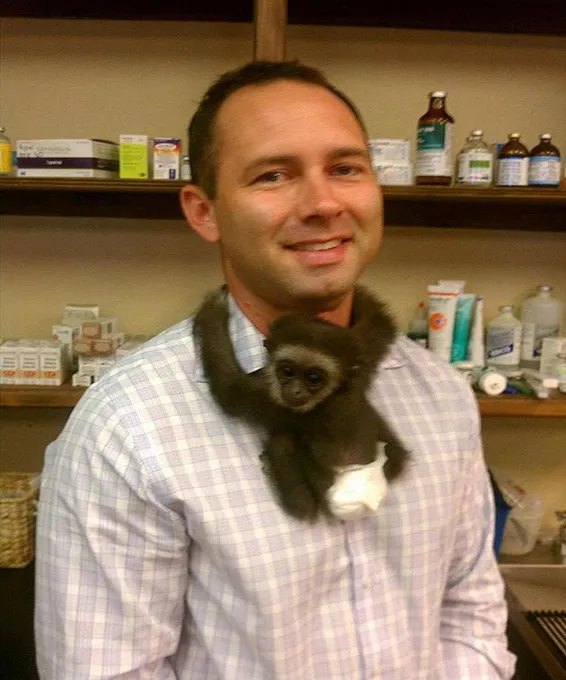 Dustin Brown represents Oklahoma as one of the 20 finalists in the running for America's Favorite Veterinarian.
The finalist from McLoud owns his own clinic, Animal Medical Center, in Midwest City.
He grew up on a farm in Fort Gibson. His love of animals, especially his horse, Shooter, combined with an interest in veterinary medicine when the family was sometimes unable to afford a vet to care for a sick animal.
Now that he owns his own veterinary practice, he strives to offer veterinary services at a reduced rate.
"We wish we could do everything for free," he said. "We love animals, and we love helping people with animals because we recognize that human-animal bond."
His commitment to provide affordable services to pet owners is made possible by The Bella Foundation, an Oklahoma nonprofit that works to financially assist disabled, elderly or low-income pet owners with veterinary needs.
If Brown wins America's Favorite Vet, he said he will donate the $500 prize to The Bella Foundation, and Animal Medical Center will match the donation.
Since he became a clinic owner in November 2007, Brown has focused his practice on animal surgery.
"[My favorite part] is just the freedom of being able to structure my practice the way I want to structure my practice and being able to be the type of practitioner I really want to be instead of having to follow the cookie-cutter mold," he said.
Brown currently ranks around the middle in the contest, and he acknowledged that the competition is tough because many of the other finalists are from larger cities with a higher voting population.
"[The American Veterinary Medical Foundation is] trying to get the public to reconnect with their local veterinarian to see how great their local veterinarian really is," he said. "Whenever people see my name nominated, they start telling me about their local vet. That's exactly what we want. We want you to defend why your vet is better than me."
Brown is using his position as an America's Favorite Vet Finalist to address the way an information source like the Internet can harm pets when their owners don't consult a vet before trying experimental treatments.
"You've got pretty much all of the knowledge known to mankind at your fingertips, but what you don't have is the education to discern that knowledge and use it appropriately," he said. "The knowledge is just a tool, and any tool you don't know how to use correctly can be dangerous or useless."
Specifically, he cautioned that pet owners should check with their local vet before administering flea and tick medication and heartworm treatments found on the Internet. He also warned that homeopathic treatments like essential oils can be toxic to pets.
Brown graduated from Oklahoma State University, one of only 30 veterinary colleges in the U.S., with his doctorate in veterinary medicine.
The America's Favorite Vet award, sponsored by the American Veterinary Medical Association (AVMA), includes a trip to the 2016 AVMA Convention, a year of space highlighting the winner on the AVMA website and a community celebration at the winner's clinic to recognize its staff.
Voting runs through Sept. 1. Readers can vote daily and make donations to Brown's clinic at americasfavoriteveterinarian.org.
---
Print headline: Pet smart, As America votes for its favorite veterinarian, Dustin Brown likes to put his money where his job is.