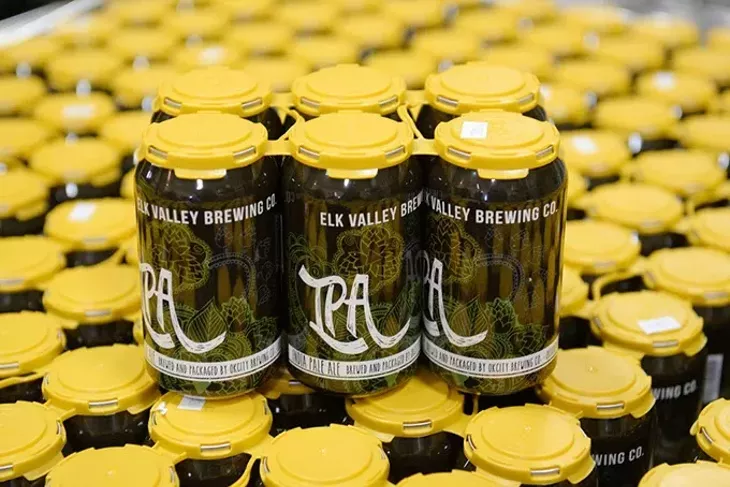 Garett Fisbeck
IPA cans at Elk Valley Brewing Company, Thursday, Dec. 8, 2016.
Editor's note: As part of our continuing coverage of Oklahoma craft beer, Oklahoma Gazette presents "Meet the brewer," a monthly feature profiling beermakers.
Twenty years ago, John Elkins didn't care much about any beer that wasn't Bud Light.
Then came a raspberry porter made by Breckenridge Brewing in Littleton, Colorado. It was like somebody flipped on a switch.
Oklahoma's craft beer lovers should thank their lucky stars for that raspberry porter, because we might not have Elk Valley Brewing Co. without it.
Rave reviews
"I know this beer."
After going through several rounds of tasting, the panelist in Oklahoma Gazette's inaugural Fall Brew Review deeply inhaled the aroma from the glass of beer set in front of him.
"You're in for a treat."
If the rest of the panel didn't know it then, they surely remembered it afterward. Elk Valley's Pumpion Ale earned second place in the rankings, scoring just a fraction of a point lower than Prairie Artisan Ales' Barrel Aged Bomb.
Pumpion is a hit and earned effusive (and expletive-laden) praise from beer review website dontdrinkbeer.com.
"This li'l upstart from Oklahoma out of nowhere just started peppering your baby momma's crib with a 12.4 percent barrel aged pumpkin beer and they put it in a goddamn can," wrote the reviewer. "I will keep my eye on these Elk Valley madmen as it is clear that they give zero fucks and just want to watch the world burn."
Elkins isn't quite so nihilistic. He just wanted a pumpkin beer he enjoyed drinking. In fact, he crafts all his recipes with that goal in mind.
"A beer won't go out until I'm happy with it," he said.
Garett Fisbeck
John Elkins at Elk Valley Brewing Company
Community support
Elkins said he owes his new career to two people: his wife Cynthia and his best friend Dave Dillon. Dillon was the one who pushed him to start home brewing in the first place.
"He really taught me how to get started in brewing," Elkins said. "This was 1999. There wasn't a ton of info online at the time. You had to go talk to people."
After attending the Great American Beer Festival together, they planned to open a brewery, but it never quite worked out.
"Time goes on and Dave moved about the same time I got together with my wife," Elkins said.
Dillon died shortly after John and Cynthia married. Elk Valley's Brother Dave's Chocolate Porter is brewed in his honor.
Elkins stopped brewing for a while after that, but after taking a trip to Colorado with his wife for a belated honeymoon, she urged him to start again.
"It was a fire I couldn't put out," he said. "I started entering competitions and winning."
He gave up his other hobby — racing cars — and focused on beermaking. Before long, his house was packed full of fermenters, so he built a special room in the garage.
Cynthia is a perpetual student, Elkins said, and she continued her education until 2013, when some very expensive secondhand brewing equipment came up for auction.
"She said, 'It's your turn. Go do what you love,'" Elkins said.
He gave up his job as an aircraft mechanic at Tinker Air Force Base, cashed in his mutual funds and bid on the gear.
Using space at friendly breweries, including Battered Boar Brewing Company in Edmond and Choc Beer Company in Krebs, he made brewing his full-time job in 2014 and created two part-time positions to help out.
There's a sense of camaraderie among Oklahoma's craft brewers, he said. They aren't competing with each other to sell more beer. They compete against themselves to make the best beer they can.
Most recently, Elk Valley was sharing space with Mustang Brewing Company. Now, though, he's moving into his own space in Midtown. That doesn't mean he's slowing down production. From December through January, he's releasing five new beers.
One of them, a whiskey barrel-aged mole version of his Nemesis beer, sold out of bottles in less than a day.
"I'm not scared to try something," Elkins said. "I was always a mechanical person. I do a lot of hands-on learning."
In his years of professional brewing, he has only had to dump two batches that didn't turn out.
As he continues, he grows bolder. In addition to creating "crushable" beers like his new IPA, he's also experimenting with wild strains of yeast for new bottle-conditioned beers.
Personal pride
Like many of Oklahoma City's newest breweries, Elk Valley is a labor of love. Sometimes, it's challenging to love the labor, though.
Behind the taproom, Elkins shows off his equipment, both old and new. Much of it comes secondhand from other brewers whose needs outgrew their limitations.
"We used this manual seaming machine to make cans," he said. "We could only do 100 cases on a long day."
But getting closer to the beer has benefits, too.
"When I moved from Choc to [Mustang], there was nothing like having my hands all over the beer," he said. "That's where I wanted to be to begin with."
It makes it even sweeter when he sees someone enjoying one of his beers. Out at a restaurant or a bar where nobody knows he made the brew they're drinking, he watches people order an Elk Valley brew, take their first sip and smile. He said it's a feeling of elation to know he had a hand in that smile.
"It's so much fun," Elkins said. "I get to do what I love doing every day."
Visit elkvalleybrew.com.
Print headline: Meet the brewer, John Elkins' hands-on approach pushes Elk Valley Brewing Co. to the forefront of Oklahoma City's beer scene.