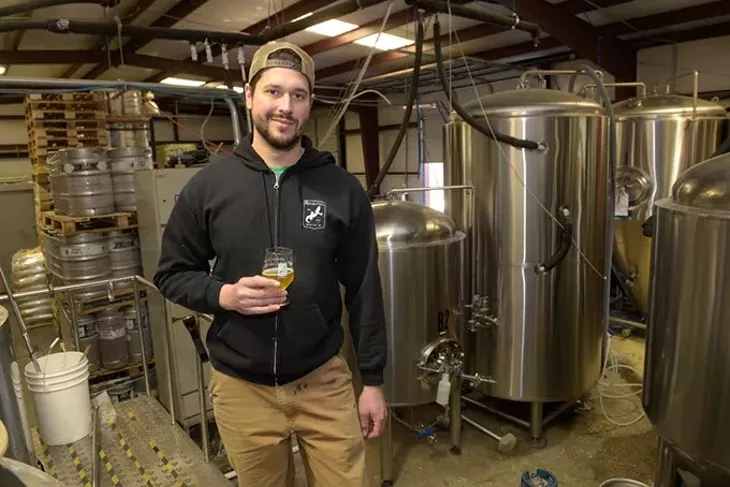 Garett Fisbeck
Head brewer Tony Pielli at Roughtail Brewing Co. in Midwest City, Friday, Feb. 3, 2017.
Editor's note: As part of our continuing coverage of Oklahoma craft beer, Oklahoma Gazette presents "Meet the brewer," a monthly feature profiling beermakers.
Midwest City was not the first choice for Roughtail Brewing Co., said co-owner Blaine Stansel.
Well before the passage of brewery-friendly laws like Senate Bill 424, which made serving cold, full-strength beer in taprooms legal, Stansel and co-owner and head brewer Tony Tielli were ready to settle closer to Oklahoma City.
"We tried to start in Automobile Alley," Stansel said. "We were going to move into this building that was built in 1932 that had never been renovated."
The building needed a lot more work than they could afford, he said.
Roughtail was built with the owners' personal money and help from family and friends, so the added costs were more than the fledgling company could bear. It was Christmas Eve 2012, and their brewery needed a home.
They immediately began looking elsewhere and found a warehouse space in Midwest City. They signed a lease and moved in on Jan. 21, 2013.
Advanced ales
Tielli and Stansel met as members of a homebrewing club in 2010. Tielli handles the recipes and brewing while Stansel handles Roughtail's business management.
"It's a collaborative effort," he said. "Brewing beer is a lot like learning to cook: Once you understand the ingredients, you start to see what works together even before you make it."
Though Roughtail's offerings are IPA (India Pale Ale) heavy, there's not really a base recipe they work from. Every beer is built individually, with different techniques and ingredients used.
"It all comes off the drawing board," Tielli said.
Experimental beers aren't always a huge success, but Roughtail's fans have voracious thirst for its products.
"We sell everything we make as soon as it's packaged," he said.
Liquor stores and distributors know consumers will quickly snap up Roughtail products. That puts a lot of pressure on the team, Tielli said.
But pressure is how diamonds are made, and the beer-loving brewers know they're canning some gems.
It's not that Roughtail can't be enjoyed by beer novices, but its audience is largely made up of experienced craft beer drinkers.
"We are best known for our hop-forward IPAs," he said. "We make a pale ale and a Pilsner, too. Those are good stepping stones to more complex beers, like fruited double IPAs."
Stansel said the company's philosophy is to make beer that is not only interesting, but tasty.
It doesn't take a Ph.D. in brewing to fall in love with the ever-changing Adaptation Ale series, which is one of Tielli's favorites. Judging by the growing number of cases brewed, it's a fan favorite, too. It's is a small-batch IPA series that really lets the brewers play mad scientist with the beer.
A scant 80 cases of Adaptation No. 1 were first brewed in July 2015. The most recent release, Adaptation No. 7, brewed 255 cases.
Like the company's other beers, there's no base recipe for Adaptation. It's different each time, and customer expectations remain high.
"It's become pretty popular," Tielli said. "We can go nuts and incorporate different ingredients and processes."
The latest version uses a trio of hops — Comet, Citra and Mosaic — and a new form of concentrated hops resin and oils called lupulin powder.
"It puts an expectation on us to be good," Tielli said. "We try to live up to it."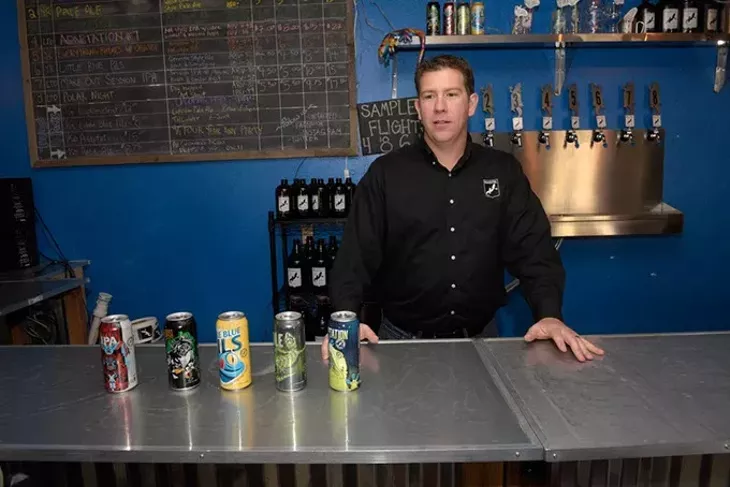 Garett Fisbeck
Blaine Stansel at Roughtail Brewing Co. in Midwest City, Friday, Feb. 3, 2017.
Another round
While SB 424 wasn't the impetus behind starting Roughtail, Stansel said it has helped drive the business to new heights.
"At this point, we are almost doing a new beer each week at the brewery," he said. "What 424 has done has allowed us to make a bunch of beers we never would have been able to make before. And we do make more by selling on-premises, which has allowed us to order more equipment and hire more people."
The weekly productions are smaller, but trying beers no one else will have is part of the novelty of visiting Roughtail Taphouse, 1279 N. Air Depot Blvd., Suite 10, in Midwest City.
"With that said, we are still slammed trying to fulfill all the demand from our current markets, Oklahoma and Kansas," Stansel said.
There has been talk with a few Texas distributors about carrying Roughtail products, but Stansel said adding demand will have to wait until the brewery receives its next batch of equipment.
The market is a much different place today than it was when the company launched. Changes in laws to allow on-premises sales are making it easier for new names to emerge.
"Under the old law, you could only sell to distribution, so you had to go big," Stansel said. "Now, you can start small and still make a go at it."
One thing the brewery isn't worried about is running out of hops, the little green flowers that give Roughtail's beers their signature flavor, despite a looming shortage. Stansel planned ahead.
"We are contracted through 2019 on most of our hops needs right now, so we aren't feeling any discomfort," he said.
While other brewers might lean on older varieties of hops, Roughtail almost exclusively uses new strains that are flavorful and bred to survive most growing conditions better than their relatives.
That will ensure customers can always find their favorite Roughtail brews. And if locals don't have a favorite yet, pull up a stool at the taphouse. There's bound to be a new one poured any minute.
Roughtail Taphouse is open 4-9 p.m. Fridays and noon-9 p.m. Saturdays. Visit roughtailbeer.com or call 405-771-6517.
print headline:
Meet the brewer,
Bold, hops-forward beers help Roughtail
build a diehard fan base.