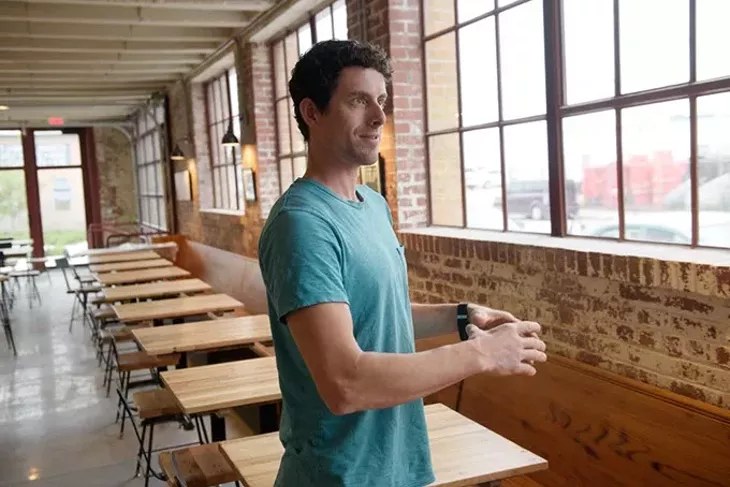 Garett Fisbeck
Joel Irby talks about the progress of his brewery Stonecloud, Wednesday, May 10, 2017.
Editor's note: As part of our continuing coverage of Oklahoma craft beer, Oklahoma Gazette presents "Meet the brewer," a monthly feature profiling beermakers.
Stonecloud Brewing Co. officially opens later this year, but owner Joel Irby was ready to get his business off the ground 12 years ago when he brewed his second batch of beer.
"Thank god I waited," he said. "We would have made some really terrible beer."
The Stillwater native went to school in Colorado and graduated with an economics degree that he immediately decided he never wanted to use. Instead, he stayed in Colorado, trying to break into the brewing industry.
"I finally got hired at Boulder Beer in their shipping department," Irby said. "It wasn't what I wanted to do, but it got my foot in the door."
From there, he moved into packaging, and when a brewer quit, he convinced the company to hire him. About a year later, he got a job at nearby Avery Brewing. That's when his real education began.
"They needed people who could plug and play into their system, which was pretty similar to the system I used at Boulder," he said.
The environment at Avery taught him a lot about collaboration and working with other people's ideas, even if he disagreed with them, in order to make great beer.
"I still think Avery is one of the best breweries in the country," he said.
Irby can claim a small part in every beer that came out while he was working there.
"I loved working at Avery. It was a very progressive company," he said. "But I reached a point where I thought, 'I'm 30. I'm single. This is the best time to start my own brewery.'"
Sophisticated brews
One of the best things about owning a brewery is that he can make whatever kind of beer he wants.
"We're going to brew the kinds of beers I like and our brewers like," he said. "That means IPAs, barrel-aged beers and souring."
Though he'll focus on those areas, he's not about to limit himself to any one style or flavor.
"One of my brewers loves lagering, so of course we're going to do that," he said. "We'll make anything except boring beer."
Irby said he's grateful for the many breweries that focus on products that are friendly to craft beer novices, but that's not his goal.
"We aren't trying to be anybody's first craft beer," he said. "Are we going to have a beer in the taproom that a Bud Light drinker would enjoy? Sure. But we're not going to dumb the beer down just to sell more product."
Quality control
Housed in the old Sunshine Laundry and Cleaners building, 1012 NW First St., Stonecloud has a lot of room to work with. The long taproom used to be the drive-through laundry's drop-off site. The view from the bar goes directly into the brewing facility, so patrons can watch the next batch being made. In the building's lobby, visitors can see the quality control station, which is near and dear to Irby's heart.
"We're doing quality control on a scientific level," he said. "There's no guessing. We're not going to brew one batch of beer that turns out great and wonder why the next batch didn't. Quality control is how you make a great beer every time."
When Stonecloud can start making those great beers is another matter entirely.
"Summer? I'm hoping really soon, but every time I give a date, it turns out I'm wrong," he said.
Once the tanks can be filled and brewing commences, Irby is planning two types of canned beer — a Belgian wit and a grapefruit IPA — followed possibly by a big stout. The taproom will be the brewer's playground. Irby has 19 taps, and he plans to have at least 10 beers ready to pour when it opens.
"What I want is lots of variety," he said. "I want to be tapping new beers every week and keep it exciting."
That is, after all, what he looks for when he visits a taproom. It's no fun to see the same four beers on tap every time.
"I'm always asking, 'What's new?'" he said.
The taproom is where Stonecloud will test new recipes and see what customers like or don't like in real time. The ability to sell one-off beers to customers is not only a big draw for the taproom, but it provides the brewers more flexibility to experiment.
Room to grow
Walking around the space, it's hard to believe there was no roof on the building a year ago. The 90-year-old structure was abandoned for so long that a tree grew through the concrete in the center. A picture of it and the half a pickup truck found next to the tree hangs in the taproom, as if to tell visitors, "Look how far we've come."
In addition to the brewery, there is a space for a restaurant on the other side of the building and for offices upstairs. Irby said he's eager to see what might join him in the space, but he knows he won't have any hand in running it.
"I can't imagine that," he said. "Running a brewery and a taproom will be enough."
But that doesn't mean taproom visitors will go hungry. A garage door with an RV hook-up is waiting for food trucks to visit. Irby envisions having different trucks selling to customers three nights a week. It's a long way from that second batch of homebrew he made in college to see his dream come true. The beer will be much better, too.
Visit stonecloudbrewing.com.