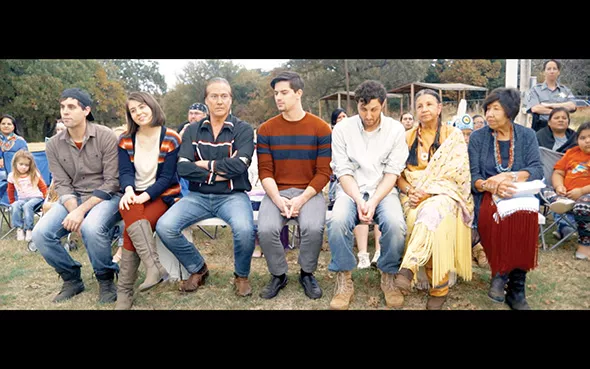 Al Mertens / provided
Lord Finn screens 6:30 p.m. Sept. 14 at Sooner Theatre in Norman.
After premiering in Indonesia in June, a film shot in the Oklahoma City metro in 2016 will have its first public showing in Oklahoma.
Lord Finn — which won awards for best actor, director, screenplay, music and ensemble at the Asia Pacific International Filmmaker Festival & Awards in Jakarta — screens 6:30 p.m. Sept. 14 at Sooner Theatre, 101 E. Main St., in Norman as part of the third annual Norman Film Festival.
Norman Film Festival 3
Sept. 13-14
Downtown Norman
101 E. Main St., Norman
normanfilmfest.com
Free
"This movie is very unconventional; it's nonlinear; it's a different kind of animal," said director and screenwriter Al Mertens. "It's a film that has several different storylines, the main one being about a biracial Native American and Irish individual who has some mental problems, so these storylines kind of twist and turn and then come together in a pretty interesting way at the end. But that's been one of the joys of my creative life here this last several years, to listen in on people trying to describe what it's about."
Ben Richardson, who stars as Daniel Finley and also served as the film's producer and casting director, elaborated.
"It deals with the mashing of two cultures and what it's like to have one foot in each of those cultures without being fully immersed into either one of them while the lead character is also dealing with a mental disability, specifically dissociative identity disorder," Finley said. "Dealing with that as somebody that is all there can be overwhelming and cause anxiety and all these different things, but now you've added another layer, and that's just the main storyline."
The film's other plots focus on Cheer (Sarahjoy Mount), a character Richardson described as "an inmate in a female prison that tells these fantastical stories, this enigmatic person," and Warren (Delno Ebie), a car thief, and Jasmine (Jamie Loy), a prostitute, meeting at a hotel.
"You think these are all really nonsensical and they don't really match," Richardson said, "but then what Al has done is masterfully craft the script to collide all three of these storylines together, to have a really charismatic and cathartic ending that hopefully no one really sees coming but in the end really was inevitable if you look at the clues along the way."
Richardson said the role of Daniel Finley required extensive preparation.
"I spent hours and hours researching dissociative identity disorder. I really wanted to be authentic and true to this mental disability," Richardson said. "I read, actually, three different books on mental disorders, on dissociative identity disorder, on borderline personality disorder and different mental diseases that are similar so that I could get an idea what's not only going on in his brain, but how other people would be possibly affected by that."
He also watched YouTube videos and read articles by medical professionals.
"As much as you prepare for something, though, obviously when you're in the middle of it, it's never going to be quite the same," Richardson said, "and that's where Al's direction really came in stupendously to mesh me together with all of the other components."
Mertens, who previously wrote and directed the short films In This Golden Cage I Must Live and Sacrificios, combined two ideas he had for shorts that seemed thematically linked and added a third plot.
"As a first-time feature director, it was a little intimidating to make that emotional mental leap," Mertens said.
The film, shot over 13 days in November of 2016, also faced an exterior obstacle: a highly contentious presidential election.
"We realized no matter which side of the aisle they were on, people will need time to process it," Richardson said. "So we decided to give ourselves three days off after the election, which is obviously not typical. Usually when you're filming, you're going to film, but we wanted to make sure that everybody was there 100 percent and not coming in with personal views that might change the feel of the film … that our actors and our crew, that everyone was engaged."
provided
Okko's Inn screens 4:15 p.m. Sept. 14 at Sooner Theatre in Norman.
Another locally produced film, Arrows of Outrageous Fortune — written and directed by Mickey Reece and starring Alex Sanchez, Mary Buss, Cate Jones, Michaelene Stephenson and Kinsey Charles — screens at 8:45 p.m. Sept. 14 at Sooner Theatre. The film — which IndyRed called "an off-beat, unusual film that is off-beat and unusual in the best possible way" and Film Threat's Alex Saveliev called "an oddity that left me utterly stumped" was also an official selection of Buffalo Dreams Fantastic Film Festival, Chattanooga Film Festival, Tulsa's Circle Cinema Film Festival and deadCenter Film Festival.
A Poem Is a Naked Person — a documentary Les Blank (Burden of Dreams, The Blues According to Lightnin' Hopkins) filmed at Leon Russell's Grand Lake home recording studio — screens 5:30 p.m. Sept. 14 at Opolis, 113 N. Crawford Ave., in Norman, followed by a music video showcase. Blank filmed the movie between 1972 and 1974, but Russell prevented its commercial release until 2015. Critic Robert Christgau called it an "arty horror movie of a documentary" and Blank's "most ambitious film."
The Norman Film Festival screenings also include short films (with family-friendly and adults-only screenings), features both national (Steam Room Stories: The Movie, The Biggest Little Farm, A Dog's Journey, Lift) and international (Japan's Okko's Inn and Germany's Flesh City) and parties, workshops and a drag show.
The festival runs Sept. 13-14. Admission is free. For a full schedule of events, visit normanfilmfest.com.