© JL Photo Services
Many homes on the Mesta Park Holiday Home Tour feature refurbished or remodeled, updated kitchens like the one in 714 NW 18th St. | Photo JL Photo Services / Mesta Park / provided
Last year, Mesta Park Holiday Home tour raised thousands of dollars for Wilson Arts Integration School, but when the tour began in 1977, its originators had a more modest goal in mind.
"They actually used the proceeds from the first home tour to throw a party for themselves," said Sarah Jordan, who has been co-chairing the tour for the past three years. "They called it a Cold Duck party. Cold Duck was a really popular cheap wine in the late '70s, so they bought a ton of Cold Duck and threw a party."
This year marks the tour's 40th anniversary, and these days, the money from ticket sales goes to Wilson and neighborhood-improvement projects such as replacing the irrigation system in Perle Mesta Park, planting trees and restoring vintage streetlights and signs.
"It all stays right here in the neighborhood in some form or fashion," Jordan said. "All of the things that when you're driving through Mesta Park you see that you really love."
Tickets are free-$15 and can be purchased online and at Full Circle Bookstore, Plenty Mercantile and the Homeland at 18th Street and Western Avenue until Friday or on the day of the tour from any of the five homes being showcased. In addition to those homes and Wilson, which celebrates its own 100th anniversary next year, the tour includes a "refreshment porch" featuring homemade cookies, apple cider, Christmas carolers and Santa Claus. Food trucks will also be on-site, parked on Shartel Avenue between 18th and 19th streets both days of the tour: Yum Yum Bites, Chris' Grill & Frozen Treats and C'est Si Bon Cajun Catfish & Po-Boys on Saturday, and Cook'n It Up, Amore, Parking Lot Party and Yum Yum Bites on Sunday.
The historic Mesta Park neighborhood predates statehood, with its earliest homes built in 1902, Jordan said, but many residents "fled the urban core in the '50s and '60s." In addition to raising money for the neighborhood, the goal of the holiday home tour, according to the neighborhood association's website, is to "show the value of urban living, historic preservation, and community."
"There is a natural curiosity about what it's like to live in an urban neighborhood and in a historic home," Jordan said. "So I think it's really neat for people to come in and see. We have not only a diverse group of homes on the tour architecturally, but we also have a diverse group of families who are on the tour this year. Since I've been chairing the tour for three years, we've had traditional families with children, we've had couples with no children, we've had single men, single women, gay couples — we've had everything, and that's just a really great representation of who lives in Mesta Park."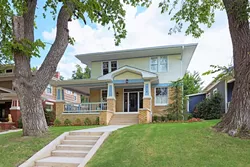 © JL Photo Services
714 NW 18th St. is one of five historic homes on the Mesta Park Holiday Home Tour. | Photo JL Photo Services / Mesta Park / provided
The homes showcased change every year. Jordan said the houses featured on this year's tour show the wide range of possibilities for decorating and renovating a historic home.
"We have two homes that have been just nearly gutted and feel really modern and open and fresh," Jordan said. "And we have one … that was actually a duplex until last year, so that feels really different."
The home at 610 NW 17th St. will be of special interest, Jordan said, because it belongs to one of the owners of Plenty Mercantile.
"I think that will draw a lot of interest just because she has so many neat curiosities in her house and so many personal touches," Jordan said. "Her home is really young and fun and colorful and creative, but it was actually not renovated; it was restored."
Another home on the tour, located at 931 NW 18th St., is the largest house in Mesta Park and was originally built for the bishop of the Methodist-Episcopal Church. A group of Discalced Carmelite, or "barefoot," nuns who had limited contact with the outside world, later lived in the house, as detailed in article published in The Oklahoman in 1947.
Spokies Bike Share will be providing complimentary bicycles on the two-to-three hour tour, and complimentary auto transportation will be provided by Mercedes-Benz, but Jordan said the neighborhood, originally built in close proximity to a street-car stop, is also easily walkable, a quality that helps neighbors become friends.
Visit mestapark.org.
Print headline: Festive framework; Mesta Park Holiday Home Tour returns for its 40th year and showcases the historic district while raising funds for Wilson Arts Integration School.