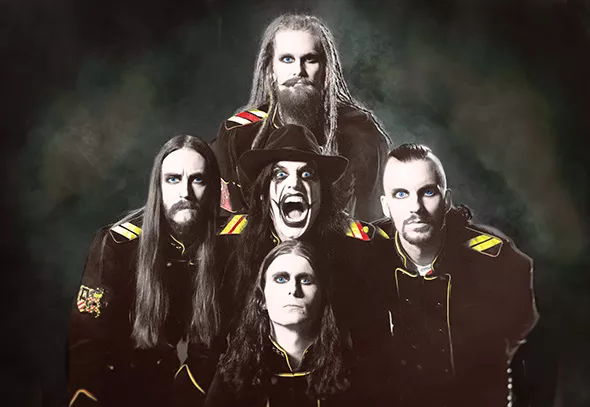 Johan Carlen/provided
Swedish melodic death metal act Avatar plays Diamond Ballroom Friday with Trivium.
If metal were a country, Swedish band Avatar's new album suggests, the boundaries would be hard to define and immigrants would always be welcome.
"It's time to open up the borders of Avatar Country," said lead singer Johannes Eckerström about the band's new concept album set in a fantastic realm where lead guitarist Jonas "Kungen" Jarlsby reigns as royalty. "The King loves you, and you too can become a citizen."
Avatar's previous LP, 2016's Feathers & Flesh, was a concept album about an owl waging war against nature in a tragically flawed plan to stop the sun from rising. Eckerström described it as "a fable to tell a story about our great shortcomings and failures, even when we have all the tools in place to achieve greatness."
For the follow-up, which the band began planning in 2015 while still recording Feathers, Eckerström said Avatar had a simpler, lighter concept in mind: "Let's tell people about Avatar Country."
According to The History of Avatar Country included with the album, the nation "used to be a barren land" until a mysterious stranger appeared.
"High upon a mighty steed rode a lion of a man clad in a red cloak," reads the history. "Tied on his back was a strangely shaped axe with six strings." The sound produced by the king's axe opens up the earth, exposing bountiful metal veins "rich enough to supply the globe with enough heavy nutrition without starving the blackened souls of His Highness' fellow countrymen."
In an interview with Oklahoma Gazette, Eckerström said the album's tone is less serious than previous albums, but he suspects the band will return to exploring the gloomier themes of previous albums Feathers, Hail the Apocalypse and Black Waltz in future releases.
"There were some specific ideas and vibes that were something we also felt we needed to write out of our systems," Eckerström said, "and that was very attractive to do because so much of what we do ends up being in darker rooms so to speak. … That being said, it feels like it did get out of our system and ultimately, I am more interested in exploring darkness than brightness. With brightness, everything is lit up already."
King and Priest
Though the album's themes are lighter than many the band has explored, the sound is an evolution of the genre-spanning style established on previous releases — technically adept melodic death metal bearing influences from '70s progressive and hard rock, Scandinavian extreme metal and occasional classical music flourishes, often within the same song. Eckerström said the band strives to create new sounds by drawing inspiration from other genres, but its heart remains metal, even when recording a catchy crossover track such as "The King Welcomes You to Avatar Country."
"There's somewhat of a country-ish twang to it, but I still view it more as a blues thing, personally," Eckerström said. "But still, it's being driven forward by, to me, a very metal, simple Judas Priest principal that the rhythm section, including the rhythm guitar, is saying 'dun-dun-dun-dun-bum-bah-duh.' … When we started this band, we learned to play music together by playing metal covers together, and then we started to play metal songs. Many of us have dabbled in other things. I have played my fair share of trombone in jazz music … but the only genre where I feel that we as performers have become somewhat proficient — I guess, you know, people pay to see us do it — is metal, so that is at the core of it. That will always somewhat influence how we play our blues licks."
Much of what defines metal for Eckerström is in the performance.
"The physical intensity of metal music is very important," Eckerström said. "We don't just play fast for the sake of fast. … We're not looking for speed as much as we look for the intensity of it, to give our music heavy grooves so you feel that in your spine. The physical intensity of the performance, that's what we love about shredding, that's what we love with harsh vocals. High-pitched falsetto and growls are more common in metal than in pop music for a reason, 'cause we like the physical presence there, and even if we write something that is kind of rocking, it's still an insane riff, and it's still that I've pushed myself to the best of my ability, with those high-pitched motherfuckers of notes that I try to hit, and then we just yell at people after that. That part is what is metal to me, physical intensity. My legs should be tired from singing, not just the throat."
Metallic theater
Playing heavy music is physically demanding, Eckerström said, and writing and singing songs about heavy themes and emotions requires a mental and creative balancing act.
"The performing arts are very interesting like that," Eckerström said, "because in order for it to be good and, in my opinion, to be justified, it needs to come from a real place, but it's an art form, a performance, when you do it. I have written many, many lyrics that are deeply personal and hard for me, but if I would break down and cry every time I would return to performing that song, it would be very hard to do those songs live. It's hard to keep your pitch singing if you're crying or whatever. … One of the things that art is at its core is, of course, expression and it's articulation, an attempt to articulate something that we can't really do otherwise. And once it's been articulated, I think it helps the artist and hopefully also the person on the consuming end of the scale to think through that articulation, which maybe enables us to separate ourselves from the subject of it."
Live, Avatar has a reputation for high-energy theatrical performances with elaborate costumes, but the full stage show the band was touring with as headliners will be scaled back in Oklahoma City, where Avatar is playing support for Trivium. Even in a secondary slot, however, Eckerström is certain the band conducts itself like royalty.
"Production value needs to take a step back compared to what we like to do," Eckerström said, "but production value can always, should always and is always nothing more than icing on an already very yummy cake. … What we have on top is just to try to visually articulate what we are trying to articulate with the music … just to put some icing and candles and edible glitters on an already awesome cake because why the fuck not?"
Visit diamondballroom.com.