Garett Fisbeck
Mark Kranenburg, Airport director, at Will Rogers World Airport in Oklahoma City, Wednesday, April 15, 2015.
Ranked No. 64 nationally in passenger boardings (2013), Will Rogers World Airport is nowhere near the traffic level of enormous hubs like Atlanta, Denver or Chicago. However, given the region's relatively low population level and its proximity to Dallas, which is home to the world's ninth-busiest airport, officials say Will Rogers offers a high level of nonstop service.
"We've got really good air service across the country, and we serve all of the major connecting hubs," said Mark Kranenburg, airports director for Oklahoma City Department of Airports.
Federal Aviation Administration numbers show the city's annual passenger level reached 1.8 million last year. That number represents steady, decade-long increases as it has increased its flight options to include 21 nonstop destinations. More growth is expected, especially with the addition of Seattle service, expected to launch this summer.
"We know that, as Oklahoma City continues to grow, that air travel, the business travel, it's all going to continue to expand," Kranenburg said. "We want to be ready for that increased demand."
Expansion plan
Being prepared for that growth is the goal behind a planned $73 million enhancement, including the largest increase in passenger gates in decades. Renovations in the late 1990s drastically changed the airport's footprint but only added one additional gate.
Mirroring the site's west terminal, the proposed plan would include a new terminal to the east with three more gates, and a possible second phase could add six more.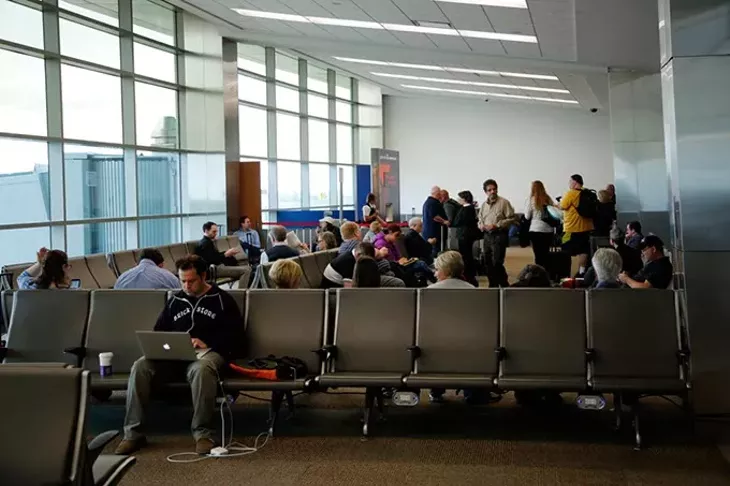 Garett Fisbeck
Terminal at Will Rogers World Airport in Oklahoma City, Wednesday, April 15, 2015.
"Just like Oklahoma City is doing everything to expand its infrastructure and development, we are doing the same thing out here," Kranenburg said. "We know that demand is going to be higher in the future, and we want to be ready."
Airport officials are completing the design phase for the new terminal and are reviewing ways to relocate utilities and a cargo wing. Kranenburg said construction will likely begin in 2016 and be completed in 2018. Once finished, the new terminal could provide the airport with dedicated space for international flights, if Oklahoma City were able to land a nonstop flight to a destination in Mexico, Canada or other foreign country.
"There is an effort across the [airport] industry to look at different ways to process customs and international flights," said Karen Carney, the airport's public information manager.
Will Rogers has no immediate plans for international flights and the airport lacks dedicated space for any type of customs checkpoint. But Carney said airlines are exploring "customs on demand" setups where customs officials might come into OKC once or twice a week to work an international flight.
"Could a group [of customs officials] from Dallas come up and process those passengers?" Carney said. "There are options being considered."
While international flights are not on the immediate wish list, Will Rogers is in conversations with ultra low-cost carriers, such as Spirit Airlines.
"The way they do check-ins are different," Carney said, referring to Spirit Airlines, which offers basic travel without "frills," like on-board drinks, blankets or printed boarding passes at the gate.
Spirit Airlines also uses kiosks at its gates in an effort to cut costs, which Carney said is changing the way airports plan for expansion.
"Those low-cost airlines are focused in lots of regions of the country but aren't focused on central USA right now," Kranenburg said.
In addition to adding new gates, the planned expansion calls for an overhaul of the airport's security checkpoint system. The current central checkpoint was built prior to 9/11, the terrorist attack that changed the way America handles airport security.
"All of those lines [around the checkpoint] weren't here when we build the security gates," Carney said. "They were all added after 9/11 and not planned for."
The plan centralizes the airport's three security checkpoints, including the TSA Pre Enrollment gate, which allows regular fliers to avoid long security lines.
The planned expansion is a few years from being complete, but it represents a belief by the city that air traffic will continue to grow. The past year has demonstrated that growth with higher passenger numbers and the addition of new service to cities like Charlotte, San Francisco and Seattle.
"We know we are going to keep growing as a city," Kranenburg said. "We want to keep up."
Print headline: Nonstop growth, Will Rogers World Airport served almost 2 million passengers in 2013, and that number is growing.