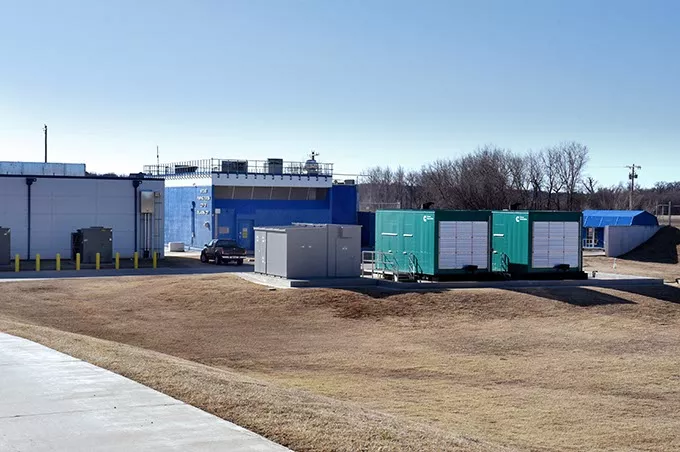 Mark Hancock
Witcher Pump Station of Oklahoma City, 5520 East Hefner Road, 12-23-15.
Water fight
Last week, City Manager Jim Couch received the green light from Oklahoma City Council to negotiate a contract with Severn Trent Services for operating the city's pump station and four wastewater treatment plants.
Earlier this month, Oklahoma City Water Utilities Trust leadership voted unanimously to direct Couch to "negotiate an agreement with Severn Trent Services for the management, operation and maintenance of wastewater treatment facilities, solids management and industrial pretreatment program services." The action item then moved to the council, which granted approval in a concurrent docket vote during its Dec. 22 meeting.
Veolia Water North America – West LLC has a three-decade history with the city and its current operating contract expires Dec. 31, 2016. For the past 28 years, the city has employed a private firm to operate and maintain the facilities.
Ten months ago, the city hired CDM Smith, a consulting firm, to assist in hiring a private firm to begin services Jan. 1, 2017.
In August, Severn Trent made headlines after the Oklahoma Department of Environmental Quality (DEQ) alleged it violated federal and state drinking water laws in the southeastern Oklahoma town of Hugo, where the company was contracted to operate that city's water supply. The DEQ issued a $3.17 million fine to the international, United Kingdom-based corporation.
As a result, during a Nov. 24 meeting, OKC water trust members expressed uneasiness about considering Severn Trent for a wastewater contract. Action was deferred to a Dec. 8 meeting, which featured a presentation by CDM Smith's Susan Foley. She reviewed three proposals received by the city.
CDM Smith recommended Severn Trent based on price, staffing and performance. Severn Trent proposed an annual operating cost of $13.2 million, which is lower than proposals received from CH2M Hill ($14.7 million) and Veolia ($15.1 million). Severn Trent called for 85 staffers, which was a higher number than staffing proposals from its two competitors.
Marsha Slaughter, utilities director, said city leaders performed due diligence by addressing claims made in the DEQ audit — such as violations of Safe Drinking Water Act laws, maintenance deficiencies and inconsistent record-keeping — with DEQ and Severn Trent officials.
"We did meet with (Severn Trent) individually, and they have addressed the problems at this time," Slaughter said during the Dec. 8 water trust meeting.
Specifically, water trust officials said Severn Trent fines concerned Hugo's drinking water operations, not its wastewater operations. Across the United States, the company oversees 237 wastewater facilities and 220 water facilities that serve 4 million customers.
"I am satisfied they are a good organization," said Ward 4 Councilman Pete White, who serves on the water trust. "They can do the job and are committed to do it."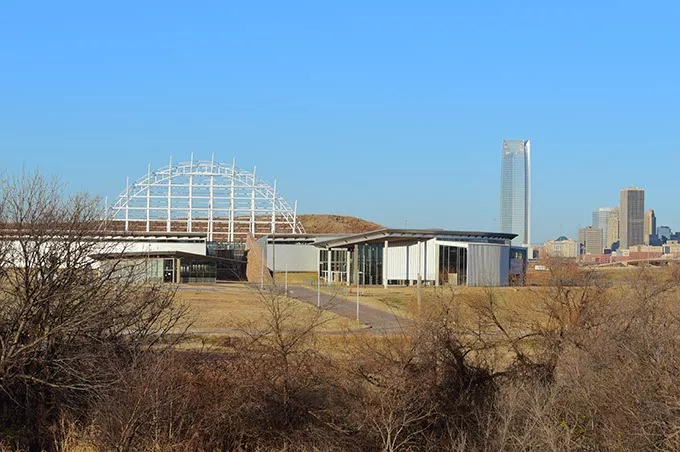 Mark Hancock
The American Indian Cultural Center & Museum sits on the South bank of the Oklahoma River, just southeast of Downtown Oklahoma City, 12-23-15.
Museum funding
New life was breathed into the troubled American Indian Cultural Center and Museum (AICCM) last week when the Chickasaw Nation came forward with a partnership offer 24 days before the agreement deadline.
Last spring, lawmakers authorized a $25 million bond to complete the southside Oklahoma City museum. In 2012, construction was halted after funding ran out. House Bill 2237 called for the City of Oklahoma City to complete and operate the facility. The legislation, signed by Gov. Mary Fallin, included a Jan. 15 deadline for the city and state to reach an agreement.
Before the Dec. 22 Oklahoma City Council committee meeting, it wasn't clear how city officials planned to respond. During that meeting, the Chickasaw Nation offer was presented in a letter signed by Bill Lance, tribe commerce secretary.
"The Chickasaw Nation has long been a strong supporter of The American Indian Cultural Center and Museum," Lance said in an email to Oklahoma Gazette. "As an investor, operator and owner in a variety of diverse businesses, we are pleased to offer to invest in the AICCM for the benefit of the city, the state and the Chickasaw Nation."
The proposed tribal-city partnership calls for the tribe to underwrite a portion of construction completion costs, up to $65 million. Additionally, the tribe would provide financial help of up to $14 million to cover museum operating deficits in its first seven years.
In exchange, the Chickasaw Nation would have the option to develop commercial property around the facility, located near Interstate 35 next to the Oklahoma River.
State officials who wanted to tell the story of Oklahoma's 39 tribes initiated plans to develop the cultural center in 1994.
Museum designs were finished in 2006 and construction is 50 to 60 percent completed. At least $95 million is required to complete construction, according to city-hired consultants.
Even with the state providing $25 million in the sale of bonds and $40 million from private donations, the city faces a $30 million shortfall to finish the center.
Council members David Greenwell, Mark Stonecipher and Mayor Mick Cornett spoke in favor of the tribe's proposal. Council members James Greiner, Ed Shadid, Larry McAtee, Meg Salyer and John Pettis Jr. did not attend the Dec. 22 meeting. And councilman Pete White left the meeting before the tribe made its offer.
"Based upon reports we've seen today, without something like [the Chickasaw offer] — at least speaking solely for myself — there is no way we could go forward with the proposal presented to us by the state," said Greenwell, who acknowledged the tribe's success in the tourism industry. "We don't have the money to complete the [funding] gap from a construction stand point."
The Chickasaw Nation operates the Chickasaw Cultural Center in Sulphur, a museum-like attraction allowing visitors to learn about Chickasaw culture through exhibits, artifacts and special programing. Sulphur is also home to the tribe's Artesian Hotel, Casino and Spa; ARTesian Gallery and Studios; and Chickasaw Retreat & Conference Center.
"Expanding the tourism and hospitality industry in Oklahoma offers an opportunity to further diversify our economy and will provide new employment opportunities and new tax revenues for city and state governments," Lance said.
Legislation prohibits gambling activity on the museum land. Attorney John Michael Williams, who presented the offer, said the tribe has no interest in brining a casino to the riverfront land.
The tribe set a deadline of Jan. 29 to create a partnership with the city. The city can request an extension of its deadline to respond to the state.
Mark Hancock
Existing "Tobacco Free Park" sign at a playground area of Will Rogers Park, off North Portland Avenue in Oklahoma City, 12-23-15.
Smoking rules
Come Jan. 21, smokers will no longer be able to light up in Oklahoma City parks.
Oklahoma City Council passed the ordinance banning smoking in all city-owned and operated property indoors and outdoors, with the exception of streets, alleys and sidewalks. Municipal golf courses and facilities licensed by the Oklahoma Horse Racing Commission were not included in the ban.
The ordinance's author, Ward 4 Councilman Pete White, said he didn't include golf courses because he wanted it to pass "without a lot of hassle."
Ordinance proponents included OKC Beautiful and the American Lung Association.
Violators of the law face a fine of up to $100.
Additionally, the council unanimously approved an ordinance outlawing adults from purchasing vapor products for minors.
State law prohibits businesses from selling vaping products, including electronic cigarettes, to minors.
Violators face up to a $200 fine, which doesn't include court costs, and up to 90 days in jail.