Ben Felder
Mayor Mick Cornett and Jack McHanan or Wilderness Matters were on hand to celebrate the start of construction on the Courage Trail at Martin Park Nature Center.
Appreciating a park can be challenging for guests with disabilities, or even impossible for people in wheelchairs. However, Martin Park Nature Center in Oklahoma City developed a user-friendly trail design for guests with walking, seeing or hearing issues.
"We are able to return to life with the expectation and hope that we will be able to participate as meaningful citizens in all facets of life in Oklahoma City," said Jack McMahan, speaking about his experience as a quadriplegic after a cycling accident in 2004.
McMahan spoke Nov. 12 during a construction launch ceremony for the Jim Thorpe Rehabilitation Hospital Courage Trail at Martin Park. He also helped launch Wilderness Matters, a nonprofit organization that works to help parks more accessible to everyone, which is funding the project.
When complete, the trail will be wheelchair-friendly and include interpretive signage.
Mayor Mick Cornett helped launch the project: "It's going to be a tremendous step forward, there aren't very many of these in the entire United States. I have a sense there is going to be a lot more along the way."
OKC district follows federal health guideline
The Healthy Hunger-Free Kids Act of 2010 prevents schools from serving unhealthy food during school. However, states were allowed to grant exceptions for fundraisers that include fatty foods, such as candy bars and cookies.
The Oklahoma state board of education voted unanimously last month to let districts sidestep the federal law, which some board members called a "gross overreach" by the federal government. Edmond and Norman districts advocated for the exemption, but the OKC school board voted this month to follow federal law.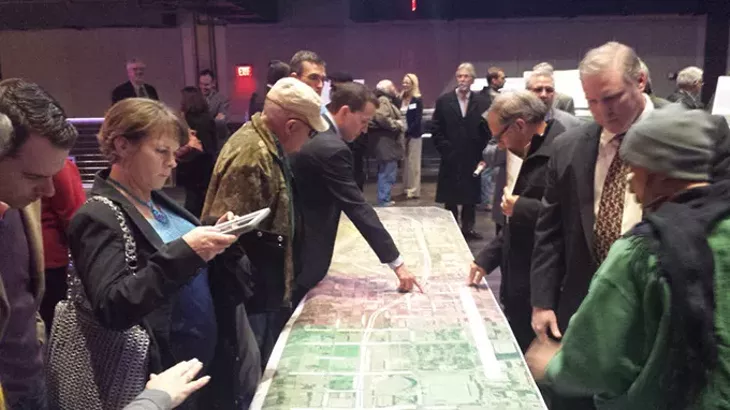 Say what?
"I applaud [the Oklahoma Department of Transportation] for its flexibility to this point, but the lane width of 11 feet is incompatible for this [25 mph] boulevard and I want to advocate for 10-feet lane width," said Tom Perryman, a downtown employee who spoke last week at an ODOT public forum discussing an Oklahoma City Boulevard plan. "If you make an 11-foot lane, you are setting up drivers to fail."
By the numbers
1,692,743. That's how many pounds of food Governor Mary Fallin's Feeding Oklahoma Drive raised throughout the month of October.
Along with half a million in donations, the drive will provide more than 4 million meals for hungry Oklahomans this holiday season.
"I am continually impressed by the support and generosity shown by Oklahomans in all 77 counties, and this year's food drive proves to be no different," Fallin said.
The Feeding Oklahoma Drive benefited the Regional Food Bank of Oklahoma, the Community Food Bank of Eastern Oklahoma and their partner agencies across Oklahoma.
Print headline: Back to nature, Martin Park Nature Center breaks ground on an innovative trail project.