Joe Dorman, candidate for governor, has been silent — sort of — on the same-sex marriage issue
Where does Rep. Joe Dorman stand on the issue of marriage equality?
It's a question some in the LGBT community feel the Democratic candidate for governor has avoided in an effort to avoid potentially alienating himself from conservative voters he might need in November's gubernatorial election.
Dorman didn't provide an official comment regarding this month's legalization of same-sex marriage in Oklahoma, but in previous interviews, he indicated that the court's decision would be one he would support as governor.
"We are just going to have to wait and see what the Supreme Court decides on that issue, and we will have to go from there and make sure the policies [are followed]," Dorman said as a guest in an August Oklahoma Gazette Capital City podcast. "I'm just waiting to see what the law says. I have my own personal feelings on that and just waiting to see what laws will be dictated down. As chief executive, I would have to follow the laws." Dorman did call Gov. Mary Fallin's 2013 attempt to withhold benefits to same-sex members of the National Guard "despicable."
"There is no way I would have done something like that," Dorman said. Dorman also said he supported a public vote to decide the legality of same-sex marriage, which happened in 2004. At that time, 75 percent of voters endorsed a constitutional amendment to ban same-sex unions.
Troy Stevenson of The Equality Network, a local LGBT advocacy group, said he reached out to Dorman on the issue and wished he would be more open about it.
"I think he should be more outspoken on this, but it's important to remember that the LGBT population doesn't identify just as Democrats," Stevenson said. "There are many layers to our community."
While Stevenson would like to hear Dorman publically support the legalization, he doesn't view it as a huge campaign issue because the governor has no say on marriage rights.
"I would say that it's possible that Mr. Dorman doesn't see this as a political issue in the last month of a campaign cycle," Stevenson said. "It's a decision by the Supreme Court and is not something that is going to be decided on by governor."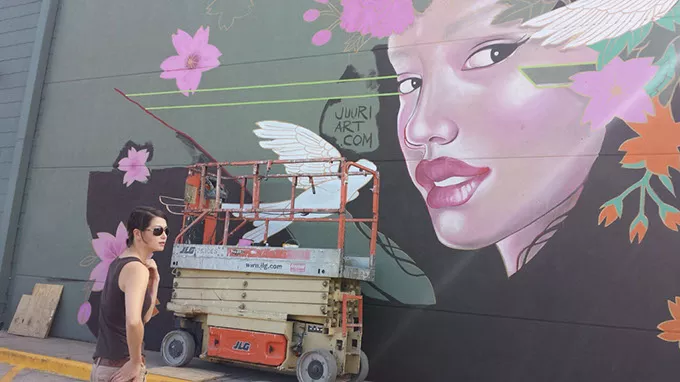 Ben Felder
Julie "Juuri" Robertson is one of several artists working on murals along Western Ave.
Murals add color
With her ash-black hair flowing behind her, Bella faces Western Avenue with her hands cupped in front of her, inviting passersby to join her.
"We wanted this to be something that people would want to stop and take a picture with," said Lauren Miller, one of three artists working on Bella's mural at 37th Street and Western Avenue, which includes the Native American woman and other Okie- centric items.
This is one of five murals going up along Western Avenue. Guests to the 12th annual Taste of Western Culinary Art event on Thursday can sample cuisine from area restaurants and vote on their favorite mural. After the event, the murals will remain as permanent public art, adding character to the up-and-coming neighborhood.
"I think it just brings life [to the neighborhood]," Miller said. "For it to be an everyday part of someone's life, to be able to look forward to driving past murals ... that's important." Learn more at visitwesternavenue.com.
Watch a related Oklahoma Gazette video at wp.me/p4DEDrihX.
Paul Blair, pastor of Fairview Baptist Church in Edmond, with the Sally Kern's "Oklahoma Citizen's Proclamation for Morality" document during a public signing rally at the Oklahoma State Capitol on 7-2-09. Mark Hancock
Say what?
"Academics, politicians and members of the media tell us how peaceful Islam is, but 1,400 years of Islamic history defies that statement," said Paul Blair, the pastor of Fairview Baptist Church in Edmond, at an event last week featuring lectures from people who believe that Islam is dangerous.
Nearly 300 visitors also watched presentations that showed how Islam is a religion allegedly intent on taking over America by force.
Rep. John Bennett, R-Sallisaw, who has gained attention in recent months for his anti-Islamic statements, attended and said he and some colleagues at the Capitol have created an antiterrorism caucus. He then urged the crowd to report suspicious activity to his group.
"We want to hear from you, and we want to know what you are seeing," Bennett said. "We will send that information to the appropriate law enforcement agencies."
MAPS 3 projects underway
Construction is underway on the new Expo Center at State Fair Park as part of MAPS 3.
"Just think about all the event possibilities this modern new building can host once it's open," Mayor Mick Cornett said. "State Fair Park can host bigger and better events for residents to enjoy year- round. It will also attract people from around the state and trade show vendors from around the country."
Ground was also broken on another MAPS 3 project, a new whitewater rafting and kayaking center at the Oklahoma River.
Print headline: Mum's the word?, Joe Dorman, candidate for governor, has been silent — sort of — on the same-sex marriage issue.