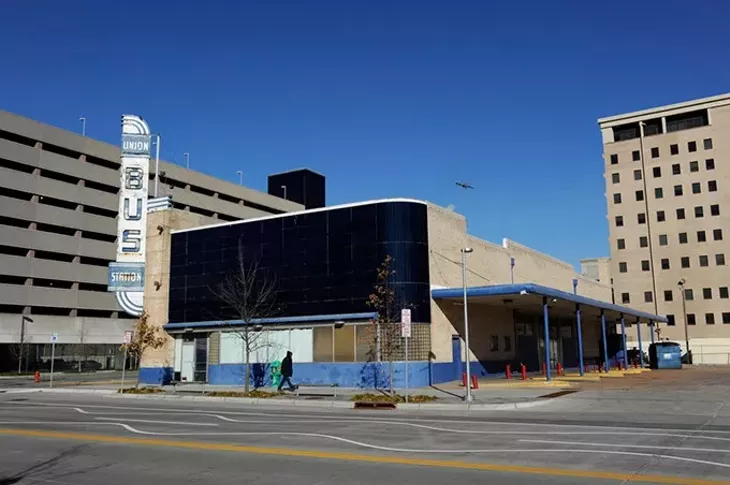 Garett Fisbeck
The abandoned Union Bus Station in Oklahoma City, Tuesday, Jan. 13, 2015.
Following a three-hour hearing last week, Oklahoma City's Downtown Design Review Committee (DDRC) voted to approve a developer's request to demolish nine historic buildings downtown to make way for a new high-rise and parking garage.
Developers of the proposed 499 Sheridan development asked permission to demolish a city block west of Devon Energy Tower and argued it was not cost-effective to restore any of the nine historic buildings, including Union Bus Station, which served as the Greyhound bus terminal for nearly 80 years.
"It might not be a happy thought for some, but [demolition] is the reality of where we are," said David Box, an attorney representing 499 Sheridan.
The city's planning department had recommended the bus station be preserved and a planned parking garage be relocated.
Body cameras
OKC police will experiment with body cameras, a technology that has grown in popularity in law enforcement following a year of high-profile use-of-force cases across the country.
City Manager Jim Couch told the Oklahoma City Council last week that the city would seek a vendor to supply 100 body cameras for a one-year pilot program at a cost of $405,000 for cameras, hardware and additional staff.
Police Chief Bill Citty said he was supportive of the idea but cautioned there are still details to work out.
"Body-worn cameras are kind of inevitable, and officers seem to be really receptive of the body-worn cameras," Citty said.
He said four additional employees would need to be hired just to handle the management of footage, including responses to open records requests.
Citty also said the department would have to determine when cameras would be allowed to be turned off.
A new state law (House Bill 2676) passed by the Legislature last year clarifies that all police footage captured from dashboard and body cameras is open for public request. The bill does allow police to not release video that depicts a fatality, nudity or a minor. Footage used in internal investigations is also not subject to release until the investigations are complete.
"We created some exceptions that didn't already exist," said Sen. David Holt, R-OKC, who co-sponsored the bill. "Before the law, you had to give up everything, but we added uniformed treatment that included exceptions on releasing video."
Wheeler District
A new urban community continues to build momentum with the addition of a new project administrator.
The Wheeler District, a proposed neighborhood and development across the Oklahoma River from downtown OKC on the property of the old Downtown Airpark, launched a planning process last year with a series of public meetings and casting a vision for a walkable, bikeable, community-oriented neighborhood.
This month, Blair Humphreys, a developer with The Humphreys Company, announced the addition of Ashley Terry as project administrator, a full-time position that will provide executive support and coordinate communications, events and meetings.
Humphreys said he hopes to break ground on residential development later this year with the first residents moving in sometime in 2016.
By the numbers
$61. OKC residents can purchase a rain barrel for that price through a city program that works with the Central Oklahoma Storm Water Alliance (COSWA).
The organizations are offering a discounted rain barrels online at upcycle-products.com starting at $61 plus a $2.50 online handling fee. Residents should click on "order forms" on the right side of the web page and choose "Oklahoma City." The ordering deadline is March 15.
"Rain barrels collect water that drains from your home's gutter system," Environmental Protection Manager Raymond Melton said. "And it's free."
Rain barrels ordered online can be picked up between 10 a.m. and 6 p.m. on March 20 or between 9 a.m. and 1 p.m. on March 21 from the Household Hazardous Waste Collection Facility, 1621 S. Portland Ave.
Say what?
"A generation [of residents] still believes the ballpark has always been downtown and the river has always had water … because that's the city they have grown up [in] because that's the city you created for them," OKC Mayor Mick Cornett said last week during his annual state of the city address.
Visit the news page at okgazette.com to read six things you should know about his address.
Print headline: Park(ing) place, DDRC approves a downtown demolition that includes Union Bus Station.