Racing along
Oklahoma City-based Team Arapahoe Resources, a men's domestic elite bicycle racing team, placed second in the first two regional races of its inaugural season last month in Texas.
Team Arapahoe Resources plans to compete in its first local race Saturday and Sunday at the Salty and Tall Race in Mannford. It also will compete in national competitions during the 2015 racing season at USA Cycling events like the National Criterium Calendar and National Racing Calendar.
The team will also participate in Oklahoma City's Wheeler Criterium races when they begin March 24, continuing each Tuesday through September at Downtown OKC Airpark.
Muslim Day
The Oklahoma State Capitol commonly serves as the site for yearly advocacy events by all types of organizations, associations and community groups. Friday, it was the site of the first annual Oklahoma Muslim Day at the Capitol.
The Oklahoma chapter of the Council on American-Islamic Relations (CAIR) announced that registration for the event exceeded capacity despite organized anti-Muslim protests.
The Interfaith Alliance of Oklahoma and the Oklahoma Conference of Churches also helped coordinate escorts for Muslim attendees into the Capitol to ensure their safety.
"We are truly appreciative of the support for this event that Oklahoma's Muslim community has witnessed from our elected officials, law enforcement authorities and the interfaith partners," said CAIR Executive Director Adam Soltani. "Our goal is to encourage Oklahoma Muslims to be active participants in the democratic process, and this event is our first step in making that possible."
Bike ordinance
Councilman Pat Ryan has proposed another change to the city's bicycle ordinance, this time adding language that mirrors the state's bicycle law.
The proposed addition, which was introduced last week, would prohibit cyclists from passing vehicles between lanes of traffic traveling in the same direction. The proposal is set for a Tuesday vote.
"The ordinance change would allow police officers to issue violators a traffic ticket," Ryan said in a statement. "Right now, officers can only try to enforce a violation by asking a prosecutor to pursue a criminal misdemeanor charge. That is a burden on law enforcement and too serious of a charge for violators."
Out-going director, Kristen Vails, gives a report during the State of the Plaza event, Wednesday, 2-25-15. mh
By the numbers
As the Plaza District Association celebrated another year at its third annual State of the Plaza, a list of numbers from the urban district told the story of how viable the district has become.
Slices of pizza sold last year by Empire Slice House: 389,370. Pies purchased at Pie Junkie: 19,538. Employees in the district: 365. New businesses to open last year: 10. Total businesses in the district: 38.
"It's just crazy to me to think about these [numbers]," said Plaza District Association Executive Director Kristen Vails during Wednesday's State of the Plaza event.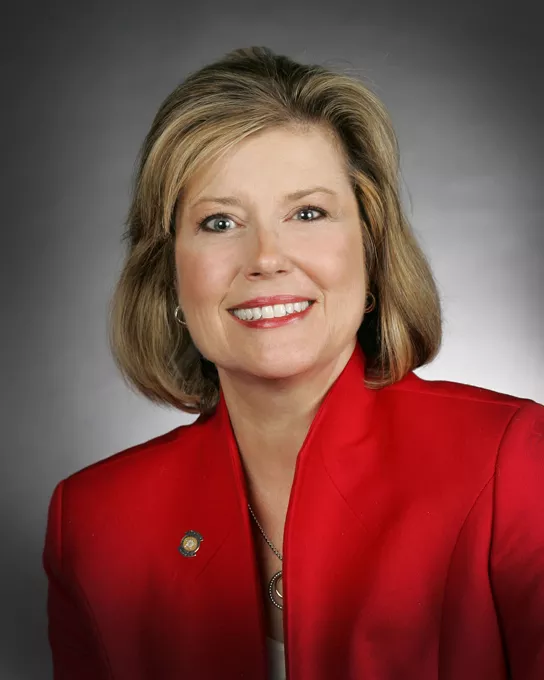 Quotable
"There were many in the homosexual community that were abused as children … and maybe the parent didn't know [because] the child didn't feel like they could talk about it," Rep. Pam Peterson (pictutred) said in offering her support for a conversion therapy bill last week. "What I proposed to some of the opponents to this bill is what if [a] parent is seeing a different characteristic in their child, [like gender identity], because of a sexual abuse situation that may not be discovered? This family says, 'I am going to take you to counseling for gender identity counseling.' From my perspective, I thought we might be able to discover an awful person out there who is abusing a child because the symptoms [of that abuse] are coming as a gender identity [problem]."
House Bill 1598, by Rep. Sally Kern, would strengthen the rights parents have to take their child to conversion therapy to change same-sex attraction or transgender characteristics