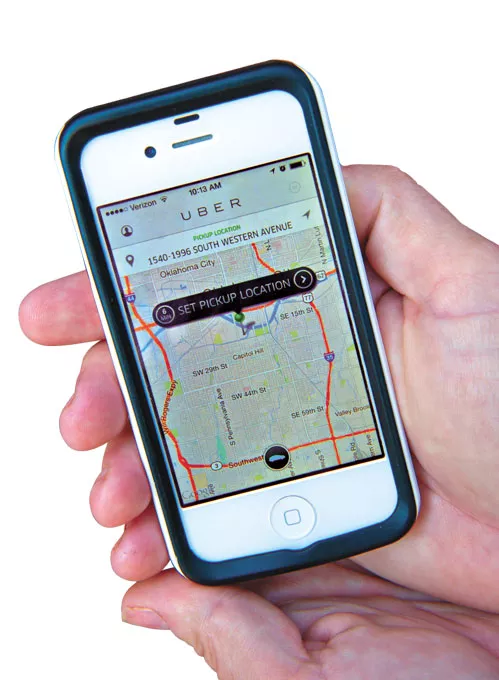 A new ordinance regulating rideshare companies like Uber and Lyft went into effect Nov. 22, and companies have 30 days to submit applications for a license to operate legally in OKC.
Assistant City Manager MT Berry said both Uber and Lyft have requested license applications and if those applications are submitted to the city by Friday, the city's traffic and transportation commission could vote to approve them at its Dec. 15 meeting.
If that happens, individual drivers for Uber and Lyft will have 60 days to complete physicals and vehicle inspection and apply for a permit.
"We can't issue any driver permits until the licenses have been issued and approved to Uber and Lyft," Berry said. "It really depends on when their application is approved."
If applications from Uber or Lyft are submitted after Dec. 15, the next opportunity for the traffic and transportation commission to review the application would be Jan. 23. Approval on that date would begin the 60-day window for drivers to apply for permits.
After months of discussion and debate, the Oklahoma City Council voted to require drivers of rideshare companies to obtain a $30 permit and pass a medical physical, background check and vehicle inspection. The council also changed regulations for traditional taxi companies. The new regulations now allow them to incorporate higher fares during peak hours.
Uber and Lyft criticized the city's new regulations, and representatives of the two companies say legislation at the state level is likely to be pushed next year in an effort to reduce regulations over rideshare companies operating in Oklahoma.
By the numbers
$1.5 million. That's how much Langston University was recently awarded from the U.S. Department of Agriculture to go toward agriculture research projects, such as the Goat Research Extension Program, which has partnered with OKC to supply nearly 20 goats to help control weed and grass growth along the Hefner Canal.
Oklahoma gets NCLB waiver
Under the No Child Left Behind act, states must demonstrate high academic standards. Following the Oklahoma Legislature's decision to do away with Common Core earlier this year, the U.S. Department of Education denied a waiver request that gives Oklahoma schools more flexibility in administering federal funds.
Following the waiver denial in August, the Department of Education announced last month it had reversed its decision and would approve the waiver.
"The ramifications of losing the waiver would have been significant and with potentially disastrous consequences," said Janet Barresi, state superintendent of public instruction, on Monday. "Instead, Oklahoma now has an opportunity to build upon the innovations and successful reforms of recent years."
Oklahoma's waiver comes with stipulations to consider graduation rates in its academic assessments and demonstrate high-quality statewide assessments in certain grades.
OKC Superintendent Robert Neu, who criticized both sides of the Common Core debate when the waiver was originally pulled, said Monday's announcement was good news for the state's largest district.
"This is a great day for the students of Oklahoma City Public Schools," Neu said on the day of the announcements. "The reinstatement of the No Child Left Behind waiver means our teachers and administrators have a clear plan and accountability measure in place. The decision from the U.S. Department of Education ends the speculation of how we will move forward and allows us to fully focus on the work of educating students."
Say what?
"When we have community partners dedicated to the youth of Oklahoma County like the Oklahoma Association of Professional Landmen to co-host this event, and a celebrity like Russell Westbrook who takes time to show gratitude to our Club members, it's really something special," said Jane Sutter, President & CEO of the Boys & Girls Clubs of Oklahoma City after an event last month featuring Westbrook, who served food and gave away autographed prizes.
Over 600 people attended the club's 14th annual Thanksgiving dinner, and it was the third year that Westbrook's Why Not? Foundation has co-hosted the event and the first year to co-host with the Oklahoma City Association of Professional Landmen.
In the neighborhood
Oklahoma City is home to an estimated 100,000 Hispanic residents, which is double the population of just 10 years ago.
David Castillo, president of the Greater Oklahoma City Hispanic Chamber of Commerce, says the Hispanic community's growth is transforming the chamber's role in the local economy.
"We are starting to see the [Hispanic] community evolve," Castillo said. "Before, what we had was landscapers working for other companies, many Hispanics working for roofing companies and in construction trade, stuff like that. Now they are becoming owners [of their own businesses], and that is the next step. We feel like the Latino community is starting to take the next step."
Castillo and the Hispanic chamber celebrated the opening of a new office last week in south OKC, the hub of the city's Latino community.
"The best part [of the new building] is the presence is right in the middle of the community," Castillo said.
The Hispanic chamber works with many Latino businesses and offers business training services, including free seminars on permits, licenses and financing each Tuesday.
Do it
OKC's rainbow trout season began Dec. 1 at Dolese Youth Park Pond, 5105 NW 50 St., and runs through Feb. 28.
The city says approximately 2,400 pounds of rainbow trout will be stocked during the thirteen-week season.
The fish will average 3/4-pound in weight, and 90 percent of the fish will be 9 to 14 inches long.
The remaining 10 percent will be trophy fish, approaching 24 inches long, according to the city's Fisheries Biologist, Bob Martin.
Anglers between ages 16 and 62 must have a state fishing license and a city fishing permit. City fishing permits are $3.50 for a daily permit and $18.50 for an annual permit.
The city will also host a free family trout fishing clinic 7 p.m. Jan. 16 at the Putnam City High School Gymnasium, 5300 NW 50th St.
Print headline: Ticking clock, Uber and Lyft have 30 days to submit their applications in compliance with a new city ordinance.