Cooking a turkey is bonkers, right?
It's 1,000 pounds and you had to start defrosting it a few days before it was frozen and there's no way that thing is fitting in your oven, so you have a team of arsonists in the backyard just setting fire to it again and again while you're inside mashing potatoes and stuffing stuffings.
Unless your mom does it. That's OK. Moms can handle anything.
But you! It's not fair to expect you to cook Thanksgiving dinner! That might be why the fairness experts at many Oklahoma City restaurants are happy to do the cooking for you. Fair warning: You might want to call ahead, because while reservations are not required everywhere, they are highly recommended.
Shannon Cornman
Plank Salmon at Deep Fork Grille, FILE, 5-1-2013.
Deep Fork Grill
5418 N. Western Ave.
848-7678
One of the city's more traditional Thanksgiving spots, Deep Fork offers a set menu on Thursday from 11 a.m. to 10 p.m. That day's fare features traditional turkey and dressing for $45, filet mignon for $65 and cedar plank salmon for $45. Walk-ins are welcome, but there might be quite a wait.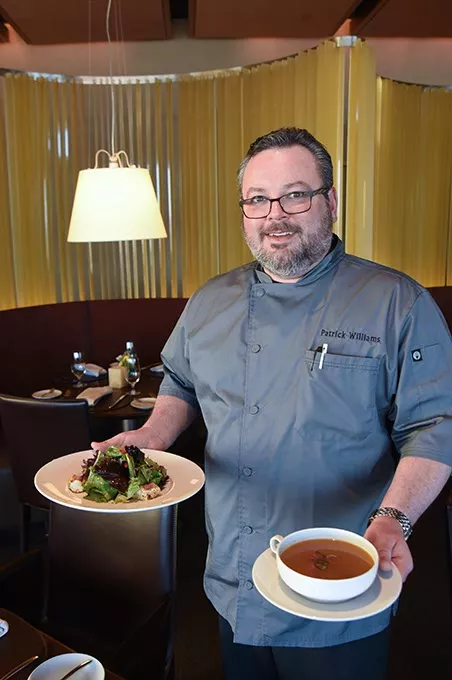 File Mark Hancock
Executive Chef Patrick Williams brings out a Mixed Greens, Goat Cheese Bouchon Salad, and a Squash Bisque soup at Vast, 1-6-2015.
Vast
333 W. Sheridan Ave.
702-7262
For a Thanksgiving view from the top of the city, Vast is doing a buffet-style meal from 10:30 a.m. to 2:30 p.m. Its Daily Table will be filled with traditional dishes for $49 per person (or $25 for those 12 and under). Reservations are recommended, but Vast is, well, pretty vast and has plenty private dining spaces for larger parties.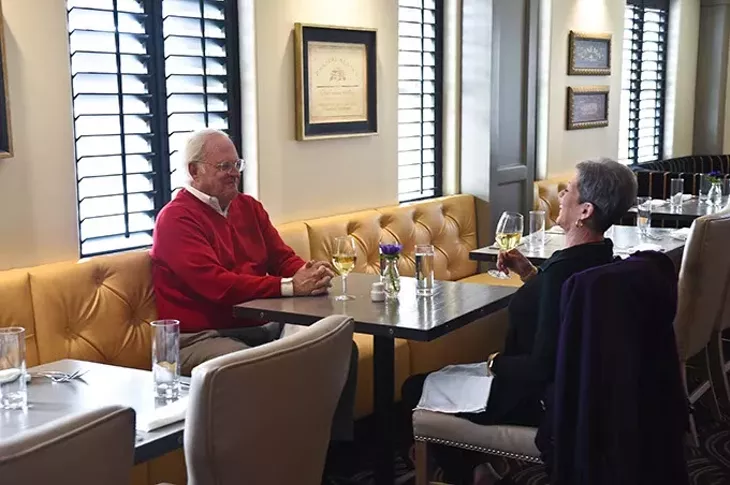 File Mark Hancock
A couple enjoys wine as they wait for their food to be served, 11-14-2014, In MidTown, Oklahoma City.
Viceroy Grille
1200 N. Walker Ave.
898-8120
Though this fine-dining spot inside the Ambassador Hotel is always booked up, a little bird said there are invariably a few last-minute cancellations and no-shows. At $35 each, the four-course menu has a choice of favorites including honey-glazed ham, roasted turkey, dijon-crusted Scottish salmon and a killer pumpkin roll cake for dessert.
Chef Elizabeth Howe places her 8 oz filet with potatoes, sauteed broccolini, and bone-marrow demiglace, on a table at Flint. mh
Flint
15 N. Robinson Ave.
605-0657
Another hotel option, Flint, is inside the Colcord Hotel and will be serving traditional, family-style Thanksgiving dinners all day for $22 per person. Reservations aren't required, but it's probably wise to call ahead, just in case. One big plus: The restaurant is open from 6 a.m. to midnight, so you can definitely get that late-night Thanksgiving itch scratched.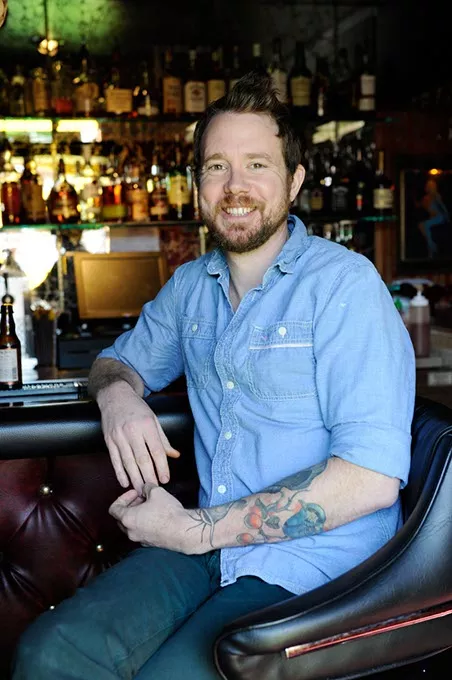 Garett Fisbeck
Jonathan Stranger at The R&J Lounge and Supper Club in Oklahoma City, Friday, March 6, 2015.
The R&J Lounge and Supper Club
320 NW 10th St.
602-5066
Reservations are encouraged, though not mandatory, for this Chinese food-themed Thanksgiving meal, replete with Peking duck. R&J's will open at 5 p.m. Drinking is not mandatory either, but, c'mon — you know you'll have a couple.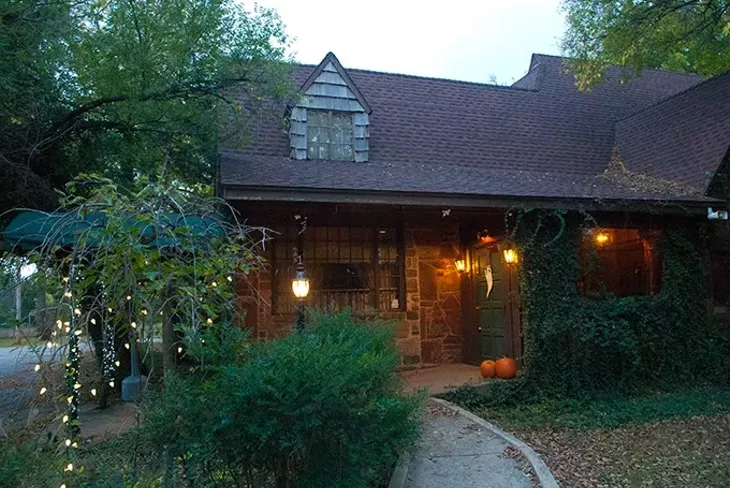 7101 Miramar Boulivard, spoooky. mh
J. Bruner's at the Haunted House
7101 N. Miramar Blvd.
478-1417
After reopening earlier this year as J. Bruner's at the Haunted House, this classic Oklahoma City dining spot is doing Thanksgiving starting at 5 p.m. with a traditional turkey roasted dinner, prime rib and other selections from its menu. The turkey meal is $29 and includes cranberry salad, turkey and dressing, mashed potatoes and gravy, candied yams, corn casserole, rolls and a pumpkin cranberry bash for dessert.
Print Headline: Turkey time, It's okay if you don't feel like cooking Thanksgiving dinner; OKC restaurants will take care of it.