C'est Si Bon owner, Ken Mills, with a plate of fresh fried catfish. mh
The crossroads of the world is in Midwest City. No, seriously.
Oklahoma City has plenty of districts, but anyone looking for the widest variety of cuisines need look no farther than the area around Tinker Air Force Base, 3001 South Douglas Blvd. Service members travel the world, fall in love, marry and get transferred here. Families are raised here. Businesses begin here.
Sweet Ukraine
Just up the road from Tinker is a hopping little breakfast-and-lunch spot with an interesting origin.
Creperie & European Cafe, 2839 S. Douglas Blvd., began in 2013 when Ukraine-born Genna Ivashchenko decided to open a restaurant.
Crêpes might be strongly associated with France, but in truth, these ultra-thin and pliable pancakes have spread all over Europe, wrapping themselves around flavors from every nationality.
Owner, Genna Ivashchenko, folds the cooked chorizo, egg, bell pepper, onion and jack cheese crepe, at Creperie European Cafe. mh
Ivashchenko said in Ukraine, the crêpes are called blini.
"It's the same thing, but it's called a different name," she said. "I've had French groups who come in and people who come up to me speaking French."
The menu at Creperie is just as eclectic, with sweet and savory crêpe options and other European delicacies. For breakfast, it's hard to resist a French toast crêpe ($3.50) with brown sugar, butter and cinnamon or a classic combo of Spanish chorizo, eggs, peppers, onions and cheese ($5).
But an even heartier choice is a traditional Shepherd's pie for $6.99. It's a casserole of ground beef, onions and veggies under a canopy of cheesy mashed potatoes. Or go a little more exotic with pelmeni ($6.50) and pierogi ($6) dumplings, which are just as filling and quite delicious.
Korean competition
Though Oklahoma City's Asian District is largely populated by Vietnamese restaurants, many of its Korean restaurants are in the Mid-Del area.
For a full restaurant experience, Korean House, 4813 SE 29th St., is the best place to stop.
There's sushi on the menu, but those going to experience the Korean food should focus on the spicy pork stew kimchi chigae ($10) or bibimbab ($10), a mix of vegetables and beef, spicy sauce and steamed rice that has become a local favorite.
A different experience can be found at OK Ko-Mart, 6000 SE 15th St., which is a grocery and convenience store with a Korean barbecue in the back. Be sure to enjoy the banchan, a free smattering of sauces, condiments and small bites that comes with most meals.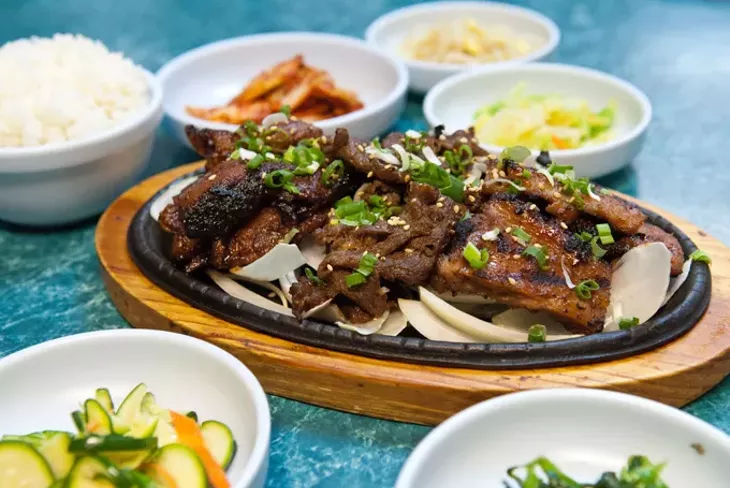 Hawaiian BBQ includes BBQ Short Ribs, pork and beef Bul Go gi, at OK KO-Mart in MWC. mh
Indian jones
A newcomer to the area is Fusion Kitchen, 1100 S. Air Depot Blvd., which serves both deli-style sandwiches and a rotating menu of Indian curries.
It's a great place for adventurous foodies and their more staid friends to meet up for lunch — there's spicy chicken pesto curry for one and a BLT wrap for the other.
Ruhi Patel and her husband Rupal run the restaurant and share ownership with another two investors. She takes great care in cooking healthy, homestyle curries each day.
"I don't add a lot of oil and no preservatives," she said. "It's strictly how I'd cook at home."
The curries change daily and do not carry over, so customers can always be assured of fresh foods and new flavors.
"Every day you come in, it's an adventure," Patel said.
The most popular sandwich on the menu, the chicken tikka, is another of her recipes. But the restaurant is also expanding its selection of tacos, adding a fish option to the current chicken and vegetable varieties.
Whichever way a customer chooses, the can't-miss appetizer is samosas ($2.99 for two), which pack potatoes, peas and spice inside a crispy fried pyramid of flavor.
Though it does more than fried food, it's hard to deny the draw of fried frog legs and boudin balls at C'est Si Bon Cajun Catfish & Po-Boys, 101 N. Douglas Blvd. and 5501 Main St.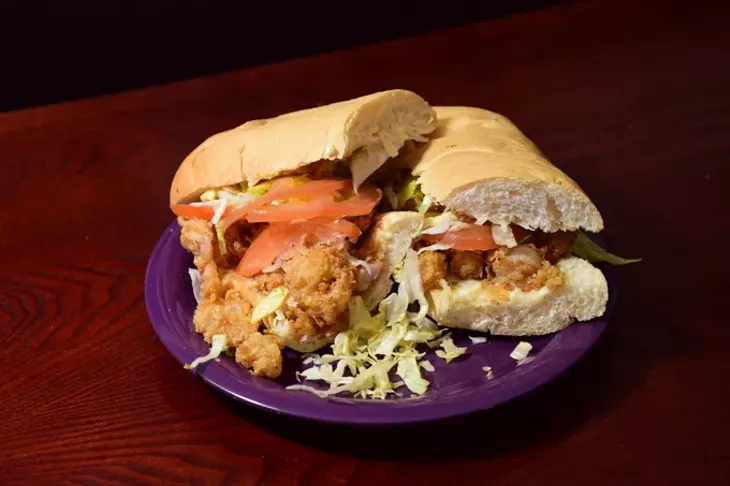 Shrimp Po-boy at C'Est Si Bon, Cajun Catfish and PO-Boys in MWC. mh
After wowing crowds at the last couple Festivals of the Arts downtown, chef and owner Ken Mills continues to dominate the Cajun and Creole cuisines in the east.
On the go? Look no farther than Cochon De Lait, a po-boy filled with slow-roasted pork, coleslaw and spicy Creole mayonnaise.
Filling Filipino
Another new restaurant in town fills Oklahoma City's dire need for food from the Philippines. Chibugan Filipino Cuisine, 4728 SE 29th St., is the place to find tart and spicy pork adobo ($8.95) and Filipino comfort food kare-kare ($10.95), which combines oxtail with a thick peanut sauce, vegetables and shrimp paste for an incredibly satisfying stew.
But those looking for great American food don't have to leave the area, thanks to spots like Grub, 5501 S. Main St., and Judge's Char-Grill, 9201 SE 29th St.
Roasted Chicken with a side of Mac & Cheese, at Grub in Del City. mh
Grub specializes in scratch cooking, including on-the-bone roast chicken so juicy it's liable to cause a flood.
Judge's is a classic burger joint with a great selection of sandwiches. Beyond the cheeseburger and Caesar burger, diners will find a tasty chicken-fried steak sandwich, chili and a chopped brisket sandwich. And don't forget the basket of fresh cut fries on the side.
Whatever customers crave, be it a taste of home or the taste of someone else's home, it's worth a stop in Midwest City and Del City.
Print headline: Mid-Del America, Tinker Air Force Base is surrounded by flavors from all over the world.