Jacob Threadgill
Asheley Middleton and Jenna Swanson browse for reading material at Commonplace Books.
Between bites of a meal, a person gets up from a seat at a kitchen counter and flips the Black Keys album Attack & Release on the nearby record turntable.
It's a scene that could easily describe any home kitchen, but it takes place in the recently opened Kitchen at Commonplace Books, 1325 N. Walker Ave, Suite 138, and it's exactly the vibe co-owner Ben Nockels wanted to create.
Nockels views the intimate 23-seat kitchen as an extension of the bookstore, which serves as the "living room." Guests can grab a seat at the bar, at a communal kitchen table or find additional bar and lounge seating on the patio.
"We didn't want a restaurant or cafe," Nockels said. "We want it to feel and function like a kitchen in a much more residential sense rather than commercial."
Building off the C.S. Lewis quote "We read to know that we're not alone," which Nockels cited with the opening of the bookstore last year, he sees a meal eaten with friends or strangers around a common table as an extension of that philosophy.
"We could've gotten more seats in here, but we want to practice hospitality in this space, and ultimately, we're not trying to figure out how to turn these tables," Nockels said. "We are trying to welcome someone in such a way that they may want to stay awhile."
Jacob Threadgill
Pancetta and greens served over polenta is a menu item at the new kitchen at Commonplace Books.
The menu
Patrons can dine at the kitchen 7 a.m.-5 p.m. on fresh and light portions of salads, polenta bowls and toasts, a menu designed by co-owner Chris Castro. He also prepares a daily special that is served beginning at 7 p.m.
Castro has a background in graphic design but often hosts cooking classes over private dinners and is a longtime friend of Nockels. When the Commonplace ownership group, which also includes Nate and Sara Carr, Joe and Michelle Carr, Scott and Carol Johnson and Tricia Castro, acquired the kitchen space six months after Commonplace opened in April 2017, Chris Castro was the first choice as chef and menu designer.
Castro and staff make use of limited space: They have toaster ovens, a small refrigerator and a few induction burners.
"I enjoyed the challenges of building a menu around those items," Castro said. "We did toast and salads, a lot of house-made items like pickled vegetables, simple vinaigrettes and house-made ricotta to let them shine. We wanted to make a menu that feels healthy without being a drag. It feels light, refreshing and hearty."
There are three salads on the menu, each topped with different vinaigrettes. The beet and citrus salad is paired with mint vinaigrette, white bean and herb comes with apple cider and the salmon and avocado arrives with lemon vinaigrette.
Patrons can choose from a variety of toasts, including gluten-free bread. The house-made ricotta is paired with either tomato or fresh berries. There is also tahini and apple toast, butter and radish with microgreens and sous vide egg.
Polenta is served with New Mexico roasted green chiles or with pancetta and sautéed greens. There is also vegan berries and cream over polenta with cashew crema, berries, honey and orange zest.
Dinner specials change daily, but menu items have included a beet poke bowl, chicken posole and gazpacho with pancetta and fresh corn.
Nockels said that kitchen service has gone smoothly over its first few weeks of operation.
"I've had a similar experience to launching the bookstore where as soon as we launched, there was a sense of 'It's always been here.' It felt right. We integrated into the life of the neighborhood and district, and vice versa," he said.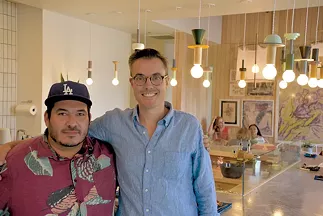 Jacob Threadgill
Commonplace co-owners Chris Castro and Ben Nockels inside the new kitchen. Castro is the head chef and menu planner.
Going independent
The opening of the kitchen caps a successful first year for Commonplace. Nockels said that he long thought about opening a bookstore in Midtown — the district in which he has lived for a decade — but the decision didn't come without research.
The ownership group looked at spaces across a variety of buildings in different districts before settling on its current location. Nockels — who has a background in ministry and fundraising — reached out to Jim Tolbert, owner of Full Circle Bookstore, Oklahoma City's longest-standing independent bookstore, to help with his career transition.
Nockels said he approached Tolbert originally thinking of bringing him on as a partner. As their conversations continued, Tolbert offered Nockels an opportunity to apprentice at Full Circle.
Tolbert declined becoming a partner in the venture but gave the group his blessing.
"It was a great opportunity to beta-test ideas," Nockels said of his nine months on-and-off with Full Circle. "It was a chance to learn the ebb and flow of busy and slow days, how much administrative work is required, what a good bookseller looks like."
In the same way Nockels wants the kitchen to feel comforting for patrons, he approached the layout of the bookstore in a similar intuitive fashion.
Books are not arranged by typical genre boundaries. There are no sections for fiction, nonfiction and biography. They arrange a wide array of books under themes by which readers can self-identify like creative, explorer, mystic and pioneer.
"Within that, you might have fiction, nonfiction, poetry and prose side by side," Nockels said. "It's not about the author; it's more about the reader. We want to self-identify with a section, and not a hunt-and-peck method when you have a specific title in mind."
Commonplace Books is expected to reopen for normal business hours within days of Oklahoma Gazette's publication date after a car crashed through its children's book section July 10. There were no injuries in the accident, but construction and cleanup meant the store was only open for limited browsing by entry through the kitchen.
"At first glance, it was just the door and window, but the car came all the way into the space, so it knocked down a section of drywall and had tile buckle in the bathroom," Nockels said. "It's coming along. We'll have a grand reopening."
Visit commonplacebooksokc.com.