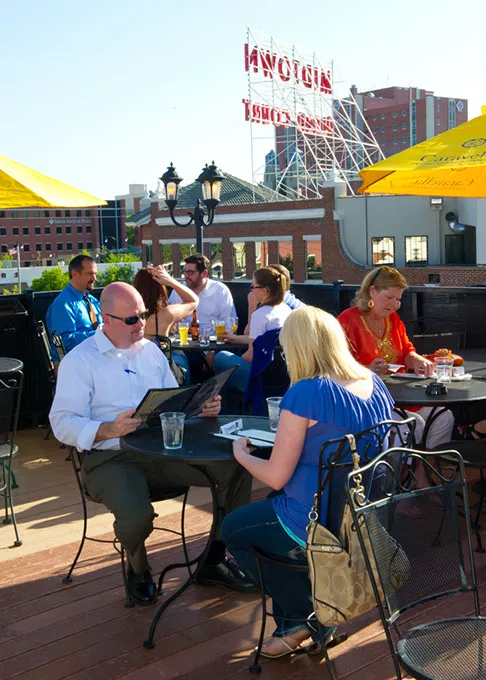 Shannon Cornman
Patrons enjoy the outdoors with drinks and food on the rooftop at Cafe do Brasil.Photo/Shannon Cornman
Take a short walk south on Hudson Avenue, pause between 10th and Ninth streets and gaze east. For maximum effect, do this at sundown on a Monday or Tuesday, when people are largely absent. In the foreground, Swanson's Tire Co., with its bricked-over windows and salmon-colored coat of paint, stands as one of the last operating automotive businesses in the area.
Beyond that, a small white dozer rests in the midst of fresh earth and parking lot remnants. The landscape rises, and rebuilt lots give way to renovated, redbrick apartments. The focus shifts. A massive gold dome tops what was once the historic First Christian Church, now Frontline Church.
Midtown's balancing act of rebuilding, renovating and repurposing a once-crumbling district has not only been successful, it has become a template for the surrounding area. Where many developing districts have aimed for a singular vibe, Midtown indulges the weird, often contradicting, lifestyles that make OKC — well, OKC.
The latest addition to the district, The Bleu Garten, 301 NW 10th St., streamlines the block party experience. Food trucks are set up at this food truck court every day, beginning at 11 a.m. on weekdays and 10 a.m. on weekends.
The food truck court has room for six trucks. It features open-air seating for guests, complete with umbrellas for shade, misters and heaters. Bleu Garten's drink pod supplies customers with beer, wine and signature cocktails. For a schedule of participating food trucks, visit www.bleugarten.com.
Repenting in Midtown
If you feel the pressing need to repent after a night of overindulgence, take comfort knowing Frontline Church, 1104 N. Robinson Ave., is only one-tenth of a mile away.
At a time when a third of America's adults under the age of 30 claim no religious affiliation, according to Pew Research Center, the church defies the odds with a bulk of its membership fitting that demographic.
The congregation meets in the same space First Christian Church met in from 1911, when it was originally constructed, to 1956. It was added to the National Register of Historic Places in 1984.
Justin Coffee, the church's lead pastor, said the church doesn't try to make its own story but is proud to play a part in the district's story.
The church partners with local shops and eateries throughout the district. Recently, Frontline staffed Shop Good's Mustache Bash with 100 volunteers.
"We want to serve our friends, our family. We're here with you. Our city matters to us like it matters to you," Coffee said. "We want to make a huge city small again."
Frontline's Sunday morning services take place at 9 a.m. and 11 a.m.
Looking good
"What we do is a very personal, a very intimate thing," Claire Buchanan-Westlund, owner of Revel Eight Salon and Spa, said.
Buchanan-Westlund said her salon, 201 NW 10th St., occupies what was once an automobile showroom 89 years ago. Revel Eight has 14 hairstylists on staff. Buchanan-Westlund speaks at length of her staff's skills and ability to connect and empathize with clients. She's not only proud of her staff, she's proud of the salon's location.
"Being in Midtown gives you a sense of place. Young people are moving down here. A lot is going on. You just feel like part of something greater than yourself," Buchanan-Westlund said.
The salon also features work by local artists during H&8th Night Market events.
Get your grub on
Next year, if Oklahoma Gazette adds "Most Meticulously Groomed Facial Hair at a Brunch Hotspot" to its Best of OKC list of categories, Waffle Champion, 1212 N. Walker Ave., is a shoe-in. Sweet 'staches aside, Waffle Champion serves a moderate selection of salads and soups. Are they any good? No one knows.
Everyone is too busy making war on the gourmet waffle sandwiches with ingredients so unusual and names so delectable and foreign (Smoked Duck Banh Mi, Migas), you'll be reduced to simply pointing at the menu and saying, "This one." No worries. These waffles transcend language. Waffle Champion serves wine and beer and coffee from the coffee roasting gurus at Elemental Coffee Roasters. To experience wordless bliss, you should swing by early. The restaurant is open 7 a.m.- 2 p.m. Tuesday through Sunday.
Next stop for coffee is the aforementioned Elemental Coffee Roasters, 815 N. Hudson Ave. At Elemental, it pays to be a frequent customer. The shop is constantly switching the brews it has available. This week's small batch is next week's staple.
The coffee shop's environment — open spaces, minimalist design, soft music — is conducive to getting things done, a key ingredient in a good coffee joint. Also, if you don't gorge yourself at Waffle Champion, you can find a variety of breakfast and lunch items made with local and fresh ingredients at Elemental. With vegan, gluten-free and traditional options, the food speaks for itself and the baked goods are in a league of their own.
A drink with a view
Two spots in Midtown offer excellent rooftop bars for the drinker who likes a little fresh air with their libations.
Packard's New American Kitchen, 201 NW 10th St., and Cafe Do Brasil, 440 NW 11th St., both offer live music, superb cocktails and the reassurance that if things get a little out of hand, you're not far from St. Anthony Hospital.
Bossanova and jazz music take center stage at Cafe Do Brasil, while Packard's leans toward more modern music stylings.
If a good beer list is more important than a good view, visit James E. McNellie's Public House, 1100 Classen Drive. McNellie's OKC location launched in 2008. Since that time, it has become a favorite for people looking for that neighborhood pub vibe. With a beer list rivaled only by TapWerks Ale House downtown, McNellie's offers 60 brews on tap and a couple hundred more in bottles.
Stop by on Mondays for Pint Night, beginning at 5 p.m.
One last imperative
Now take a short walk south on Hudson Avenue, past Swanson's Tire Co. Do this on a Friday, the last Friday of the month. Join the swelling crowd at H&8th Night Market. Break some pita bread with your brothers in craft beer, sample whacky ramen concoctions and leaning towers of cookie dough ice cream and realize this is exactly how a big city is made small again.
Print headline: Managing Midtown, Check out these places to eat, drink and be merry in one of OKC's most charming districts.