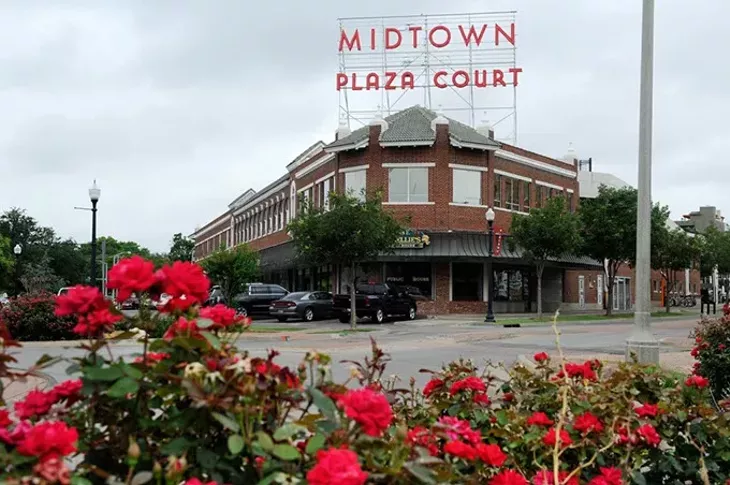 Garett Fisbeck
Midtown Plaza Court in Oklahoma City, Tuesday, June 16, 2015.
Welcome, Midtown, to the downtown family.
Oklahoma City Council voted unanimously last week to accept the annexation of the Midtown district into the official Downtown Business Improvement District (BID), which is already made up of seven neighborhoods, including Bricktown, Automobile Alley and Film Row.
"I certainly believe it's time that Midtown participates in the overall fabric of downtown," said Councilwoman Meg Salyer, whose ward includes the downtown neighborhoods.
In a presentation to the council, Jane Jenkins, president of Downtown OKC, Inc., said property owners had voted to join the Downtown BID at a rate of 64 percent.
"Midtown needs to be a village, it needs to be a neighborhood," Jenkins said.
The Midtown neighborhood has experienced strong growth in recent years. St. Anthony Hospital has long been one of its core tenants, and the addition of new businesses near the 10th Street traffic circle brought new restaurants and retail to the district.
However, in just the last few years, Midtown has seen the addition of dozens of new businesses, including Elemental Coffee Roasters, Midtown Vets, Fassler Hall and The Edge at Midtown apartments. Events like H&8th Night Market and Industry Flea have also brought new life to Midtown.
The inclusion of Midtown into the Downtown BID means property owners will be charged a fee that will go toward various services, including marketing of neighborhood events and street-level maintenance on specific blocks. The Downtown BID also represents the downtown community on various boards and advocates for policy changes, such as the quiet zone along the railroad tracks.
"We also do migratory bird control, which is very important because we have a lot of trees in downtown Oklahoma City," Jenkins said.
Jenkins also said the Downtown BID seeks additional funding through grants.
"One that we are working on right now is the [Oklahoma Department of Transportation] walkability grant that will put bike racks in all areas of downtown," Jenkins said.
Two of the largest contributors in Midtown assessments will be Midtown Renaissance, which has opened several historic buildings as new apartments throughout Midtown, and St. Anthony. Each will contribute around $50,000 a year, Jenkins said.
Before voting to approve the annexation, the city council heard some objection from Midtown property owners, including Anita Sanders, an attorney with property on 10th Street.
"We believe that this is compared to a homeowner's due or punishment to us to be in that area and we will not benefit from this Downtown Business Improvement District," said Sanders, who estimated her annual payment to be $975.
Sanders said she did not believe businesses like hers that are not retail- or food-based will benefit from the BID but would have to deal with increased traffic and security concerns while having to pay more money.
"The annexation ... will provide no benefit to us as owners and only increase our cost of operations," said Kelly Work, an attorney representing two property owners in Midtown with professional service businesses. "[The BID] seems to me particularly warranted towards marking the retail, commercial and residential use of the areas."
Work noted that the Midtown OKC website did not currently list the businesses inside the Goldman Law Building or Charter Commons building, owned by his clients, which he saw as proof that professional services will see little to no benefit from the annexation into the Downtown BID.
"The BID, in our view, is primarily designed to serve those residential and retail uses and will not benefit us," said Work, who requested that his two buildings be removed from the Midtown map.
The council did not request any changes to the boundaries prior to approving the annexation. But Jenkins said she would work with some of the opposing property owners to see what could be done to better incorporate them in the BID services.
In response to the objections, Salyer said she felt it was time to share the burden of investment in Midtown to all property owners, not just a few that had made the district what it is today.
"Coming from a big picture, we can do so much more collectively than we can individually," Salyer said. "What we have seen in each district is these types of services, putting on festivals, hosting events, are typically done by one or two large property owners that carry the burden of development of an entire district. Midtown is a perfect example of one that has been largely supported by St. Anthony hospital.
"Layer on top of that the investment that the Midtown Renaissance Group has made and it has created a neighborhood but it has been supported largely by these two groups. As districts mature, it seems like the right time to bring in the property owners and share the opportunity to invest in the neighborhood among all of the property owners, and that is certainly what we have seen in all the other neighborhoods."
---
Print headline: Downtown fabric, Midtown is now officially part of the downtown OKC family, but some business owners are not happy about it.