Jacob Threadgill
Chicken schnitzel with lemon, capers and sautéed spinach
Ludivine
320 NW 10th St.
ludivineokc.com
405-778-6800

What works: Ora King salmon and all things chimichurri highlight the confluence of salt, acid and fat.
What needs work: The pesto lagged behind other pasta preparations.
Tip:Check out the Monday lunch burger deal.
The biggest challenge for Ludivine owner and chef Russ Johnson as he moved the restaurant from its longtime home on Hudson Avenue to its new location at 320 NW 10th St. was retaining continuity in a different space.
The ossified longhorn skull that once held daily specials in its mouth at the old space now hangs prominently on golden bricks and greets guests as they enter the main dining room in the midcentury modern building in the heart of Midtown.
It is the same Ludivine committed to delivering locally sourced ingredients in inventive ways, but it has a whole new bag of tricks.
"I wanted to have some continuity," Johnson said. "How do we take this concept and restaurant that is so established, that people have come to know and love as far as vibe and aesthetic? How do we translate that into this building that is so radically different in terms of architecture?"
Johnson, who worked with architect Brian Fitzsimmons of Fitzsimmons Architects on renovation but served as the restaurant's main interior designer, fulfilled his continuity mission by keeping a similar material for the chef's bar and the open-air kitchen — a Ludivine staple — and the same style of banquet for booths.
The new restaurant opened at the end of April and has lunch service 11 a.m.-2. p.m. Monday-Friday, everyday dinner service 5-10 p.m. and lunch 10 a.m.-2 p.m. Saturday-Sunday.
"We're very excited that it has finally materialized; it's been an idea we've been kicking around for while now," Johnson said. "It feels like an upgrade in a lot of ways First of all, it's a better geographical location. We have more space for a private dining room, which we've never had before. It's actually less seats overall in the dining room and fewer seats at the bar, but with the addition of the private dining room and the larger patio, we actually have more seats overall. What I like about it is that it feels more intimate and cozy even though it is bigger."
Nestled on a green banquet under a southwestern desertscape painting, I got a chance to sample Ludivine's new lunch menu, and it's a more affordable way to experience the restaurant as plenty of natural light pours in from the windows on the north end.
First up were Ludivine's salads. Perfect Little Salad ($7) is a simple mixture of baby lettuces, good olive oil, lemon, salt and pepper. This salad accompanied a few entrees, and it is tasty. It should serve as a reminder to always salt and pepper your salads because salt brings out the natural flavors in the vegetables. I am usually not a big fan of blue cheese, but I enjoyed the arugula salad with blue cheese dressing and walnuts ($9). Maybe it is a sign that I have burned off enough taste buds in my life to finally enjoy blue cheese, but it is likely more of a sign that the restaurant is using a high-quality product. My favorite salad was Grilled Little Gem Caesar ($9) with Caesar dressing, bread crumbs and pecorino cheese.
The most interesting salad is the salade de chevre chaud ($14), which is served with radishes, pistachios and a bucheron gratinée — goat's cheese baked inside a pastry — that is salty, ooey and gooey.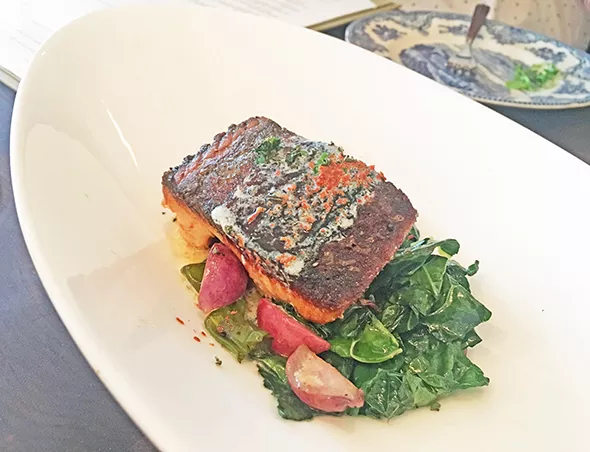 Jacob Threadgill
Ora King salmon pan-roasted with seasonal vegetables
Ludivine offers fresh pasta available in your choice of preparation: pesto, cacio e pepe or puttanesca for $11. I am usually a big pesto fan, but this preparation was actually my least favorite of the trio. The puttanesca had plenty of pop from the olives and tomatoes, and the cacio e pepe allows the butter, pepper and cheese to shine.
The lunch entree manager Andy Bowen expects to sell the best is the chicken schnitzel, which is pounded thin and fried in breadcrumbs before being finished in a creamy sauce featuring lemon and capers with a side of sautéed spinach. At $15, it's a good deal and was a massive hit among our table.
Ludvine shows off its Wagyu beef in a variety of ways. The burger ($14) changes daily, but the one with chimichurri and white Mexican cheese is one of the best burgers in the city. Every Monday, the restaurant offers the burger with a side of truffle fries for $10. You can also get a steak sandwich on house-baked sourdough with a medium-rare Wagyu flank, arugula, shaved onion, dijonnaise, chimichurri and truffle fries for $16. The steak frites ($22) features the flank with truffle fries and chimichurri. A well-made chimichurri is hard to beat with its blend of herbs, fruit acidity and a little spice.
My favorite entrée was actually the pan-roasted Ora King salmon with vegetables ($18). The skin was perfect and crispy, and the fish was buttery. Ludivine is one of a handful of restaurants serving Ora King, which is sustainably fished in New Zealand and is the Cadillac of salmon.
I was surprised at how much I enjoyed the tarte flambée, a house-baked Alsatian flatbread with fromage blanc, onion, house-smoked bacon and the Perfect Little Salad ($12). It is the most affordable main item but one of the tastiest on the lunch menu. The combination of the soft cheese works well with the bacon and the acidity of the salad.
The galette complete ($16), a buckwheat crêpe with rosemary ham joined with Emmenthal and raclette cheeses and topped with an over-easy egg was a well-made dish, but I would have to go through a bunch of trips to the restaurant before I ordered that one again.
The meal was finished with a vanilla bean crème brûlée ($8) that was exactly what you want from the dish: a caramelized exterior and a creamy custard with notes of vanilla bean. I enjoyed the chocolate banana brûlée dessert crêpe more than the citron variety, which needed some extra fruit or whipped cream to complete the dish.
The move into the heart of Midtown allows a little easier access to Ludivine and provides Johnson and the operators easier access to their adjoining restaurant, The R&J Lounge and Supper Club. He said they plan to open a tapas restaurant in the old Ludivine space, and work will begin on that this year.

Visit ludivineokc.com.