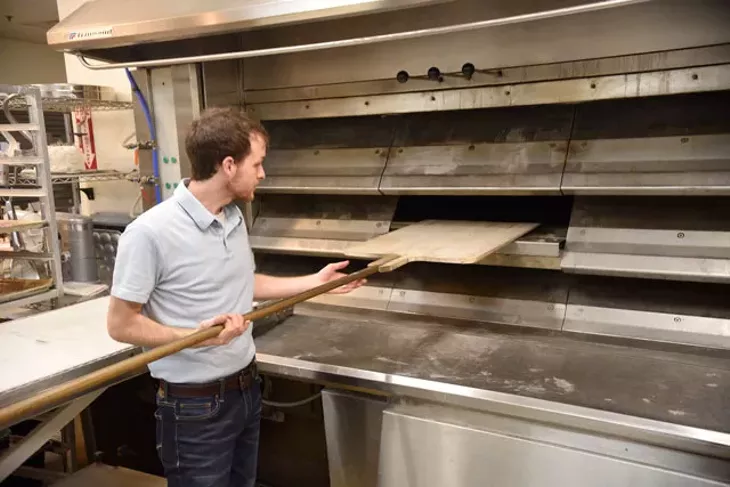 Photo Jacob Threadgill
Baker Cameron Campbell shows off Esca Vitae's three-deck oven imported from France.
The hole left in the Oklahoma City market when Prairie Thunder Baking Company closed its doors in late 2016 didn't last long with Esca Vitae opening in the same Midtown location in February 2017.
Using old Prairie Thunder equipment, including a three-deck oven imported from France, Esca Vitae (Latin for "food for life") is focused on providing a European-style artisan bakery for customers and area restaurants.
The term "artisan" in breadmaking might sound like a meaningless buzzword, but it's the embrace of baking techniques that use long fermentation processes. In this regard, Esca Vitae is the only bakery in the city using this method, said general manager Mitchell Dunzy.
Head baker Cameron Campbell is one of the few holdovers at Esca Vitae from Prairie Thunder. The life of a baker begins when most of us are asleep.
Campbell arrives at work at 10 p.m. and works until 6 a.m. to have bread ready for sale in the store and shipment to area restaurants.
"I get home, kiss my wife and go to sleep until about 4 or 5 p.m.," Campbell said.
Campbell first got the itch to pursue baking about five or six years ago. While others might shy away from the scientific aspect of baking, especially breadmaking, Campbell embraced it.
"I find the fermentation process of bread fascinating," Campbell said. "People can be scared of breadmaking because they think it's too scientific, but it's not as difficult as they think. As the bread goes through fermentation, it's developing flavor, and there is a chemical process going on before it even goes into the oven."
For instance, the steps from starter dough to finished sourdough bread takes three days, Campbell said.
He oversees the bakery's bread while pastry chef Katy Reddick organizes daily specials like tarts and cakes. Tim Schneider, a native of France, handles a bevy of croissants every morning.
"No one in town has pastries as good as us," Dunzy said confidently.
Growing pains
Esca Vitae's first year, like most restaurants, hasn't been a smooth transition. Dunzy came on as general manager in September from MMR Prime Steakhouse to help with the kitchen and expand marketing.
The store originally opened with a market selling imported meats and cheeses, which has been scrapped for additional dining space. The restaurant has dabbled in dinner service at certain times, but Dunzy said the focus going forward will be on special events, like dinner parties.
Esca Vitae offers a wide variety of pastries, but Dunzy said its restaurant is most busy at lunchtime.
Utilizing Campbell's freshly baked bread, the bakery serves a variety of sandwiches including a turkey club with in-house smoked turkey, an Italian on tomato bread and a reuben with braised red cabbage and in-house smoked corned beef.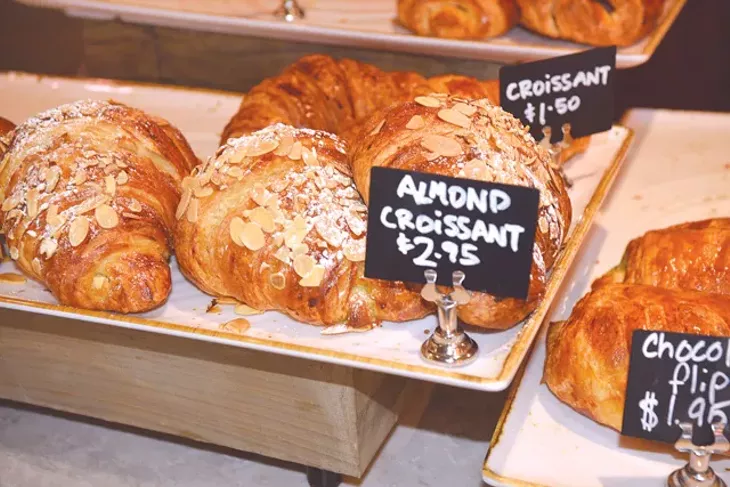 Photo Jacob Threadgill
Croissants are made fresh every morning.
Owner Dr. Steve Lantier founded Esca Vitae and modeled it after the bakeries of Germany, something that is apparent with its offering of three different types of pretzel.
A lifeline for a bakery is wholesale service for area restaurants and local farmers markets. Dunzy said wholesale accounts for about a third of its sales. Esca Vitae supplies bread for some of the city's fine dining establishments: Stella Modern Italian Cuisine, Rococo, and Ludivine. Elemental Coffee Roasters also uses some of its pastry.
"We're trying to push and expand things on the wholesale side of things because it can carry you," Dunzy said. "We want to utilize this space as more than just a bakery, especially since we have all this dining area."
Esca Vitae is in early talks to have its bread sold at local grocery chains, like Homeland. Dunzy said a deal is imminent in early 2018.
In addition to wholesale, Esca Vitae hosts baking classes with Reddick as teacher. A two-part class in November and December focused on dough and cakes and cost $50 per person.
Esca Vitae is also a rotating gallery space for local artists. The current featured artist is Eric M. Spaeth, and his work will be on display and for sale into early 2018.
Fresh dough
The new year brings unfettered access to Esca Vitae and its building neighbors, as construction for the upcoming streetcar has rolled through the area. As Esca Vitae nears its one-year anniversary, Dunzy is focused on continued wholesale expansion, while Campbell experiments with new bread recipes.
"I've matured a lot as a baker and learned more of the 'why' behind stuff," Campbell said.
Campbell said he recently debuted stollen, a German Christmas bread, and said 2018 will bring experimentation with sprouted grains, like spelt, which the body processes like a vegetable when sprouted.
"I'm looking forward to getting more creative in how I make bread in the future," he said.
Visit escavitae.com.
Print headline: Rising dough; Midtown's Esca Vitae fills city's artisan bakery void left by Prairie Thunder Baking Company.