Warlord Games Con enters its fourth year May 26-28 in Midwest City, representing an affordable entry point for interested novices and a rallying cry for veteran players.
Warlord Games, an England-based company founded in 2007, deals in what North American event commander Jon Russell describes as the "finest historical miniature line in 28 mm."
The turn-based tabletop game comes in a variety of sets and settings, from the front lines of the Revolutionary War and World War II to feudal Japan and zombie-infested battlefields. Russell said a Doctor Who-themed set is on the way and a copy will be available for convention guests to sample.
"We can tailor to whatever historical niche you'd like to play," Russell said.
Players assemble and paint individual 28 mm soldiers that are collected to comprise squads in armies. They can be pitted against those of another player on a tabletop battlefield with handmade or purchased terrain. Each set comes with its own rules, and battles can last anywhere from a half-hour to a weekend.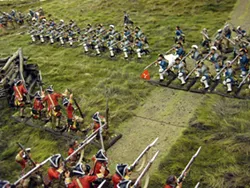 Russell estimated a standard set, with miniatures and 2-D terrain, typically costs about $50.
"You can pretty much buy that box and be done with it if you wish," he said, adding that more complicated games and expansions would cost more due to the need for more figures.
The main draw of Warlord Games Con is the opportunity it provides to new players to learn about the game and have experienced players on hand to guide them through the process.
"You don't have to bring anything but yourself, and we'll show you how to play," Russell said. "You can try every single game system Warlord Games makes, creates or backs."
The layout of the convention offers a "slice of time" in that it samples Warlord Games' most popular sets, starting with games tailored more toward beginners and moving to the more comprehensive systems as players advance. The convention's largest tables host games that last from four to six hours.
Russell, who lives and works in Oklahoma City at Tinker Air Force Base, is a longtime friend of Warlord Games co-creator John Stallard. Being a self-proclaimed history buff, Russell said he became a quick fan.
"It gets me excited to research some facets of WWII or ancient history," Russell said. "It's my passion and my hobby. ... I guess I'm still just a little boy playing with my toy soldiers."
Russell's passion is clearly shared, given the convention has grown exponentially since beginning in 2014. This year's venue, the Sheraton Midwest City Hotel at the Reed Conference Center, 5750 Will Rogers Road, shows evidence of this growth. Along with an expanded venue comes greater attendance with fans from across the country already registered, many of whom are set to participate in the convention's six tournaments.
"If you set it up, they will come," Russell said.
Visit warlordgamescon.com.
Print headline: Fun fight, Warlord Games Con's battlefields return for a fourth year.