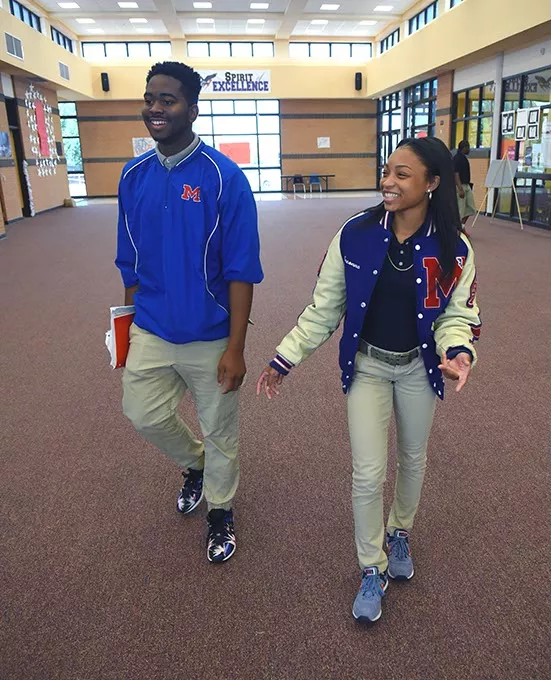 Mark Hancock
From left, Sr. Class President E.J. Green walks with full scholarship receipient, Breonna Hall, at Millwood High School, 10-5-15.
Turnarounds for any organization require strong leadership, hard work and a lot of cooperation. Third-year Millwood Public Schools Superintendent Cecilia J. Robinson-Woods has embraced all three as she works with the community, students and schools to overcome problems that have held the district back for over a decade.
She can be seen almost everywhere on the campus as she interacts with staff and students, upbeat yet determined to lead the small district to greater success.
"My goal every day is for students and teachers to have confidence and conviction in believing that all of our students have the ability to be great," Robinson-Woods said during a recent Oklahoma Gazette interview.
And confidence and conviction are starting to show around Millwood, whether it's at a home football game; inside the classrooms of its elementary, middle and high school; or at board meetings.
Parents, students, staff, administrators and board members reveal hope and are engaged to create a future of success for the district.
"She is always, always around and always speaking with the kids and those parents as well," said Andre Coleman of Robinson-Woods. "She is very visible. You can reach out to her with an issue; you can talk with her."
Three years ago, Coleman and his wife, Felicia, celebrated as one of their children graduated from Millwood. They now have three children in Millwood schools: a freshman, a sophomore and a third-grader.
"I had an opportunity for my children to leave and go to other schools," Coleman said. "We chose to stay because we recognized that there were some really good things that were going on and it's a school that, academically, we feel it had turned a corner."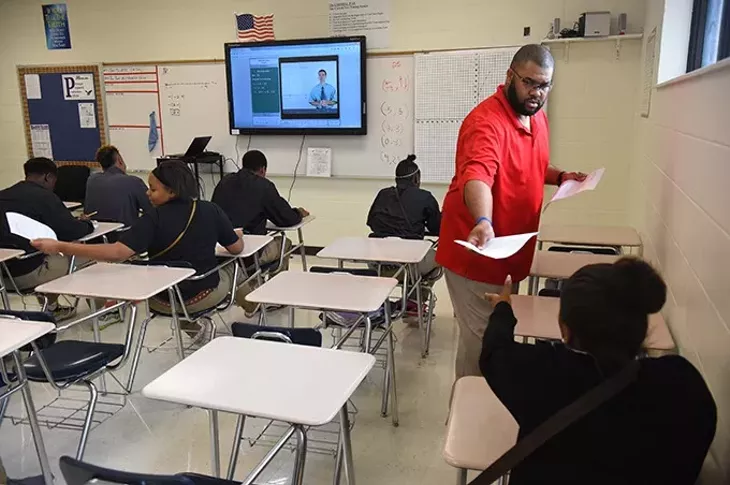 Mark Hancock
Coach and math teacher, Darwin Franklin, hands gives a test to his algebra 1 students, 10-5-15, at Millwood High School.
Small district
The district spans just over 10 square miles in northeast Oklahoma City and is encircled by the much larger Oklahoma City Public Schools district. Its campus is close to Interstate 44 and N. Martin Luther King Avenue.
The district's relatively small footprint leaves it with a slim local tax base, which is keyed off property tax revenue.
Millwood has been in existence for over a century, first as an elementary school. It added a middle school in 1963 and a high school in 1971.
It didn't take long for the high school to get positive attention.
Newspaper reports from 1984 show Millwood High School was named one of the top four high schools in the nation by the U.S. Department of Education.
And when a graduate and former four-sport standout entered the national stage, so did Millwood. Joe Carter hit a World Series-winning three-run walk-off home run for the Toronto Blue Jays in 1993. It was then that Millwood High School became a household name, even if few knew there was not a town named Millwood, Oklahoma.
Mark Hancock
Millwood Public Schools Superintendent, Cecilia Robinson-Wood, points out a new playground while passing between the elementary and middle schools, 10-5-15.
City decline
The district sits well within a part of Oklahoma City that has aging housing and a varied mix of different demographic groups that make addressing the needs of its students a greater challenge than some communities.
As Oklahoma City grew and took on socioeconomic struggles often present in large cities, Millwood students eventually reflected those challenges, too.
In the last decade, the district found itself descending into a spiral of discipline issues and low achievement, according to informal accounts given by administrators and parents who are also Millwood graduates.
Poverty levels are often measured by the percentage of students who qualify for free and reduced lunches.
In 2014, the most recent official state profile, Oklahoma City Public Schools reported 87 percent of its students qualified for free and reduced lunches. Statewide, 62 percent of students qualified.
Millwood's student body hit 100 percent.
That stark number epitomized challenges the district faced as it worked to improve the quality of education it delivered.
Poverty heavily affects everything: staffing, funding, planning, development, management and student achievement.
Robinson-Woods and other Millwood administrators said the impact poverty has on home life and student health is carried into school with them and must be acknowledged and effectively addressed in order for true learning and thriving to take place.
Leadership change
Given the district's small tax base, it had to make fundamental changes if it was to survive, and in 2013, Robinson-Woods took on the challenge.
Millwood Arts Academy was founded as a means to increase achievement of some middle school students as they moved toward high school. However, it was structured to exist to one side of the regular student body.
Robinson-Woods said Millwood Public Schools was paying for two middle schools in a district that served about 1,000 enrolled students.
After meetings with parents and much discussion, the two middle schools were merged, which helped balance the district's finances, as did other cost-saving measures.
Andre and Felicia Coleman witnessed the high achievement of their children in the academy and at first openly worried about and opposed the change.
But their opinions changed.
"It's just wonderful," he said. "The Arts Academy always had it. But as for the whole campus, since Superintendent Robinson [Woods] has come in, the board has supported her and she has made strides."
Christopher Harrison, board president and a Millwood graduate, is convinced that Robinson-Woods' leadership and ability to empower other leaders reestablished a positive environment of achievement and excellence in the district.
"I've watched the morale of the staff and the students increase tremendously," Harrison said. "The staff believes in what they are doing. Our students are believing that the learning process is taking place, and they can tell that the teachers care."
Along with success comes pride and improved morale, which is a word the Gazette heard repeated in conversations about the school and the student body.
"The morale itself has really been raised over the last couple of years," Harrison said. "And that translates to discipline and increase in academics."
That morale shows in the calm discipline of Millwood students, teachers and administrators. In classrooms, pupils and educators engage in the teaching process. The atmosphere is calm, and energy is focused on learning.
Students achieve
Three high school students spoke about positive experiences they had at Millwood.
Tre'veon Ellis talked about how head football coach and freshman-level Algebra I instructor Darwin Franklin taught him the love of math and the critical thinking skills it develops.
The first and most challenging end-of-instruction exam students must take is in Algebra I.
"It has been my favorite class so far at Millwood High School," Ellis said.
Seniors E.J. Green and Breonna Hall are in several concurrent classes offered at Millwood by Rose State College. For students who are ready, concurrent classes allow seniors to earn college credit before graduation.
Green is the superintendent's son and entered the school two years ago when his mother was hired. He has earned the respect of his classmates, who elected him senior class president.
His favorite course so far is the concurrent U.S. history class he is taking. He aspires to become a civil rights lawyer and a pastor.
"No matter what, I want to protect people's rights," he said.
Hall is an academic and athletic standout. The accomplished sprinter was offered a six-year, full-ride scholarship from the University of Tulsa.
Math and science have been her favorite subjects since middle school, where she was able to start taking high school classes.
She wants to be a petroleum engineer.
"Millwood has taught me discipline. I'm college-ready," Hall said.
Student performance
Christine Harrison, the administrator who once shaped the Arts Academy into a higher-achieving segment of Millwood Public Schools, is now the district's director of teaching and learning.
Essentially, the district's academic performance is her responsibility.
The overall school grade for its elementary and high school is stalled at "F." However, both in the state and nationally, single grades for whole schools are controversial and generally distrusted, even by some suburban superintendents whose schools regularly earn "A's."
In Oklahoma State Department of Education reports for 2014, 199 of 1,795 schools received "F" grades. Most low-scoring schools were located in high-poverty communities.
Millwood's scores on high school end of instruction (EOI) exams showed some improvement in areas like Algebra I and U.S. history between the 2011-2012 and 2013-2014 academic school years. But scores in three other EOIs dropped, vexing Harrison and other administrators who see Millwood's marked improvement.
The disconnect between test score data and the positive change in atmosphere at Millwood led Harrison to say, "There's a big difference here between feel and paper."
Christopher Harrison also spoke about the long-term challenges of improving test score performance.
"We need more rigor," he said. "I'm excited about the growth that is taking place. We can see that. I was disappointed in the direction that the state school report card [has taken]."
So while the "feel" of Millwood Public Schools dramatically improved in recent years, the "paper" — the test scores — will continue to challenge the small district, at least for awhile, as a deeper framework of achievement is established.
Print Headline: Terrific turnaround, Millwood strives to increase academic performance despite the district's ongoing challenges.