Eiteljorg Museum of American Indians and Western Art / Fred Jones Jr. Museum of Art / provided
"The Lady" by Tyra Shackelford
Five years ago, the last monolingual Chickasaw language speaker died in Ada at the age of 93. The loss was monumental to the Chickasaw people, leaving those who knew Emily Dickerson with grief and those who had only heard of the tribal elder with worry that future Chickasaws would never know of a world where one of their own identified as Chickasaw first and foremost and refused to conform to anything else.
"I don't think there's a single Chickasaw who doesn't worry about our culture being lost in one way or another," Chickasaw tribe member and textile artist Tyra Shackleford said.
While there are less than one hundred people today who speak Chickasaw bilingually, The Chickasaw Nation, headquartered in Ada, is working to bring that number up.
"The tribe has been working to build its resources for years," Shackleford said. "Now that we have a solid foundation, we can support each other like never before."
That support can be seen in the language, history, cooking and culture lessons that The Chickasaw Nation provides to its members and in the Nation's sponsorship of the upcoming and unprecedented traveling art exhibit Visual Voices: Contemporary Chickasaw Art.
The exhibit launched June 7 at Fred Jones Jr. Museum of Art at the University of Oklahoma, 555 Elm Ave., in Norman. Shackleford and 14 other Chickasaw artists will display over 60 combined pieces of art that contrast in every way but their meaning: the Chickasaw people are alive, thriving and cannot be silenced.
In a world where not one person speaks Chickasaw exclusively, 15 of the tribe's artists hope to assure their tribe members and remind non-tribe members that the Chickasaw people still have a voice.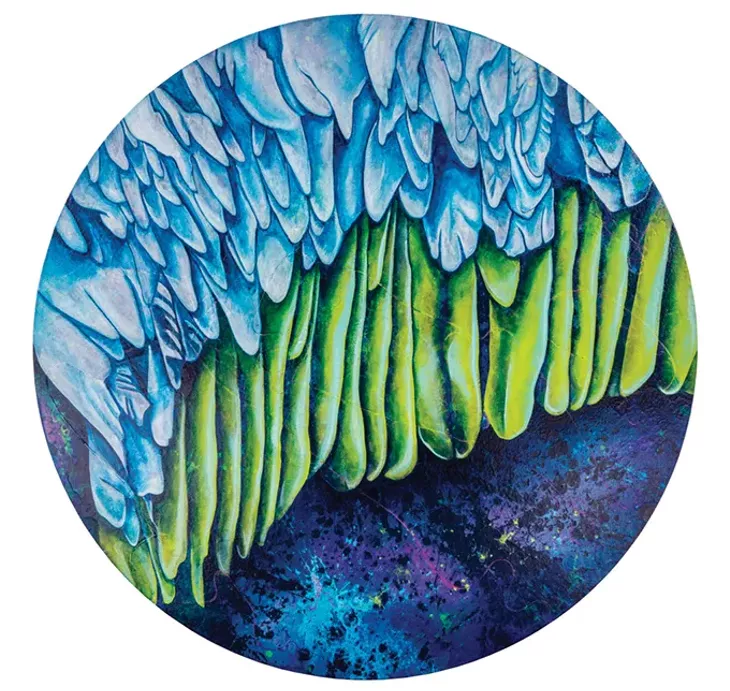 Fred Jones Jr. Museum of Art / provided
"Beneath the Shallow Sea" detail by Erin Shaw

Fred Jones Jr. Museum of Art / provided
"The Lore I Found" detail by Erin Shaw
"Our culture is old, but it is not outdated," Shackleford said. "Traditions our ancestors used hundreds of years ago have a place in our modern world."
To create their one-of-a-kind works of art, each one of the exhibition's artists used a method that their ancestors used as well.
In addition to Shackleford, the artists are sculptor Joanna Underwood Blackburn, painter Norma Howard, painter Erin Shaw, jeweler Kristen Dorsey, photographer Lisa Hudson, painter Brent Greenwood, painter Brenda Kingery, textile artist Maya Stewart, painter Bill Hensley, painter and printmaker Dustin Illetewahke Mater, textile artist Margaret Roach Wheeler, painter Lokosh (Joshua D. Hinson), painter Paul Moore and blade maker Dan Worcester.
The exhibit's curator, Manuela Well-Off-Man, said the show will display art that reflects the blending of Chickasaw traditions with modern-day life.
Well-Off-Man and co-curator Karen Whitecotton selected the artists from a pool of applicants. Those chosen, they said, reflect the best of contemporary Chickasaw art.
"From oil and watercolor to textiles and metals, glass, bronze and other materials, the artwork of the fifteen featured Chickasaw artists in this exhibition are unique, intrinsically Southeastern and distinctive in design among today's contemporary tribal artists," Well-Off-Man said.
Metal statement
Dorsey said her work packs a punch.
"I don't mind making a political statement if it means standing up for my beliefs," Dorsey, who owns her own jewelry store in Los Angeles, said. "To me, every piece of jewelry makes a statement."
While every piece of jewelry in Dorsey's L.A. store tells a story from Chickasaw history, she said her pieces in Visual Voices send a message.
Chickasaw Press / Fred Jones Jr. Museum of Art / provided
"Blood Bling" by Kristen Dorsey
"Blood Bling" is the name Dorsey gave to a necklace she created to be "intentionally gaudy." It is nothing like the fine jewelry she sells in her boutique, designed with copper, freshwater pearls or precious stones.
By contrast, "Blood Bling" hangs on a heavy brass chain, the kind that is supposed to stand out and emphasize one's power. An etched photo of Dorsey's mother's CDIB card hangs from the chain. A European-style frame with red, white and blue jewels holds the card in place. The jewels are cubic zirconia, Dorsey said, because the materials' artificiality fit right in.
"It's just very tacky," Dorsey said. "I wanted it to be sarcastic. Blood quantum was a tool used by white supremacists in the early 19th century to control the population of Native people with the hope that eventually our people would no longer exist. People today think that Native Americans require proof of blood for you to identify with us, but the truth is that that whole concept was one that was imposed upon our people to oppress and eradicate us."
"Blood Bling," Dorsey said, is symbolic of the artificial Native American identity European settlers tried to impose upon the Chickasaw people.
Another one of Dorsey's pieces in Visual Voices incorporates the logo of an oil company based in Oklahoma.
"This Oklahoma corporation donates to many politicians who, in turn, create biased policies regarding the fossil fuel industry based primarily upon whether or not they can keep being funded by the industry and its leaders," she said. "The process is more than unethical; it's damning for future generations."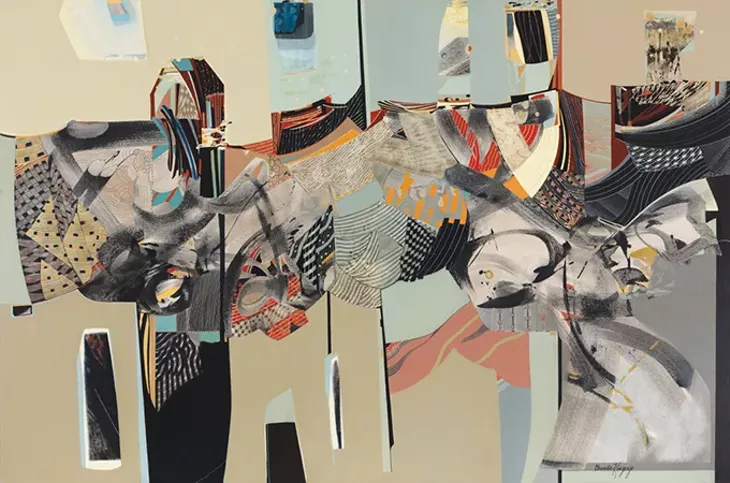 Fred Jones Jr. Museum of Art / provided
"Watching Now" by Brenda Kingery
Weaving dreams
While Dorsey's art is sure to make you think, Schackleford's will make you dream.
Shackelford's piece "The Lady" is a ghostlike nine-foot silky shawl that the artist made using an ancient Chickasaw technique similar to weaving.
The idea came to Shackelford after reading a passage from The De Soto Chronicles: The Expedition of Henando de Soto to North America in 1539-1543, a collection of the impressions and observations that Spanish explorer Hernando De Soto experienced while traveling through North America in the mid-16th century. Much of the Chronicles are reflective of the interactions De Soto had with Native Americans.
"There is a passage in the Chronicles about a Chickasaw woman," Shackelford said. "Hernando De Soto described her as kind and humble yet incredibly powerful. De Soto wrote that when he first saw this woman, she was wearing all white and was surrounded and adored by her fellow Chickasaws."
The passage made an impression on Shackelford. The artist said for a European in the 16th century to hold a woman and a Native American with such high regard meant that she had to be truly special.
"The Lady," Shackelford said, is a tribute to the Chickasaw woman.
The art featured in Visual Voices is symbolic of the artists, different in their details but similar at their core.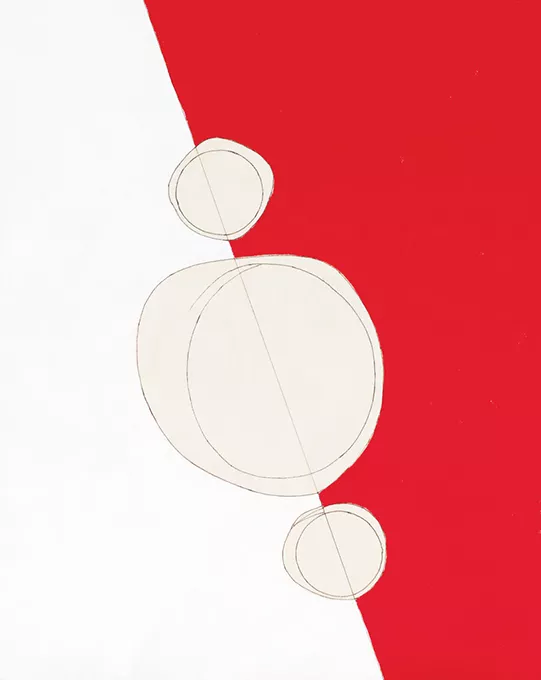 Fred Jones Jr. Museum of Art / provided
"Field" details by Paul Moore |
Fred Jones Jr. Museum of Art / provided
"Field" details by Paul Moore
"We fear that the past could repeat itself," Shackelford said, "that in the midst of change we'll lose our identity. But the reality is that we are changing because we are growing and improving. We are expanding and thriving, and we are using the tools we have in today's modern world to preserve our past and to move it forward."
Dorsey said part of the exhibit is to show the differences in modern-day Chickasaws as well as the similarities.
"If there is one thing that I hope people will take away from this exhibit," Dorsey said reflecting upon Shackelford's sentiments, "it's that just like art, the Chickasaw people are constantly evolving. We are all different, but we are all Chickasaw."
Visit chickasawartists.com.