Eighty-one of Oklahoma's most promising young multimedia artists will display work through this weekend at Momentum OKC, which includes film, performance, new media and live music.
The roster of artists all under age 30 includes three spotlight artists who were awarded $2,000 each to create socially engaging art projects for the event.
Juan William Chávez, head curator, and Suzanne C. Thomas, emerging curator, sorted through more than 150 projects, selecting artists and pieces that showed risk-taking, interactive components and elements of sophisticated humor.
Chavez said the three spotlight artists — Randall Barnes of Midwest City and Eric Piper and Jenna Bryan of Norman — were chosen as this generation's brightest primarily due to their focus on community.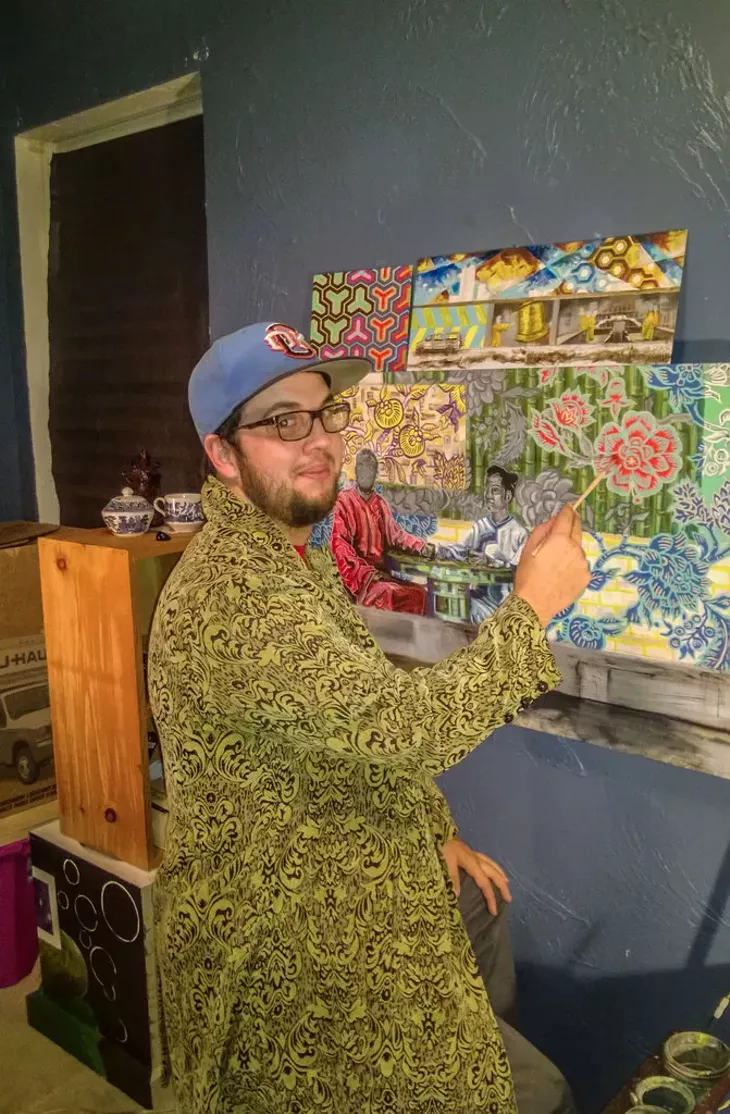 Randall Barnes
Barnes, who used to work with the Graffiti Removal Unit of the Oklahoma City Police Department, integrated ideas of community service and dialogue into his project: a graffiti removal workshop and graffiti wall performance piece. Barnes normally works with oil paint, wood and prints, but his exhibit focuses instead on the affects of graffiti art and removal, displaying the tools of both trades.
Throughout Friday night, Barnes will buff or paint over the wall, slowly diminishing the work while creating a new one.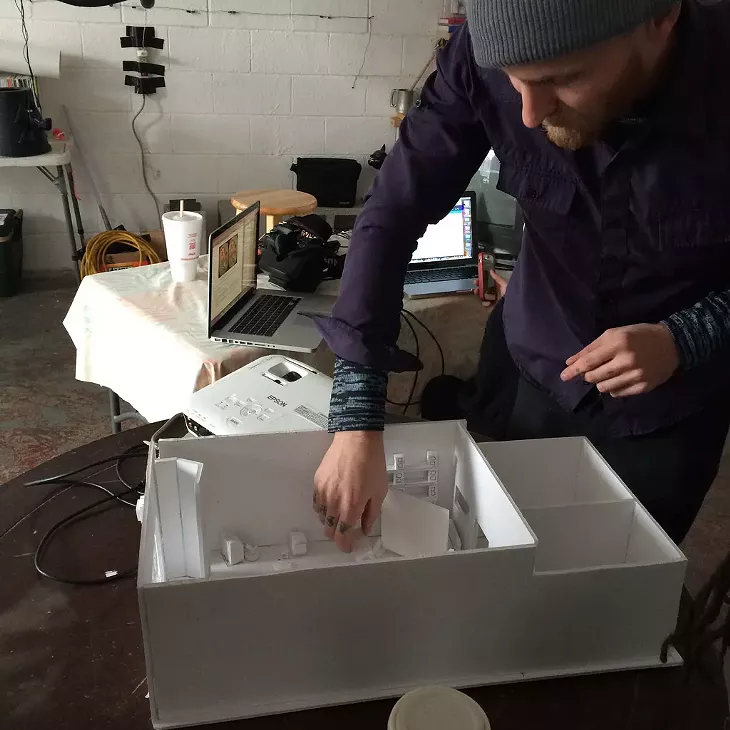 Eric Piper
Piper created and manages Dope Chapel, a DIY art, music and community venue in Norman. Artifacts from a selection of events held there, in addition to a model of the Dope Chapel gallery, will be presented in his Momentum gallery.
Jenna Bryan
Incorporating Japanese aesthetics and video game influences, Bryan's Amesphere consists of a woodblock reduction print of a planet and community and a series of small figures, apparel, animals, tools and other items that would normally populate an environment.
Viewers can create figures and items of their own to be placed in Amesphere, organizers said.
"We are all invested in engaging our communities and go about it in different ways," Barnes said. "Whether it's a community art space, interactive art-making experience or community service, we're all working to enhance our communities through art-making and as artists."
The venue
Oklahoma Visual Arts Coalition (OVAC), which organizes the show each year, selected OKC Farmers Public Market, an early 20th century, 40,000-square-foot structure on the national register of historic places, as the venue. Spotlight artists will be situated at its epicenter, with the rest of the galleries surrounding them.
Momentum's first exhibition was held at Stage Center in 2002. Born from a concern for young state artists, the event seeks to gain exposure for young artists by helping them connect with new audiences and each other. It has since utilized numerous locales and attracted thousands of patrons, becoming a prime venue for breakout artists.
"The age limitation provides the opportunity for younger artists to exhibit in a highly competitive field," Barnes said. "Momentum is often the first juried exhibition young Oklahoma artists are accepted into."
The curators
Each year, a new guest curator, usually an active curator or artist from within the state, is selected. Occasionally, one's selected from out-of-state to expose exhibitors to regional networking opportunities.
Chávez, the appointed curator for this year's submissions, is on loan from St. Louis. Involving spacial utilization, such as that of vacant buildings or lots, his projects usually address community and social issues related to their use.
Each guest curator also picks an "emerging curator" to mentor as he organizes applicants and awards and visits spotlight artist studios. Chávez selected Thomas, an art professor at Rose State College in Midwest City.
"Her ideas and thoughts played a major role in the selection process and studio visits," Chávez said.
All art pieces are available for purchase.
---
Print headline: Emergence-y, Dozens of up-and-coming Oklahoma artists were chosen to showcase their skills this weekend during Momentum OKC.