The arts scene in Oklahoma City shines its light on young artists from every corner of the state as Oklahoma Visual Arts Coalition (OVAC) presents its annual Momentum show March 4-5 at The Plow, 29 E. Reno Ave.
The yearly art show focuses on Oklahoma artists 30 and younger and is split into two evenings that cater to two kinds of partiers: Downtempo is 8-11 p.m. Friday, and Full Speed is 8-11 p.m. Saturday.
It's all part of the evolution of one of Oklahoma's most important art shows, according to lead curator Trent Lawson.
"Momentum has really carved out a reputation in the arts community in this state, and this year's show is definitely going to live up to that reputation," Lawson said. "This is one of the few truly statewide shows that I know of. There are artists submitting from Tulsa, Stillwater, Ada, Lawton. It's bringing them all together, and they're able to see what's going on with other artists across the state."
Lawson said it's not all networking and honing a craft.
"It's also just turned into a really good party," he said. "OVAC usually gets around 2,000 people in two nights, which is the biggest art show I know of, shy of a festival."
Those patrons will be treated to food, drinks and music by some of OKC's best names, including 2nd Street Wine Co., Anthem Brewing Company and Empire Slice House. Local bands HARPA, Limber Limbs and Sativa Prophets play the Downtempo night, and Costello and Pearl Earl perform at the Full Speed party.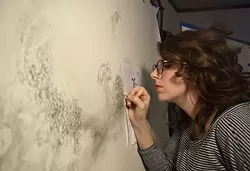 Oklahoma Visual Arts Coalition / Provided
Haley Prestifilippo stand in front of one of her works for Momentum OKC
Spotlight work
Lawson said that perhaps the most important aspect of Momentum is the opportunity it gives young artists to show their work, some for the first time. Sixty-two of the 162 applicants — including three spotlight artists: Klair Larason, Haley Prestifilippo and Gloria Shows — were selected for this year's show.
Spotlight artists are chosen annually and are awarded a cash prize to help them create their work for Momentum; they also have access to the curators for guidance during the creation process. Spotlight artists' work can be seen through Feb. 26 at Graphite Elements & Design, 1751 NW 16th St.
"The cash awards can obviously be beneficial to the artists in the show, but as far as the arts community in general, it's giving an opportunity for these young artists fresh out of college, some still in high school even, to show their work," Lawson said.
"Fifteen years ago, there really wasn't a lot of opportunities to do that. I was in the first Momentum, and it was this crazy art show that I had never seen anything like. And now, there's way more energy and way more young artists making it."
Oklahoma Visual Arts Coalition / Provided
Klair Larason works on a piece for Momentum OKC
Print Headline: Building Momentum, An annual arts show showcases the work of young artists in Oklahoma.