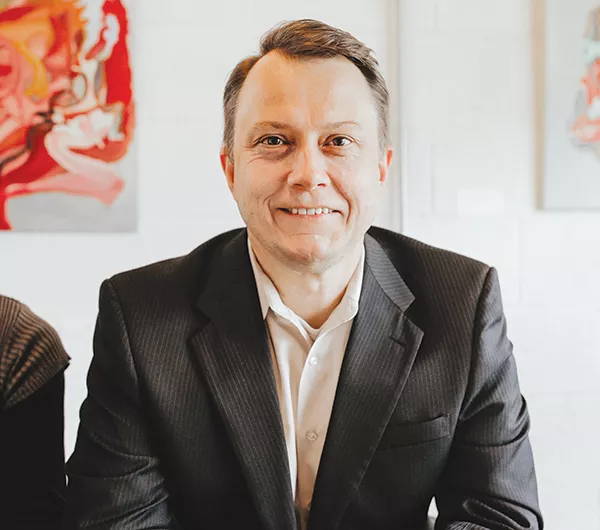 Alexa Ace
Charles de Coune is the independent candidate running for state treasurer.
The challenger
Even clad in a suit and tie sans cowboy boots and speaking in a Belgian accent, Charles de Coune still oozes Oklahoma. The European-born lending manager for Oklahoma Water Resources Board moved to the Sooner State 24 years ago after spending his childhood in Belgium and four years in Kansas as a high school foreign exchange student.
"I am the only member of my family who left Belgium and decided not to return," he said.
While America appealed to him, it was Oklahoma that sealed the deal for him to stay planted in U.S soil.
"This is home," he said. "I knew it when I came here. I wanted to be a part of the pioneering spirit of this state."
Back then, de Coune knew he wanted to become a United States citizen, graduate from University of Central Oklahoma with a finance degree and start a family in Oklahoma. Never did he imagine that he would run for state treasurer in 2018.
He filed for the position a mere two days before the deadline after noticing no one had committed to running against his opponent, State Representative Randy McDaniel, R-Oklahoma City.
"I kept on telling my wife that somebody's got to run against this guy," he said. "Finally, at the last minute, I thought, 'OK, nobody has stepped up. I have to do this.'"
"Our friends think we're crazy," de Coune's wife and Oklahoma City actuary Eileen de Coune said. "I don't know if we're crazy or complete fools, but we're standing up for what's right."
The de Counes met at a student organization president's meeting at UCO. Charles was the president of the school's student finance organization while Eileen was the president of the school's soccer team.
A passion for mathematics, traveling, music and culture sparked a romance that resulted in marriage, three kids and a shared dream to give back to a state that helped the family get started. Eileen is definitely a part of Charles' campaign, he said.
The Oklahoma they started out in is not the one they see today.
"We've gradually watched a decline," Eileen said. "In the way the state treats its citizens, its employees, its teachers and in the quality of life it offers its residents."
De Coune said he is running for state treasurer to make a difference.
He claims that for over a decade, his opponent has worked in the state's Legislature where he authored bills threatening the livelihood of state employees and teachers.
In 2011, McDaniel passed a bill into law that increased the retirement age of teachers from 62 to 65, according to the Oklahoma Teachers Retirement System. In 2014, he passed a bill that eliminated pensions for all state employees excluding teachers, firefighters and law enforcement officers.
"This is a guy whose track record shows a lack of concern for Oklahomans," de Coune said. "We have some financial hurdles to overcome, but cutting core services is never the answer."
If elected state treasurer, de Coune would be the first independent to hold that office. He said he has met with both candidates for governor and would be happy to work with either one while in office.
He admits that securing the seat as a government outsider is a long shot but says it's possible.
"Randy McDaniel is a very powerful man who has a lot going for him because he has an R next to his name in a red state," he said. "But I think Oklahomans are smart enough to vote on the issues and know not to elect someone into office to solve the very problems he helped create."
De Coune has over two decades experience working in Oklahoma's financial industry. If elected state treasurer, de Coune said he would work to restore funding for Oklahoma's core services.
The politico
Provided
Randy McDaniel is the Republican candidate for state treasurer.
If the Oklahoma sky that Charles de Coune lives under is gray, Rep. Randy McDaniel, R-Edmond, said its because he chooses it to be.
"I would describe our financial status as strong and improving," McDaniel said. "Our economy is on the rise, and the unemployment rate is one of the lowest in years."
McDaniel said the state's economy is not the picture of doom and gloom that de Coune paints it to be. Likewise, McDaniel said, he is not the villain his opponent for state treasurer claims he is.
While McDaniel does not deny authoring bills that increased the retirement age for teachers in Oklahoma and eliminated pensions for some state employees, he said he did so in an effort to make retirement plans for teachers more secure and to strengthen the state's finances.
"The facts are clear when it comes to the state pension system," McDaniel said. "In the past, they were in financial trouble. I led a bipartisan effort to implement reasonable reforms, and today, they are stronger and better funded than at any point in the past decade."
Where 401K retirement plans don't guarantee monthly government-backed payments upon retirement, pensions do.
McDaniel did not deny having his own pension plan secure for his retirement.
"All vested public employees have pension plans that have received employee contributions and are designed to be used for retirement," he said.
McDaniel is a fourth-generation Oklahoman who was born and raised in Alva. His mother was a public school teacher and his father, Tom McDaniel, pursued a distinguished legal career that included serving as a past president of Oklahoma City University.
One of three sons, McDaniel said he has fond childhood memories of playing sports and fishing with his brothers, Mark and Lance.
McDaniel earned a bachelor's degree in economics from University of Oklahoma and a master's degree in land economics from Cambridge University in England.
He served as a captain in the Oklahoma Army National Guard for 11 years before embarking on a career in politics.
In 2007, McDaniel was elected to the Oklahoma House of Represent-atives, where he has served for over a decade. Due to term limits, he cannot run for another term in the state Legislature but has set his sights on becoming Oklahoma's next state treasurer and replacing current treasurer Ken Miller, who is also prohibited from serving again due to term limits.
"I believe my experience and qualifications have uniquely prepared me to serve as state treasurer, and I hope to have that opportunity," he said.
McDaniel lives in Edmond with his wife Julie, a nurse practitioner, and their two children.