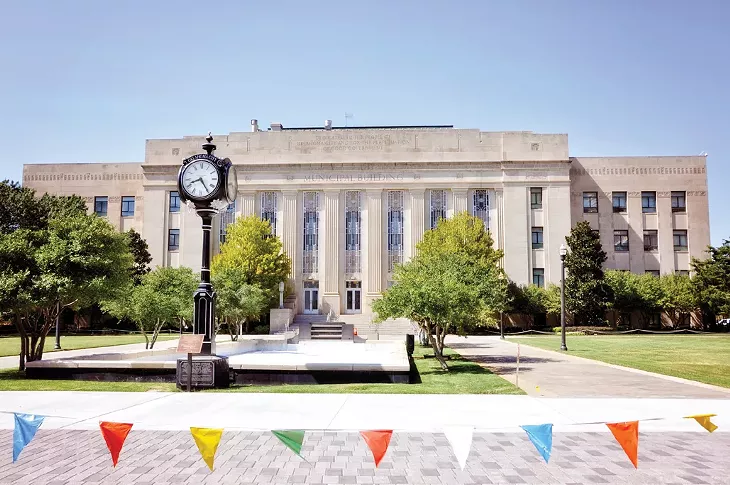 Kristi Ellis / Wikipedia Commons
Oklahoma City municipal building
Ward 2 Oklahoma City Council member Ed Shadid is optimistic about two resolutions he said the council will vote on during its next meeting on Sept. 25.
Shadid briefly discussed his reasoning behind the resolutions with council members in July after he said he noticed a trend of discreet meetings taking place between city council members and economic developers.
He said for years he has watched as city manager Jim Couch and Alliance for Economic Development director Cathy O' Connor met with small groups of city council members in private to discuss economic proposals before and after city council meetings.
The economic proposals they discussed, he said, would appear on the council's agenda on Friday afternoon and would pass a city council vote on the following Tuesday with little time for debate amongst council members and even less time for the public to consider the proposals.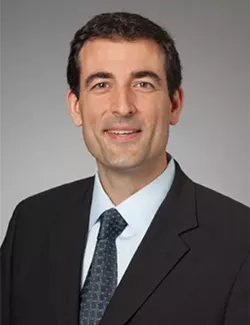 provided
Ward 2 Oklahoma City councilman Ed Shadid set forth two transparency resolutions the council will vote on during their next meeting on Sept. 25th.
"I'm cautiously ecstatic," Shadid said in an August interview with Oklahoma Gazette. "The council still needs to pass it, and that's why I'm cautious. But I'm ecstatic because of the possibilities for the public. The public has a right to know how the sausage is being made."
The sausage that's made, Shadid said, is the sale of city property for economic development projects or the agreement to fund such projects.
In May for example, Oklahoma City councilors voted to negotiate funding Amazon with more than $1 million to create a fulfillment center in OKC and employ 53 Oklahomans in the next five years and over 1,500 once the center is completed.
Decisions like that one, Shadid said, deserve more attention from the public.
Shadid is proposing that in the event that city developers wish to sell public assets like land or property, three public city council meetings take place. The first meeting would be to introduce the proposal, the second would be to hear from the public regarding their concerns and the third would be to vote.
Each meeting would occur at least two weeks after the first, city attorney, Kenneth Jordan said in a letter to city council members that outlined the resolution. The resolution would allow for the public to have more than 30 days to consider economic proposals.
Currently one public meeting is held by the city council to consider the sale of city property.
Shadid's resolution also calls for specific rules that would be incorporated in the event that a small group of city council members (between two and four) meet with economic developers in private.
The rules outlined in Jordan's letter to council members are that the city clerk or city attorney attend each meeting unless a representative attends on their behalf and voting does not take place within meetings.
Additionally, Shadid proposes that the city clerk give a seminar to all city employees who hold positions that allow them to attend the meetings. The seminar would introduce employees to the new rules and would familiarize them with the Oklahoma Open Meetings Act, a state law that was passed by Gov. David Boren in 1977 to make all state and local board and commission meetings open to the public.
The same meeting rules would be applied if the economic proposal discussed in the meetings regarded funding of an economic development project like the agreement to provide Amazon with job-creation incentives, Shadid said.
In that instance, however, the councilman recommends that two public meetings occur instead of three.
O'Connor said the creation of any additional transparency measures for funding proposals would be unnecessary and costly to the public.
"Quite frankly, we already have four public meetings that take place for funding projects," O'Connor said. "Time is money. I fear that if any additional time is given, we run the risk of losing business opportunities."
O'Connor and Jordan said funding proposals are already publicly addressed twice by the Economic Development Trust and twice by Oklahoma City Council.
Shadid said the small meetings conducted between some city council members and economic developers are in violation of the Oklahoma Open Meeting Act, a claim that Jordan counters.
"These gatherings of administrative staff … are not 'meetings' as defined by the act, and in our legal opinion, the conduct of the briefings has not violated the act," Jordan said in his letter.
While Jordan disagrees with Shadid concerning the legality of the small meetings, he does recommend that the city council consider Shadid's resolutions.
City manager Jim Couch declined to comment but said he will support the city council whether they decide to adopt Shadid's resolutions or not.
Shadid, meanwhile, said he will not take a rejection of the resolutions lightly and will consider taking legal action against the city if they are not adopted.
The city council will vote on the resolutions at its next council meeting beginning at 8:30 a.m. Tuesday at City Hall, 200 N. Walker Ave.