Garett Fisbeck
Kandace Howell looks on as Leigh Love and Laura Tirrell sign sign the 1-Center Sales Tax petition, Wednesday, March 9, 2016.
Tony Flores chose to stay.
During his five years of teaching in the Putnam City School District, he watched a number of teachers switch professions or move across state lines for better pay.
In February, Flores had a similar opportunity after a call from a Texas superintendent about a position at his alma mater.
"The petition was why I said no," recalled Flores, who teaches music at Wiley Post Elementary School and was a 2015 finalist for state teacher of the year. "If I leave, that's one less person to fight. That's why I'm sticking around."
Flores lends his voice as a supporter of the penny sales tax for education, known as State Question 779. The 1-cent increase would bring around $600 million a year to public education and guarantees a teacher pay raise.
A salary increase would help retain high-caliber educators who bring quality education into Oklahoma's classrooms, Flores said.
By supporting the tax, registered voters can boost educational opportunities and student learning outcomes in districts across all 77 counties.
"You have to think about your own children and how you want the best education for them," Flores said. "You want them to be the best prepared for life."
Defining moment
University of Oklahoma President David Boren remembers recent comments by leaders at the Jeannine Rainbolt College of Education.
The nationally recognized program trains students to enter elementary and secondary classrooms, but many of those teachers choose to start their careers outside of Oklahoma.
"We are producing the best and brightest teachers for other states," Boren said to a crowd at an Oklahoma City town hall event for Oklahoma's Children, Our Future.
The grassroots group oversees the initiative petition.
The fact that certified teachers feel they need to leave the Sooner State bothers the former governor and U.S. senator. Equally troubling is the funding for common education. To back his remarks on school spending, Boren cited numbers as people in the crowd shook their heads.
In 2009, the state appropriated more than $2 billion to public schools at a time when Oklahoma had 641,721 students.
Six years later, state appropriations were $1.877 billion to schools with 688,306 students enrolled.
That's a difference of about $160 million. Oklahoma led the nation in regard to slashing per-student spending, according to the Center on Budget and Policy Priorities.
"That's not Oklahoma," said Boren, who leads the petition effort. "That's not who we are as Oklahomans. Those are not our priorities. We have to stand up and be counted. … Times like these, I think, are defining moments for our state. That's the reason I got involved. We simply have to do something."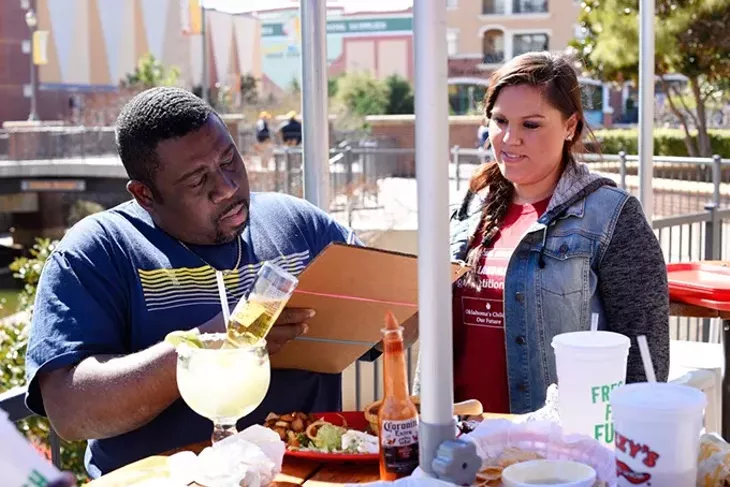 Garett Fisbeck
Kandace Howell looks on as Sherman Ganaway signs the 1-Center Sales Tax petition, Wednesday, March 9, 2016.
State Question 779
Now through May 16, Oklahoma's Children, Our Future is collecting signatures to bring a 1-cent sales tax proposal to voters on the Nov. 8 ballot. About 124,000 signatures are needed before the measure can appear on the same ballot during the presidential election.
If voters approve the proposal to raise the state sales tax from 4.5 percent to 5.5 percent, an estimated $615 million would be deposited annually in the newly created Education and Reform Fund, an "off-the-top" fund that lawmakers couldn't touch. The fund is an addition to the revenue allocated annually for common education, higher education and career technology education.
Common education would receive the largest distribution from the fund — an estimated $424 million to increase teacher salaries by $5,000 and distribute funding to schools struggling with lower test scores and higher dropout rates.
The fund sends $120 million to Oklahoma State Regents for Higher Education. The revenue is dedicated to student tuition only. CareerTech garners $20 million to increase workforce readiness and industry certification.
Additionally, the fund would allow school districts to apply for grants to enhance learning opportunities for early childhood, low-income and at-risk students. The State Department of Education would oversee the grant applications and the fund. An estimated $50 million would be allocated.
The petition has support from education leaders across the state, including Oklahoma State University President Burns Hargis, former interim Oklahoma City Public Schools superintendent and former commerce secretary Dave Lopez and 2015-16 Oklahoma Teacher of the Year Shawn Sheehan. Business and community leaders, such as Oklahoma banker Gene Rainbolt, Sonic CEO Cliff Hudson and country music star Toby Keith, also support the initiative.
Education sales tax opponents worry it will have a damaging impact on the poor. If passed, Oklahoma would become a top state for having the highest combined sales tax burden in the nation.
However, Oklahoma is considered a low-tax state by Tax Foundation, which ranks it 17th lowest nationally in state and local income tax collections.
With no state property tax or local income tax, state revenues come from taxing personal income, sales, corporate income, motor vehicles, fuel and gross production (severance).
Beacon of light
Parents, teachers, college students and everyday Oklahomans sign the petition because they want to invest in public education, said Amber England, executive director of Stand for Children Oklahoma and a founding member of Oklahoma's Children, Our Future.
"There is a lot of negative news about the state revenue crisis," England said. "This petition has become the beacon of light, hope that help is on the way."
In the first month of gathering signatures, 180,000 Oklahomans signed the petition. Signature collections continue through the May deadline, when petition sheets are turned over to the state.
"We have a chance to make a huge difference in the future of children," Boren said, "a huge difference in the lives of our teachers, who so deserve our appreciation and respect."
Flores acknowledged other attempts to raise teacher pay by lawmakers and the governor; however, those efforts fizzled. It has been a relentless fight to find classroom funding and education support.
"We have waited and waited for our government to do something, and that hasn't happened," Flores said. "We have to stand up and do something. We can't allow children to be left behind. We have to invest now to fix the future."
Print Headline: Proposed solution, More than 180,000 voters back a penny sales tax for public education. Leaders say the petition is an answer to the state's dwindling revenues.