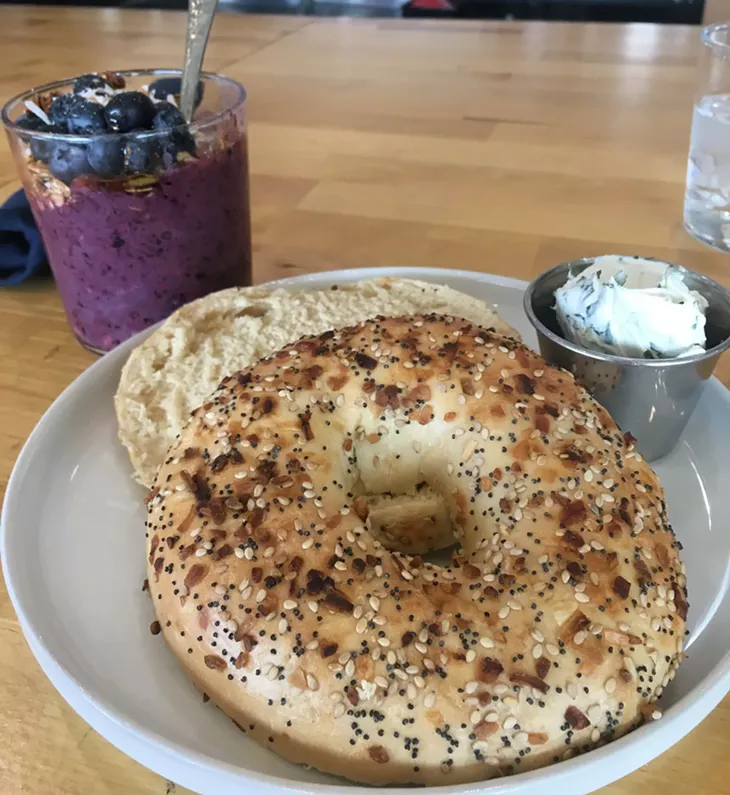 Jacob Threadgill
Stitch gets its bagels shipped from New Yorker Bagels.
Stitch
835 W. Sheridan Ave., Suite 100
stitchokc.com
405-228-8386

What works: Both proteins — steak and chicken — were flavorful and juicy.
What needs work: The chile miso sauce didn't have much miso flavor.
Tip: Look for the addition of all-day breakfast in 2020.
From the ashes of the Okay Yeah Co. Coffee & Eatery coffee shop that excited people on Film Row came Stitch cafe's West Village location, which Chad Grubbs and Jen Semmler Grubbs opened in April.
The couple opened Okay Yeah as an extension of Semmler Grubbs' successful Plant Shoppe in an old warehouse along Film Row in 2016. After the lease was up at that location, The Plant Shoppe moved down the street to 835 W. Sheridan Ave. on the bottom level of the new West Village Apartment complex — across the street from The Jones Assembly — and Stitch followed as an evolution of the couple's previous concept.
"We've taken [Okay Yeah Co.] and expanded upon it," Grubbs said. "We didn't really have much food offerings or an alcohol program [at OK Yeah]. Our version of a cafe is to be a multi-use space. I think of a restaurant as a place where I'm going to eat and leave. Our whole goal is to be in there for different things. It could be a meeting, a dinner and evening or just to grab a cocktail or coffee to-go. It's a multi-use cafe and multiple points of access so that you can be here all day."
By adding alcohol and a menu that includes snacks, breakfast and even dinner, they wanted to increase points of access at Stitch, compared to Okay Yeah, where people might study or grab a coffee and one of a selection of gourmet Pop-Tarts. A smaller selection of seasonal hand tarts remain on the menu at Stitch, in addition to scones, but the overall menu is devoted to using sustainable ingredients with a focus on using local produce as often as possible.
"We're still in a curious time in the sense of breakfast — think diners or coffee shop — and trying to meet an area that doesn't exist," Grubbs said. "We're not trying to do fine dining; we're trying to do intentional products with quality ingredients. We want quality, healthy options that you can have every day."
Grubbs admits that they're still open to changing the shape of food offerings at Stitch, and in early 2020, they're thinking of serving its breakfast menu (which currently stops service at 11 a.m. on weekdays) all night. The lunch menu that is normally served until close and includes sandwiches, wraps, tacos and salads will remain the same, but Stitch is toying with the idea of ending its rotating steak dinner in favor of event destination meals.
"We're still figuring out what dinner is going to look like and what the community is asking. Our dinner crowd is kind of nonexistent," Grubbs said. "We're really leaning into doing events versus just having a menu. It will be more focused on an actual event, but I don't think the dinner will always look the same."
I think there's plenty of room in the market for all-day breakfast. Besides some local diners that serve standards like eggs and pancakes and chains like IHOP, Waffle House and Metro Diner, there aren't a lot of options. Chae Cafe & Eatery offers brunch all day, but standard-bearers like Sunnyside Diner, Cafe Kacao and Cafe Antigua close in the afternoon.
I also think Stitch will execute event dinners very well because I enjoyed everything that I tried over a pair of recent visits to the cafe.
It's a beautiful space with a ton of natural light and really benefits from being connected to The Plant Shoppe, which breathes life into it. Stitch's coffee program can be a little bit intimidating for someone like me who just likes a standard drip-pour black or an occasional oat milk latte, but it executes the classics well while also offering the slow bar that really allows the baristas to flex their muscles.
I started the first visit with a matcha latte because I've been drinking a lot of finely ground green teas lately for of their added antioxidant boost. My initial visit continued with a small smoothie bowl and an Everything bagel with herb schmear.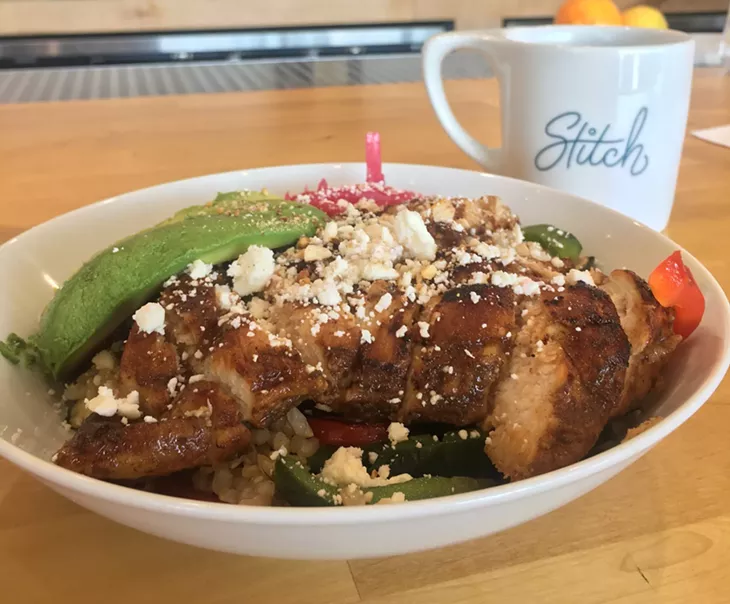 Jacob Threadgill
Steak Wake-Up Tacos from Stitch
The smoothie bowl was everything I was hoping it would be: blueberries, banana and other seasonal fruits blended with almond milk and topped with more blueberries, housemade granola and coconut. The nice crunch from the granola provides energy and sticks to your ribs.
Stitch gets its bagels shipped from the bagel motherland, New Yorker Bagels. I was expecting the bagel to be little more round in shape and less flat, but it had very nice seasoning and chew on the outside. I also got an order of the Wake-up Tacos (with steak, but you can also fill it with chickpea scramble, chorizo or sautéed veggies).
I thought the steak was perfectly cooked — tender and flavorful — and much better than a lot of dry steak I've eaten in tacos. The eggs were fluffy, but I was somewhat surprised to see that the orange sauce was listed as chile miso because I didn't get much miso flavor, but it was a nice combination of sweet and spicy.
I returned later in the week and ordered a grain bowl ($12), which is organic farro cooked in housemade vegetable stock with sautéed season vegetables (zucchini and red and poblano peppers) topped with balsamic grilled chicken, pickled red onion, cotija cheese, toasted almonds and half an avocado for an additional $2.50.
The chicken, just like the steak, was well-marinated and juicy, which is no easy task when cooking chicken breast. I'm very fond of farro — another ancient grain that has increased in popularity this decade because it is a great source of protein and complex carbohydrates.
I look forward to following what Stitch does with its menu and would love to return in the evening to get a sweet waffle topped with lemon curd and prickly pear drizzle for dinner when it is added to the all-day menu.
Visit stitchokc.com.