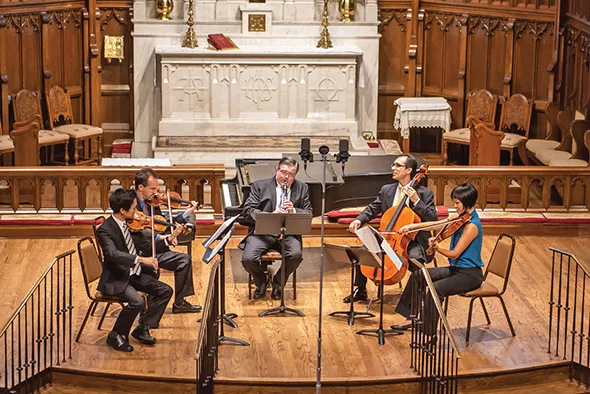 Michael Anderson / Performing Arts Photography / provided
Brightmusic Chamber Ensemble performs Mozart: From Salzburg to Vienna 7:30 p.m. Tuesday at Saint Paul's Cathedral.
Deciding to build a concert program with the work of Wolfgang Amadeus Mozart is easy enough; determining which of the composer's hundreds of compositions to play is not.
"Mozart is, without question, one of the biggest names in music, classical music or otherwise," said Chad Burrow, clarinetist and co-artistic director of Brightmusic Chamber Ensemble. "He's one of the few composers that pretty much anybody knows. … So having an entire program devoted to his music is kind of an easy sell. It's great music, and everybody will enjoy it."
The ensemble performs Mozart: From Salzburg to Vienna 7:30 p.m. Tuesday at St. Paul's Cathedral, 127 NW Seventh St. Burrow said the title for the concert references "the two cities that, basically, Mozart's life encompassed … the two home bases he had as a young man and then as a mature composer." Mozart began composing as a child but died in 1791 at the age of 35.
"In the very, very short life he had," Burrow said, "he composed, you know, some 800 works. There are fragments in there as well, but over 800 works of some sort, and these range from three-plus-hour operas to eight-minute, two-minute shorter works. The output of what he did and the way he wrote — the description of him writing everything in his head and then just simply writing it on paper like he's taking dictation. Those kinds of descriptions, although biographical, I think shed some sort of light onto the incredible ability and talent he had that is pretty much unprecedented in the history of music. There are certainly other great composers and other composers who had a certain facility, but I'm not aware of any that had the ability to write with such ease and accuracy and creativity. And what are the characteristics of his music? Beautiful harmony, incredible melody — there's just no question when you hear the musical lines and the melodies from Mozart that he's an utterly unique composer."
While devoting an entire evening to the 18th-century Austrian composer might be a no-brainer, Burrow said the sheer volume of Mozart's work meant myriad possibilities to consider before finalizing a program.
"I haven't sat and counted his number of chamber works, but there are probably well over 100 pieces we could have chosen," Burrow said.
Of the more than 94 million possible combinations Brightmusic could have chosen for a four-song concert, Tuesday's program features Mozart's String Duo No. 1 in G Major, K. 423 (for violin and viola); Quartet for Clarinet & Strings, K. 378/317d (for violin, viola, cello and clarinet); Quintet for Clarinet & Strings in B-flat Major, K. Anh. 91 (for two violins, viola, cello and clarinet); and Serenade in G Major, K. 525 (for violins, viola, cello and double bass). K. 525 — which has commonly appeared as a signifier of class and refinement in TV shows and films such as Alien, Batman and Ace Ventura: Pet Detective — is also called "Eine Kleine Nachtmusik" (German for "a little night music").
"The four pieces are very different," Burrow said. "Essentially, we took what is arguably the most recognizable work of Mozart's, the 'Eine Kleine Nachtmusik,' and built a program around that with pieces that are less well-known. There's also the duet for viola and violin; that piece is known among string players but probably not a regular piece that the people in our audience would be familiar with. And the two works for clarinet, I'm going to guess, will be the first time many people will have heard these pieces. One of them is actually an arrangement that dates from just after the time of Mozart. It was a very common practice to arrange the works of these great composers, particularly by publishers that were looking to sell copies of their music, and it was a way for them to make money to come up with arrangements of different composers' work. For example, this quartet for clarinet and three strings; this particular arrangement is one of three that we could have chosen. And I think it's a particularly good one. And as this was a common practice, it highlights not only the music of Mozart, but we get to see, in a sense, what composers and arrangers were doing with his music from the period within the decade of his death."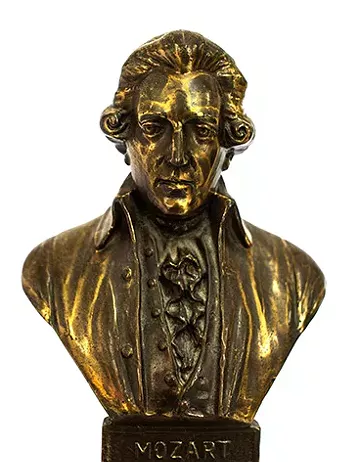 Bigstock.com
Mozart: From Salzburg to Vienna features "Eine Kleine Nachtmusik," possibly the composer's best-known work.
In Mozart's catalogue, the letter "K" represents musicologist Ludwig von Köchel, who arranged the composer's work chronologically in 1862. The "Anh." designation for Quintet for Clarinet & Strings in B-flat Major, K. Anh. 91 is an abbreviation for "anhang," the German word for "attachment," indicating the work is actually an addendum to the catalog. In this case, the quintet was incomplete at the time of Mozart's death and finished in the 20th century by another composer.
"Mozart wrote about 90 to 93 measures and never completed it," Burrow said. "It exists in Mozart's hand as a fragment and was later completed by musicologist Robert Levin, who's familiar with his work and went back and said, 'OK, this is how Mozart started it,' and he essentially finishes it in the style of Mozart. So that's an unusual piece. … It's only partially Mozart. So I suppose, in a sense, you could call this concert, really, 'mostly Mozart.'"
Burrow said if he were considering the piece on its own, without a historical context, he would not suspect it had more than one composer.
"To be perfectly honest, it's incredibly well done," Burrow said. "[Levin] is essentially mimicking Mozart's style to such an extent that, in fact, within the form that he chooses to use, he ends up repeating much of what Mozart has already written. To put it very simply, no, you actually can't tell. If you were to hand this to me, if I had no idea what I was playing, and you told me it's Mozart, it's believable it's Mozart."
Digging deeper into music history to highlight the work of lesser-known composers is valuable, Burrow said, and something Brightmusic often does, but continuing to perform and appreciate masterpieces by music's best-loved maestros is also important.
"Can you play a whole season without ever playing a work of Mozart? Of course you can," Burrow said, "and you'd still have great music. From time to time, to focus on one of the giants, whether it's Beethoven or Bach or Brahms or Mozart, it's, I think, certainly worthy, and ultimately, you're programming music that your audience will enjoy. There's something extraordinary about this music, and it still deserves and needs to be heard. … This music needs to be played and kept alive."
Tickets are $20. Visit brightmusic.org.