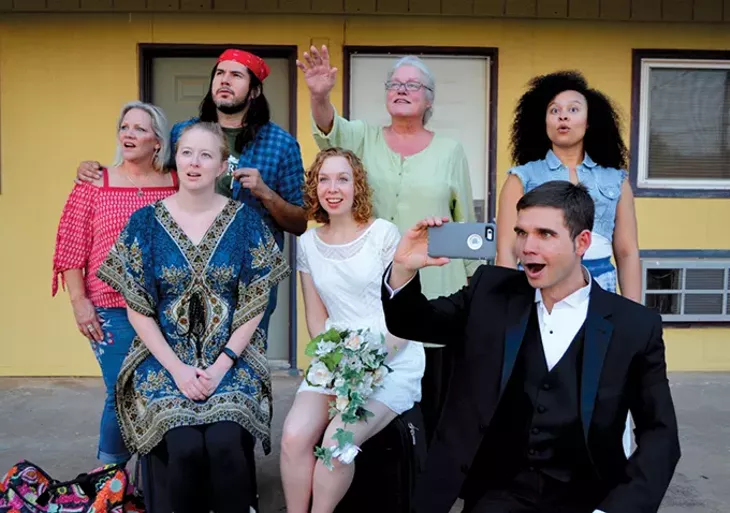 Carpenter Square Theatre / provided
Guests at The Gorges Motel, along with the proprietor, Virginia, gather at twilight to watch the nightly laser light show on the rock face of the magnificent gorge across the road.
Seven tales unfold at Carpenter Square Theatre this September in The Gorges Motel. A comedy and drama written by six playwrights, the work follows several members of a wedding and the challenges and resolve they experience during their stay at the titular locale. The nature of each short act ranges from the severe to the lighthearted and downright bizarre, compelling each character to actualize themselves in a meaningful way.
Previously, Carpenter Square's staff considered trying to orchestrate an evening of one-acts. However, they found no combination of one-acts they considered would engage their audience without severely truncating the experience. Prior to pursuing The Gorges Motel, artistic director Rhonda Clark recalled some of the logistic challenges that come with producing several brief plays in one sitting.
"We considered running multiple one-act plays, like two in an evening, but we wondered if they were really connected," Clark said. "You also run into trouble having to maintain two completely different sets. But with The Gorges Motel, everything linked inside or just outside of a motel room. Also, people readily refer to other characters from another play. It's definitely connected."
The contributions of so many different writers, in turn, yield a myriad of different personalities and people. Yet Clark admitted Carpenter Square's cast is only composed of six performers. As a result, many of the actors embody two or three different roles, with only one exception.
"Another joiner for these plays is the owner of the motel, Virginia," Clark said. "The only role of the actor portraying her is her. She appears three different times throughout. Even so, the different characters and contexts is a lot of fun and still challenging to the actors."
Likewise, Clark feels the sheer variety of The Gorges Motel will engage and broaden Carpenter Square's audience in a compelling way. Both recurring tethers and the varying themes and action provide a full-course, theatrical meal.
While no single play is distant enough from the others to come off as jarring, they can tonally serve as a bit of a palate cleanser from one experience to the next. This, Clark finds, directly addresses the issues they encountered when trying to orchestrate multiple, subsequent works before.
"It's important if patrons are going to come spend $25 to $50 to give them a full evening of theater," Clark said. "Not long, necessarily — people aren't that interested in three-hour plays and more — but something that feels like a full and ultimately satisfying evening without there being too much of one thing. That's what I think is great about this. There's so many different styles with different stories. If you don't care for the farcical style driven by action, you might really get into an intense relationship drama a bit later."
Diverse scenery
The diversity of the production likewise requires an equally diverse cast. Ranging from burgeoning talent to established veterans within Oklahoma's theatrical scene,
The Gorges Motel
has proven to be a crossroads for different ideas throughout almost every facet of the production.
Clark quickly found the nature of her cast provided a bit of gravity to the production. Just as the work involves different characters with their own unique perspective and challenges regarding a greater event, it too can encourage the cast to find common ground.
"It's great to work with brand-new and returning people," Clark said. "Everyone's in the mix. Most of our cast is in their 20s or 30s, but we have two actors in their 50s and 60s. It's so generational in that way, bringing together different nerves and energy."
For instance, the aforementioned motel owner, Virginia, is portrayed by longtime Carpenter Square contributor Vikki Simer. Despite her rich performance background, The Gorges Motel marks Simer's return to Carpenter Square's stage after a decadelong hiatus. The production gives the other actors an opportunity to flesh out their dramatic chops as they bound between different roles in rapid succession.
The Gorges Motel, while seemingly eclectic, still maintains a thematic thread throughout all its stories. This might come as little surprise, of course, as the production itself is centered upon a significant life event.
"Most of the characters in the play are in the process of making a big decision or recognizing that they need to make amends so they can move on without shame or guilt," Clark said. "Almost all the plays have the through line of people approaching crossroads in their life. Regardless of how long each play is, you get to experience someone go through a significant change."
However, the production's setting, Watkins Glen, New York, in the Finger Lakes region, carries a significant weight for Clark personally. Nestled away from the urban epicenter the state is known for, the real-life approximation of The Gorges, Watkins Motel, neighbors one of the Northeast's most compelling natural formations. Bustling with waterfalls and thick forests, Clark felt the transcendental beauty of the gorge and its effect on the playwrights and, by extension, their characters, causes The Gorges Motel to resonate.
"The setting makes it all so intimate and inspiring," Clark said. "All of the people at the motel are caught up in something or with someone, yet the aura of the gorge gives this bigger impression that we should recognize what's good in our lives and what needs to change. There's more out there for anyone than what's happening right now."
Visit carpentersquare.com.