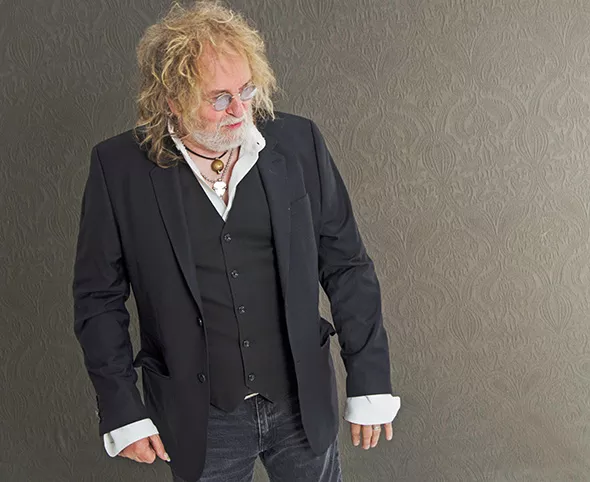 Mary Keating-Bruton / provided
Ray Wylie Hubbard plays 8 p.m. March 15 at Tower Theatre.
Hold onto your hats. The guy who wrote the unofficial Lone Star State national anthem "Screw You, We're from Texas" is actually from Oklahoma.
"I was born in Hugo, Oklahoma, and then I lived in a little town called Soper," said singer/songwriter Ray Wylie Hubbard. "My dad was the coach-principal-teacher up there in a little one-building, first-grade-through-high-school, and then we moved to Dallas, I guess when I was about 8 or so. So I got my Oklahoma roots."
Hubbard plays 8 p.m. March 15 at Tower Theatre, 425 NW 23rd St. His "Up Against the Wall, Redneck Mother," which describes an Oklahoman "kickin' hippies' asses and raisin' hell" after getting drunk on Wild Turkey, became an anthem for Austin's outlaw country scene when Jerry Jeff Walker recorded it for his 1973 album ¡Viva Terlingua!, but Hubbard said his early years as a budding bookworm in Oklahoma were important for his development as a songwriter.
"It was a very rural, small-town community," Hubbard said, "and so growing up, it was pretty much Tom Sawyer and Huck Finn, and you know, your first eight years are pretty influential. Then, of course, when we moved to Dallas, it was quite a shock and quite different. Coming in from a country environment into the city, I didn't make friends very well, so I read a lot, so of course that's bound to have an influence on me. … My dad got me into literature very early, even though we were kind of out in the country in a small town — I think the population was 350. Instead of reading The Three Little Pigs to me, he read The Raven. … He got his degree in English from Oklahoma A&M, which is, of course, now Oklahoma State [University], and so we would go up there during the summers, and he'd go to summer school to get his degree, and being in a college town, I'd spend a lot of time at the library there. So I feel very fortunate and very proud of the fact that I grew up there in Choctaw County."
Hubbard, who got sober in the late '80s with the help of Stevie Ray Vaughan, likes to keep track of everything that makes him feel fortunate. The autobiographical song "Mother Blues" from his 2012 album The Grifter's Hymnal begins "When I was a young man, about 21 years old, y'all/All I wanted was a stripper girlfriend/And a Goldtop Les Paul/Be careful of the things you wish for/You might get 'em," but it concludes "the days that I keep my gratitude higher than my expectations, well, I have really good days."
He said he feels fortunate to still be playing music and touring at age 72.
"I'm an old cat, but I'm very, very grateful that I'm still writing songs and I'm able to travel around and play them," Hubbard said. "And I'm very grateful for places like the Tower Theatre, which is just a great venue, to be able to come there and play my songs and hopefully have a few people come out and listen to them. Gratitude is a very important part of my day."
Hubbard, who most recently released Tell the Devil I'm Gettin' There as Fast as I Can in 2017 on his own Bordello Records label, said he's also grateful that he can make music on his own terms.
"I feel very fortunate, you know, to be able to write kind of whatever I want to write," he said. "I'm not writing because I have a publishing deal, you know, where I have to give a publisher 12 songs a year, and not where I'm trying to get someone to record them. I'm just kind of, you know, 'Oh a snake farm; what about that?' I can write about some kind of rock 'n' roll fable, or I can write about some old blues singer. … I'm not writing thinking about the future of the song."
Memorable appearances
Jason Wilbur / provided
Hubbard's latest album, Tell the Devil I'm Getting There as Fast as I Can, was released in 2017
He published his memoir, A Life … Well, Lived, in 2015. Though his lyrics can be autobiographical, Hubbard said he tries not to "waller" in his previous mistakes.
"A lot of times, I can write a song and kind of talk about the wreckage of the past," Hubbard said. "I mean, I can use some experience of some times in my life when it was dark. There was a dark period there, and so I can kind of go back and write about it, but I don't dwell on it. I can't do that old thing of 'coulda, woulda, shoulda.' I can't dwell in the past, and then I try not to project in the future, and that way I can treat each day with the respect it deserves; you know what I mean? I try to stay in the now. I try to stay in today. The future will take care of itself, and the past, well, there's some regrets there, but hopefully I try to keep my side of the street clean today."
But he does still have that Les Paul Goldtop guitar.
"A lot of people want to see that guitar as much as they want to see me," Hubbard said. "It's a real crowd-pleaser. I pull out that Goldtop and they say, 'Ah, there's that guitar from "Mother Blues."'"
His wife, Judy, who also makes a memorable appearance in "Mother Blues" as the 16-year-old working the door at the titular dive bar, is his manager, and his son, Lucas, often plays guitar in his band, but Hubbard plans on playing March 15 as a duo with drummer Kyle Snyder.
"It's kind of a White Stripes, only we're not probably as loud and maybe not as good," Hubbard said. "I really enjoy that because it kind of lets me showcase the songwriting but still have a deep groove. … It still rocks."
Classically trained Arkansas singer/songwriter Bonnie Montgomery — who co-wrote Billy Blythe, an opera about Bill Clinton's youth, and who Hubbard describes as "a hoot" — is scheduled to open.
Decades after being harassed at a honkytonk for his long hair inspired Hubbard to call out the "redneck mother … who has raised her son so well" in the breakthrough song that still often serves as the encore to his sets, Hubbard said he remains particularly appreciative of one specific part of the songwriting process.
"Songwriting, to me, is still a very mysterious thing," Hubbard said. "It's such a joy and an anguish. You anguish over it to make sure you get it right, but then it's a joy when it works. … I feel very grateful when a song is done … but then there's always another one."
Tickets are $20-$45. Visit towertheatreokc.com.