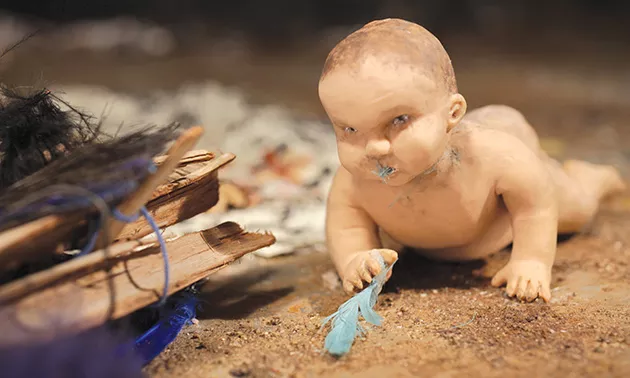 Nicole Emmons / provided
A still from Nicole Emmons' The Wing Eater
Watching Heat Miser control the weather from his volcano headquarters in The Year Without a Santa Claus, Nicole Emmons fell in love. The 1974 Rankin/Bass Christmas Productions special, along with the studio's better-known Rudolph the Red-Nosed Reindeer, inspired the Oklahoma City-based animator to make stop-motion films, but explaining her intended career path to an advisor at Chicago's Columbia College was not so simple.
"They were like, 'We have an animation program; we have a film program; we have an art program,'" Emmons said. "And I was like, 'OK. That's it. I want to do all of those things.' And they were like, 'OK, well you'll have to pick eventually.' And I was like, 'No. I want to do all of them.'"
Emmons — a member of artist collective Factory Obscura who worked as an animator on the 2015 feature Hell and Back and music videos for Faith Hill, TV on the Radio and Sheryl Crow — is scheduled to screen several of her animated short films 7-9 p.m. April 26 at Little D Gallery, 3003 Paseo St. At Columbia, Emmons said her experimental work, which often combines live-action and stop-motion elements and rarely features dialogue, also led to confusion when it was screened alongside films made by her classmates.
"There'd be a lot of violence and fart jokes and stuff like that, and then mine would go on and there's total silence in the theater because it wasn't a comedy," Emmons said. "Also there were a lot of guys in my program; there was only a couple of girls. I don't know if that has anything to do with it."
After graduating from Columbia College and receiving her Master of Fine Arts from California Institute of the Arts' (CalArts) experimental animation program, Emmons worked for Adult Swim's Robot Chicken. Though many people associate stop-motion with crude comedy, Emmons said she wants her own films to be more sincere and personally meaningful.
"Obviously, I don't mind doing comedy," Emmons said. "I'm a huge comedy fan in general, but personally, for my own work, I don't write comedy. I write from the heart. … I don't think there's a need to be misogynist or a need to be racist or a need to be a total asshole, basically, to make people laugh."
Emmons' screening at Little D will include her short films The Wing Eater; Herstory; Domesti City, OK; and a promo she made for Her Flag, Oklahoma artist Marilyn Artus' collaborative project celebrating the 100th anniversary of the ratification of the U.S. Constitution's 19th Amendment, which granted women the right to vote. The screening, which Emmons said might also include "a few surprises," will run about 25 minutes and be repeated three times.
Herstory, which runs less than a minute, is a "very fast history lesson about women activists and leaders from the 1800s to the present, just kind of showing the trajectory from tribal leaders and tribal fighters to abolitionists, going up through suffragists to women taking office," Emmons said.
Longer films Domesti City, OK and The Wing Eater explore themes suggested by her own personal history.
"Domesti City is about the conflicts between me wanting to just be an artist, to be free and trying to be in a partnership and settle down, and it's also about how I got caught up in this idea of women being stuck with all the domestic chores and things like that," Emmons said.
The five-minute film, featured at deadCenter Film Festival in 2018, interchanges live actresses with an animated doll-like housewife figure and introduces fantastic and surrealist elements into the isolated tedium of housework as she transitions from sweeping the floor to singing along with Kitty Wells and swimming with a mermaid.
"There's country music because when I came back to Oklahoma, I started freaking out that I was going to become like a country song," Emmons said. "And then I also was really into mermaids, so that's how the mermaid thing came about."
The Wing Eater — which also combines live-action and stop-motion as well as digital and film photography and features a 9-foot-tall puppet — is possibly even more thematically complex.
"Wing Eater is about a sexual assault I experienced as a teenager," Emmons said. "It's a winged creature in the forest, but it starts with a woman. It's her imagination. … It's impossible to explain."
Image Nicole Emmons / provided
A still from Nicole Emmons' Domesti City, OK
Ancestral influence Emmons is currently seeking crowdfunding for an upcoming film with the working title
Potawatomi Stories
, which will explore her Native heritage.
"It's part genealogical project and part historical project," she said. "I want to talk about my ancestors and how they came down from the Great Lakes region. I've been doing tons of research and just getting way more involved in the community and learning more about the spirituality."
After moving back to Oklahoma in 2014, Emmons connected with other members of Citizen Potawatomi Nation through its headquarters in Shawnee.
"This is the first time that I've been around a bunch of adults that are kind of in my age range that I can talk to and go to ceremonies with and really feel like I'm getting to be a part of it, so it's been super exciting," she said.
Emmons said the film is currently in its research phase but she plans to combine traditional stories with moments from the lives of four of her ancestors, and it might include scenes set in the present.
"Native culture is a living culture," she said. "It's not something that happened in the past. It's happening right now, today. It's very vibrant."
When Emmons enrolled in Columbia College in 1994, she began shooting her films on 16-millimeter film, but by the time she graduated in 1998, almost everyone was going digital. While advanced technology has made animating and editing easier, she said, the polished look computers can create sometimes detracts from the handmade charm that originally attracted her to the art form.
"[With film,] there was no way for anyone to check back and see if there was a hand in the frame or if they made some mistakes," Emmons said. "Now we can play everything back instantly, so you can ideally fix everything in the editing. …. The style is getting more and more slick. That's kind of the trend, but I'm not a fan of total slickness. I feel like it makes it feel more like CGI, and the whole reason I like to do stop-motion is because you can see the human hand in the artistry. You can you can really connect with it, and that's what I think makes it seem magical. … It just feels like there's more of an entry point for the common person to be like, 'Oh, wow! I kind of can, a little bit, see behind the screen.'"
Prints from Domesti City, OK and The Wing Eater will be available for sale at the screening, and proceeds go toward making Potawatomi Stories, which Emmons estimates will be about an hour in length.
Visit facebook.com/littledgallery.