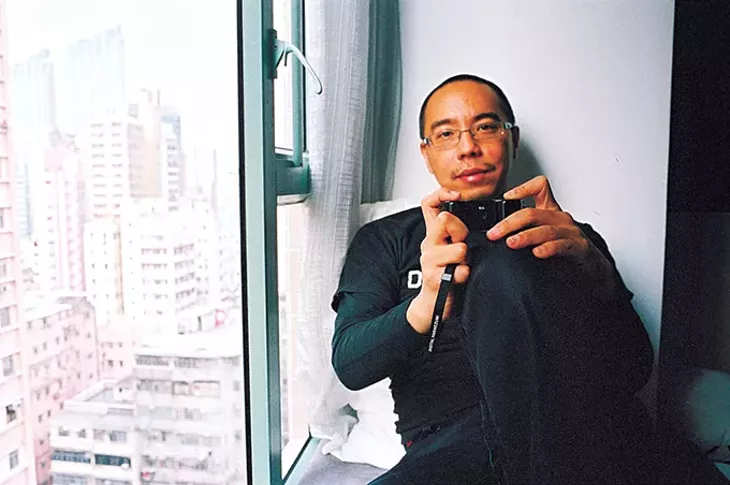 Chai Siris / Kick the Machine Films / provided
The noncommercial film work of Thai filmmaker Apichatpong Weersethakul (pictured) is highlighted in the touring exhibit The Serenity of Madness.
Most Americans are likely unaware of Apichatpong Weerasethakul's film work, and even fewer dare even attempt to pronounce the contemporary Thai filmmaker's given name. But for those entrenched in the world of art-house cinema, the past winner of the prestigious Palme d'Or prize at Cannes Film Festival is a genuine superstar.
Weerasethakul, often affectionately called by his nickname Joe, is the central figure in
Apichatpong Weerasethakul: The Serenity of Madness
, which runs Saturday-June 10 as easily the most intricate video installation to ever grace the gallery space at Oklahoma City Museum of Art (OKCMOA), 415 Couch Drive.
Michael Anderson, the museum's director of curatorial affairs, said Weerasethakul should be considered one of the finest contemporary artists whose work as ever passed through OKCMOA.
"He won the biggest prize at the most important film festival," Anderson said. "He really is a major, major figure."
Weerasethakul's films, which include the 2010 Palme d'Or winner
Uncle Boonmee Who Can Recall Past Lives
and the '06 drama
Syndromes and a Century
, often toe the line between realism and dreamlike surrealism. Similarly,
The Serenity of Madness
offers a unique, immersive gallery experience the likes of which most local museumgoers have never seen. Several high-end projectors will be brought into the darkened gallery space for endless looped screenings of Weerasethakul's noncommercial film work.
OKCMOA, loved by many locals for its diverse film programming, has screened a few of Weerasethakul's films in the past.
"Because we have a robust film program," Anderson said, "it really gives us an advantage in something like this, just because a lot of his video work bears close connection with his theatrical film releases."
The museum will present a retrospective of the artist's feature films throughout May, showing one of his movies each Thursday of that month.
The Serenity of Madness
was curated by Independent Curators International and Gridthiya Gaweewong, a close friend of Weerasethakul. It debuted in 2016 in Thailand before launching an international tour. The installation's only other previous stop in the United States was at School of the Art Institute of Chicago, where Weerasethakul studied avant-garde filmmaking.
Though most known for his commercial films, Weerasethakul has worked with some of the world's finest museums, including London's Tate Modern art gallery and Minneapolis, Minnesota's Walker Arts Center, to shoot and build film installations.
"He has a close connection to the film world and the art world," Anderson said, "and when we saw we could bring both of those here, we got excited at the opportunity."
Apichatpong Weersethakul / provided
"Mr. Electrico (For Ray Bradbury)," a lightjet print
Merging perspectives
Weerasethakul, 48, was born in Thailand's capital city Bangkok and received his undergraduate degree in architecture in 1993 at Khon Kaen University in the northeastern part of the country. But even then, Weerasethakul had an interest in filmmaking, directing some shorts. He moved to Chicago to formally study the medium, earning his master of fine arts degree in 1997.
Eastern themes and styles collide with Western fantasy elements in many of Weerasethakul's feature films. Born into a Buddhist family, he repeatedly uses reincarnation themes in his work, particularly in
Uncle Boonmee
. But Weerasethakul also grew up fascinated by ghost stories and American science fiction like
Star Wars
, so many of those influences seep into his work.
Art house films are not always as easy to access as popcorn-shoveling blockbusters, but Anderson said many of Weerasethakul's features combine intellectual qualities with traditional pleasures in a way that doesn't come across as elitist.
"All of these things pulled out of different cultures and traditions come together in his films," he said. "They can be very accessible within the context of art cinema."
Immersive installation
OKCMOA recently added a video piece by famous British artist and environmentalist Andy Goldsworthy to its second-floor permanent collection. It is the first piece of video gallery art ever purchased by the museum.
Still, OKCMOA has never seen anything like
The Serenity of Madness
, which includes approximately 8,000 square feet of video work. Weerasethakul's high-resolution scenes will be projected onto walls and pieces of glass seemingly floating in the middle of the gallery.
"It's a much more different, much more immersive experience," Anderson said. "The light levels will be low, so you'll be entering a very dark and almost cavelike space where you'll see the flickers and glow of various videos. Really, it's an exhibition that highlights the experience, and in many cases, light is the most central component of it."
As Anderson points out, most people experience film by going to a theater and watching the same story from start to end as everyone else in the audience.
"That's a very different experience from a video installation," he said, "which you can really enter at any point."
The videos in
The Serenity of Madness
are short, looped and filmed in a way that allows audiences to join and leave the narrative at any time. No one's experience with the films will be quite the same.
Some of Weerasethakul's photography and illustrations will be on display near the end of the exhibit, but his video work is the predominant feature. Anderson expects The Serenity of Madness to be a totally new type of experience for a lot of people.
"The galleries are really going to be unrecognizable," he said. "It's going to be an exciting opportunity for people to see art in a way they're not accustomed to seeing it."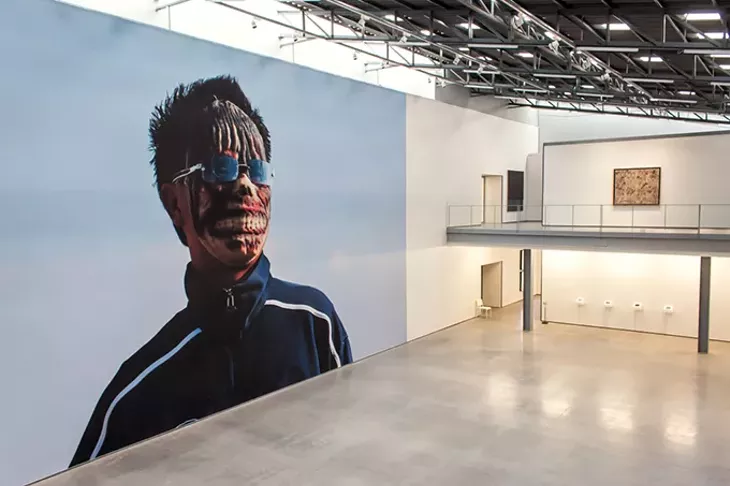 Independent Curators International / provided
The Serenity of Madness will be the most intricate video installation to ever pass through OKCMOA.
Movie star
As exciting as
The Serenity of Madness
is, it is unlikely that local museumgoers will get a chance to see Weerasethakul in person.
"We're communicating with him in every step of the process to make sure everything is satisfactory," Anderson said, "but he's out of commission for a reason I'm very pleased with: He's making a new feature film."
Weerasethakul is currently in Columbia, shooting a film titled Memoria with English actress Tilda Swinton. According to
The Independent
, the film will be about "colonial history and how collective memory can lead to fear."
Anderson said Weerasethakul's current location has occasionally been a minor obstacle for the museum.
"The internet connection isn't always great," he said. "Sometimes we have to wait longer than others to get in touch. But it's exciting that he's making a film right now."
While
The Serenity of Madness
is groundbreaking, Anderson expects museums to welcome more video exhibitions and collections as the years pass. As society evolves, so do the mediums in which artists create. Technology has made video production as accessible as ever, so many artists will naturally find a way to express themselves with it.
"It's becoming more and more a part of the artistic arsenal of a lot of artists," Anderson said. "You see a lot of artists that work in different media. More and more, artists aren't just specializing in one thing."
Weerasethakul might not be winning Oscars yet, but that day could very well be in the future. On the cultural mountain that is avant-garde and art-house film, Anderson believes Weerasethakul has already planted a foot at its peak.
"From a certain vantage point, there is no more important filmmaker working today than [Weerasethakul]," he said. "The fact that we're going to be the place that's bringing this to American audiences is almost overwhelming to us."