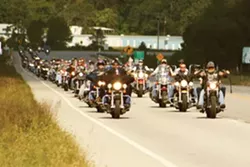 Survivors MC, near the Ozark mountains
The Survivors Clean & Sober Motorcycle Club of Central Oklahoma is a motorcycle club based in Oklahoma whose claim to fame is not being infamous but rather helping the community.
This bike club is nationally recognized and recently found a cause worth riding for: the J.D. McCarty Center (JDMC) in Norman and Camp ClapHans, JDMC's summer camp for children with developmental disabilities.
"They heard about our camp and decided it would be a worthy cause," said Greg Gaston, director of marketing for JDMC. "They all feel a real sense of need to give back."
The third annual Ride for Recovery is a poker run to raise money to help qualifying families pay for camp.
Willie Moore, club president, said if even 10 kids got into this program each year because of what they are doing, it would be a great thing for them and their families.
"This ride is not about the Survivors," Moore explained. "It's about the kids."
The Survivors is comprised of recovering addicts who have completed a 12-step program. Across the nation, each gives back to the community in his or her own way and participates in these rides to raise money. Moore said it is a great way to make amends.
"As addicts, we spent a lot of time taking freely from the community," he said. "Now, we spend most of our time giving back."
The Survivors found a great camp to help, Gaston said.
"This third-yea r camp," he said, "accredited by the American Camp Association, has the same normal development activities one would find at a regular summer camp but has created them adaptable."
Camp ClapHans offers archery, campfires, hiking, stargazing and everything else one would find at other camps.
"[It] has a 1:1 camper-to-staff ratio," Gaston said. "It's a very hands-on kind of camp."
There are no other camps like this in Oklahoma, Gaston said, although some camps do offer one-to-two-week programs to help children with developmental disabilities.
"We all do something to give back to the community," Moore said. "This club allows for us to be able to do that."
Registration for the ride is 9:30 a.m. Sunday at OCARTA Wellness Hub, 2808 NW 31st St.
Ride for Recovery begins 11 a.m. and ends at JDMC with a barbecue dinner and raffle. Admission is $20 per rider and $30 per couple.
Print Headline: Recovery ride, An Oklahoma-based motorcycle club will ride to raise funds for a summer camp for children with developmental disabilities.