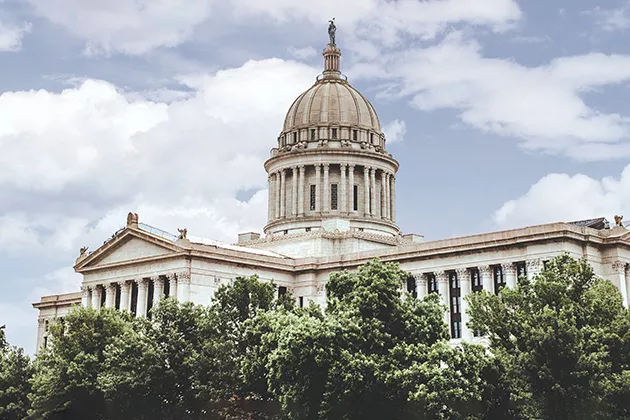 Alexa Ace
The legislative session has ended with several new bills addressing the medical cannabis industry passed and signed by the governor.
The first Oklahoma legislative session since the passage of State Question 788 has ended.
No special session to address regulations was called by Gov. Mary Fallin after 57 percent of voters cast ballots in favor of a broad, mostly unrelegated medical cannabis industry in the state, which meant aside from the ballot language and existing law, the parameters were wide open until this spring.
House Bill 2601
The first and only major legislation this season signed into law by Gov. Kevin Stitt was House Bill 2612, a 55-page bill dubbed the "unity bill" that goes into effect on Aug. 31. House Bill 2601, also known as the "cleanup bill," that clarifies portions of HB2612 was signed by the governor May 28.
HB2601 includes clarifications on where cannabis can be smoked or vaped, the creation of a 60-day license and grandfathering in current business license holders from residency requirements outlined in HB2612.
Most of the amended cannabis consumption laws reflect places where tobacco smoking is already forbidden or restricted. Airports and college campuses may not decide not to let patients smoke or vape cannabis on their premises, and patients may not smoke or vape cannabis within 25 feet of entrances of state, county and municipal buildings. Private residences used as licensed child-care facilities may also not permit cannabis smoking or vaping during hours of operation, according to HB 2601, but smoking or vaping within medical research or treatment centers is permitted if it is integral to research or treatment.
Following the Smoking in Public Places and Indoor Workplaces Act, the bill reads "No person shall smoke tobacco or marijuana or vape marijuana in a public place, in any part of a zoo to which the public may be admitted, whether indoors or outdoors, in an indoor workplace, in any vehicle providing public transportation, at a meeting of a public body, in a nursing facility licensed pursuant to the Nursing Home Care Act, or in a child care facility licensed pursuant to the Oklahoma Child Care Facilities Licensing Act."
Technology center school districts may also prohibit cannabis consumption on the grounds by employees when classes or programs for students are in session, but consumption is prohibited in other educational facilities and in vehicles owned by the state, according to the bill.
Smoking or vaping cannabis is also forbidden within 15 feet of an entrance at an outdoor seating area of a restaurant.
Under HB2601, a physician may recommend a short-term license to patients that is valid for 60 days. The license fee will be set by the health department. It does not affect the standard two-year license for patients.
The bill also strikes a provision that prevents the state health department from contracting with vendors providing commercial services to medical cannabis businesses "either directly, through affiliates, or any joint venture or subsidiary."
HB2601 also clarifies a much-criticized sentence in HB2612 that allowed the health department to bring disciplinary action on "any other basis as identified by the Department" and modifies it to read, "indicating a violation of the applicable laws and regulations as identified by the Department."
Applicants who were issued cannabis business licenses prior to the passage of HB2612 will also be allowed to keep their licenses regardless of residency. All applicants now must have lived in Oklahoma for two consecutive years or for five consecutive years in the previous 25 years.
HB2601 also clarifies prohibitions on advertising and signage for medical cannabis businesses. It previously prohibited targeting those under the age of 18 by using cartoon characters or similar images. It is now broadened to include advertising that promotes overconsumption, represents the use of cannabis having curative or therapeutic effects or "objects such as toys or cartoon or other characters, which suggest the presence of a child, or any other depiction designed in any manner to be especially appealing to children or other persons under legal age to consume marijuana, or any manner or design that would be especially appealing to children or other persons under eighteen (18) years of age."
Senate Bill 1030
Senate Bill 1030 was signed by the governor on May 29. It further outlines that those found in possession of cannabis are not subject to imprisonment for the offense but face a $400 fine. It also explicitly states that law officers may release the offender on personal recognizance.
SB1030 also further outlines that municipalities may not change or restrict their zoning laws to prevent retail cannabis businesses from operating within their boundaries but may use standard planning and zoning procedures to determine where cannabis businesses may be located. It also strikes the requirement that medical cannabis businesses receive the necessary municipal permits before they are granted a license.
Senate Bill 162
Senate Bill 162 changes requirements on who may sign an application recommendation for medical cannabis. It changes the requirement from an "Oklahoma board certified" physician to a physician "licensed by and in good standing with the State Board of Medical Licensure and Supervision or the State Board of Osteopathic Examiners." There are still no qualifying conditions required for a recommendation. SB162 also sets parameters for harvest and test batches at 10 pounds or less. It was passed by the Legislature and signed into law on May 7.
Senate Bill 532
Senate Bill 532 allows another party to take over operations if a dispensary, grower or processor becomes insolvent, ceases operations or otherwise ceases operations provided that the party meets all Oklahoma medical cannabis licensing requirements. SB532 was signed by Gov. Stitt on May 23 and goes into effect Nov. 1.
Other bills
Several other bills making minor changes to existing legislation were also passed by Congress and sent to the governor this session, but other bills introduced earlier in the session either did not receive floor votes or died.
Senate Bill 887 would have allowed for counties to assess fees to certain licensees under a subsection allowing for individual counties to increase quantities of medical marijuana that patients are allowed to possess. Senate Bill 325 would have allowed individual counties to hold special elections to "restrict or prohibit the possession, consumption, transport, sale, cultivation or manufacture of marijuana or marijuana products, or any combination thereof." Both failed to make it to a floor vote.
Visit oklegislature.gov.