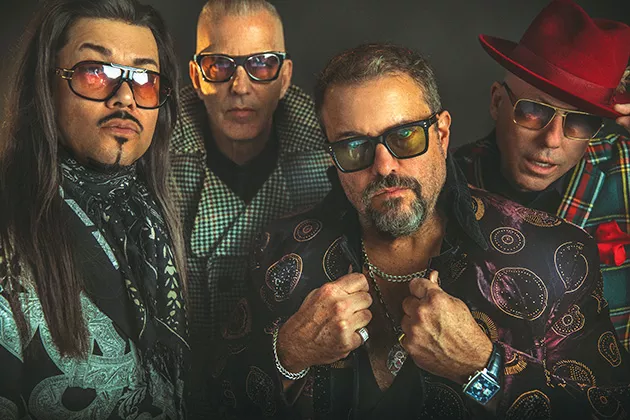 Haris Nukem / provided
The Mavericks play 8 p.m. Sept. 5 at Tower Theatre.
When guitarist Eddie Perez joined The Mavericks in 2003, the hard-to-classify band was more than a decade old and had recorded multiple Grammy-nominated hit songs and albums. It broke up the following year.
"I think the first time around, I felt a little bit like, 'Man, we just got this thing started, and now, it's going away. What a shame,'" Perez said. "And I'd always hoped that at some point, we would think about maybe trying to focus our lives and our ambitions to a common thing, trying to figure out how to do The Mavericks and do more of it."
The Mavericks play 8 p.m. Sept. 5 at Tower Theatre, 425 NW 23rd St. The band — known for bringing elements of roots rock and Tejano to the country music charts with songs such as "Dance the Night Away," "What a Crying Shame," "There Goes My Heart" and "All You Ever Do Is Bring Me Down" — reunited in 2012. The current lineup, which includes founding members Raúl Malo (vocals/guitar) and Paul Deakin (drums) as well as Perez and keyboardist Jerry Dale McFadden, reunited in 2012 and released comeback album In Time in 2013. American Songwriter called it "as powerful and timeless as anything they have done, which is saying plenty." Malo, who recorded several solo albums following The Mavericks' breakup, told American Songwriter he felt like the songs on In Time "really sounded like they needed to be on a new Mavericks record."
Perez said the years apart, working on other projects, allowed the band to reconvene with a clearer sense of purpose.
"There just seems to be a very defined focus this time around," Perez said. "It seems that the time away from each other and away from all of it has given us some reframing of sorts, mostly in our minds, about how we approach this."
Between iterations of the band, Perez also had the chance to acquire a better understanding of the realities of the music industry.
"I've had my own experiences within that time that the band didn't exist and went off to play with lots of different people and got more experience and just more years of being on the road and trying to figure out how to stay in this business and make it all happen," Perez said. "Over the course of time, I can see pretty clearly, when I reflect back to that first time, I can see, on my part, of a lack of real experience."
Working with Dwight Yoakam, an experience Perez called "about as rock star as a country music gig can get," also provided a lesson in "professionalism to the nth degree."
"It taught me all about focus, and it taught me about how the details and everything in this business are important," Perez said. "To get it just right can mean different things to certain people, but what I saw in him was an absolute businessman and somebody that really knows his profession, knows his craft and his trade and knows how to keep moving himself forward."
Reunited and celebrating the 30th anniversary of the band forming in 1989, The Mavericks also draw "absolute inspiration" from sometimes-tourmates Los Lobos, a similarly difficult-to-define and even longer-lived band.
"Musically, they still keep going and forging ahead," Perez said. "I think all those guys are artists in their own right, let alone in all the same group. … We definitely look to them for inspiration, no doubt, musically and business-wise. We just did some shows recently with them, and they're still as spirited as ever and still sounding as good, perhaps even better, these days."
The same could, and has been, said for The Mavericks.
"The music we create together is something that doesn't have many bounds," Perez said. "We've all committed to presenting ourselves in this business as a creative entity that keeps moving. As artists, it never feels good to just keep repeating the same thing, no matter how successes may come or go. The point, as artists, is to keep being honest and genuine and true to that thing that you're still looking for. Luckily, we're all still looking for what that magic cut is going to be, that magic record, that performance, whatever it is, and I can say that there's been no shortage of that."
Fitting in
The current tour includes music spanning from the band's early days playing rock clubs in Miami to songs from 2017's Brand New Day, The Mavericks' most recent album and its first studio album to be released on its own label Mono Mundo Recordings. Though Perez was not part of the lineup that recorded the band's first hits, he said he brings a different energy and viewpoint to the songs when he plays them live.
"I come to this band as a fan first, really digging the music, so to be able to have the opportunity to kind of dig out some of those older tunes from the days when I wasn't there, it only gives me a chance to put a little bit more of my expression into something that I know just as well as they do, but only from a fan's perspective," Perez said. "I respect the music so much and the legacy and all of that. I believe in it. I fully support it, and at the same time, I try to bring what it is, in terms of sentiment and emotion, that it makes me feel, what the music invokes. So I always seem to find a place in all of it. I felt that way with Dwight, too. It was almost like somebody saying, 'Hey, mi casa es su casa.' So I walk in, and I feel comfortable."
The Mavericks' wide-ranging influences and experiences provide plenty of room for innovation and experimentation, Perez said. In his years with the band, he cannot recall anytime when an idea was rejected for not fitting into any preconceived notion of what the band should sound like.
"That's the strange beauty about this imperfect, perfect thing, for me … it doesn't limit anything," Perez said. "The truth is we all play nice together, simply put. Whenever we tackle a cover tune or something silly or, you know, whatever, it never really seems to sound forced. It just sounds like our version of whatever it is we're doing, and somehow we seem to find our place in it."
Tickets are $39-$52. Visit towertheatreokc.com.