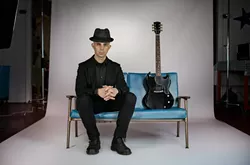 Stephen Chopek is many things, but unproductive is not one of them. A multi-instrumentalist, Chopek has toured worldwide — primarily as a drummer — with John Mayer, jazz guitarist Charlie Hunter and singer-songwriter Marc Broussard.
Now, however, he finds himself alone. His recently released album, Things Moving On Their Own Together, features only Chopek playing more than 10 instruments and singing. Yet, his current tour, which stops Tuesday at Guildhaul, 3010 NW 23rd St., is bare-bones and features just him and his guitar.
Chopek, 41, first delved into music as a 10-year-old in his birthplace of Rutherford, New Jersey, 10 miles west of New York City.
"Before [drums], through school programs, I had taken other instruments — piano, violin and guitar — but drums were the first instrument I had a natural inclination, any draw for," he said.
In the following years, through private study of jazz drums and work in youth orchestras and bands, his reputation grew, and in 2001, he became a "Pearl artist" for Pearl Drums.
He studied percussion with noted jazz drummers Leon Parker and Billy Martin, a former member of jazz-funk trio Medeski, Martin & Wood. Through Parker, he landed a gig with Charlie Hunter, with whom he toured on a large scale from 2000 through 2002.
"I traveled across the country, the world, Japan, all over the place," he said.
Afterward, he heard from Mayer, who was an up-and-coming singer-songwriter who liked his drumming and asked Chopek to join him. They toured, and Chopek appears on Mayer's 2002 live album Any Given Thursday.
From there, Chopek found himself behind the drum kit for music acts like Marc Broussard, Jesse Malin and The Alternate Routes. While touring with Malin, he was inspired to look into serious guitar playing.
"His approach to the guitar just made sense to me," Chopek said. "Watching him play guitar, I was able to relate to some of the things I was working on at the time playing guitar. His playing … supported the lyrics of the song."
Until that time, the guitar was an instrument Chopek strummed here and there. He revisited previous, half-hearted songwriting he scribbled into notebooks.
"Up until that point, I would put a song together, a chord progression, but when it came to writing and singing lyrics on my own … the process stopped," he said. "Around that time, I made a commitment to work on a song from start to finish."
With a small catalogue of new songs, in 2008 and 2009, Chopek and his guitar took to full-time busking, or public performance for gratuities, in New York City subways. Those sessions taught him the importance of dedication and persistence.
"You're performing, but it's also a good time to practice; practice guitar, practice the ways to sing," he said. "At the end of the day, I would have been singing four to six hours. It was like a workout."
The performances led to his first solo release, 2012's See Through, a 12-song album comprised of only vocals and guitars. The minimalist approach helped him concentrate on his newfound love.
"Songwriting was still pretty new to me, singing was still pretty new to me and I just wanted to focus on that," he said. "I wanted to step outside of the role of being a drummer."
In 2013, he was drumming in The Everymen. The band could not make a scheduled show in Atlanta, and always one to be productive, Chopek asked the venue if he could play solo. He then scheduled an impromptu 10-date tour from New Jersey to Atlanta and back. It was a success.
"I enjoyed it. I soon as I got back, I scheduled a fall tour," he said.
Chopek is currently touring for his latest release, Things Moving On Their Own Together. The 14-song album includes two previously released EPs and four new songs.
His philosophy for the creation of Together is much different than it was for See Through. The minimalist approach is gone with multi-instrumental Chopek performing guitar, drums, harmonica, synthesizer and more on the new release. He also entered the sessions without finished products in mind.
"Going into the studio, I had the guitar parts and the lyrics written, but as far as drum parts and other instrumentation, I kind of did that stuff in the studio, more in real time. I didn't pre-plan," Chopek said.
1990s indie rock bands like The Pixies and Dinosaur Jr. influence his style. The vocals and the overdriven 16th-note strummed guitar on the song "Systematic Collapse" is reminiscent of Guided by Voices, another Chopek favorite. He also said musicians from the roots of rock and roll, like Muddy Waters and Buddy Holly, have made their mark on his style.
Chopek said past experiences, such as writing See Through, playing in subways and touring, led him to be more confident going into the studio for Together.
"I was relaxed as far as letting the songs breathe a little more," he said. "I'm very satisfied with the way it came out. There are thoughts of growth for me as a person, as a songwriter and as a musician from the album."
Print headline: Lyrical moments, Drummer and multi-instrumentalist Stephen Chopek brings his guitar to Tuesday's tour stop at Guildhaul.