A beheaded bunny keeps watch over a white-walled, pristine Plaza art gallery. With his grimy, paint-streaked head mounted on a clunky robotic frame, he stands out in a room full of conventional, high-dollar paintings.
This bunny and other pieces like it are exactly the kind of icebreaker Kasum Contemporary Fine Art gallery owner Tony Morton had always wanted.
"Ninety-nine percent of people will never step foot in here because they think there are rules beyond just respecting things," he said.
Morton was first introduced to the array of haunting creations from local artist Allin KHG about 18 months ago.
He now sells them off a table near the front of his gallery, in part to draw in curious pedestrians.
The artist's work sells for between $30 and $100, far cheaper than the neighboring wall art priced at $1,000 or more.
KHG calls his collection of often-creepy and reimagined toys Muses for a Nightmare.
They are all kinetic, movable pieces of art. Many of them make sounds.
It's easy for those observing the bizarre creatures to be reminded of what crawled out of Sid's sandbox in Toy Story. While many toymakers strive to make their figures nonthreatening, KHG pushes for the macabre.
"[The title Muses for a Nightmare] really sums them up, because not all nightmares are necessarily scary; it's just kind of the randomness of everything," he said.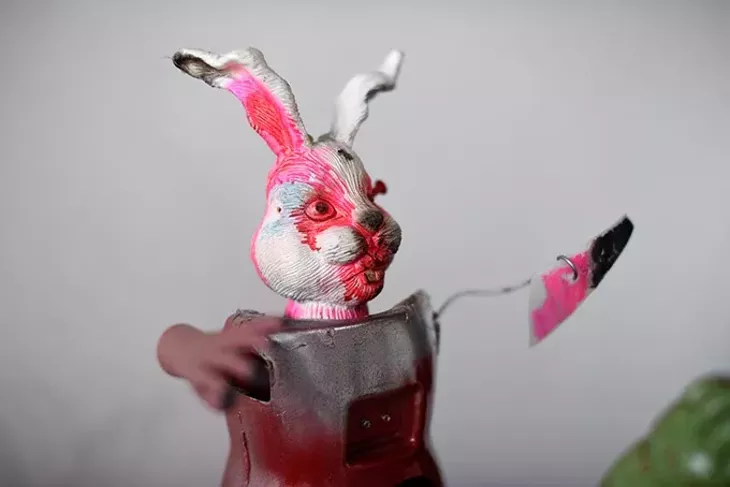 Garett Fisbeck
Art by Allin KHG at Kasum Contemporary Fine Art, Thursday, April 14, 2016.
Easter gift
KHG first met his toy bunny friend on Easter morning in 1989. The tall plastic figure moved to the rhythm of a cheery recording at the press of a button. And that was about all it did.
"I was a smartass high-school kid," KHG said. "[When I saw the toy,] I was like, 'Yeah, that's not going to work.'"
It sat around in his room for a few weeks untouched, but one day, he decided to make it his own.
He stripped down the figure, examining how it worked on the inside and thinking of a way to turn the gift into something he found more interesting.
His father walked by his room as he was tinkering on his gored Easter gift. He was a longtime handyman, and KHG credits the basic electronic skills he uses to create his Muses collection to things he picked up from his father's work.
However, his dad never imagined how he might put those skills to work. He didn't have much to say when he saw the dissected toy. He just shrugged and walked away, defeated.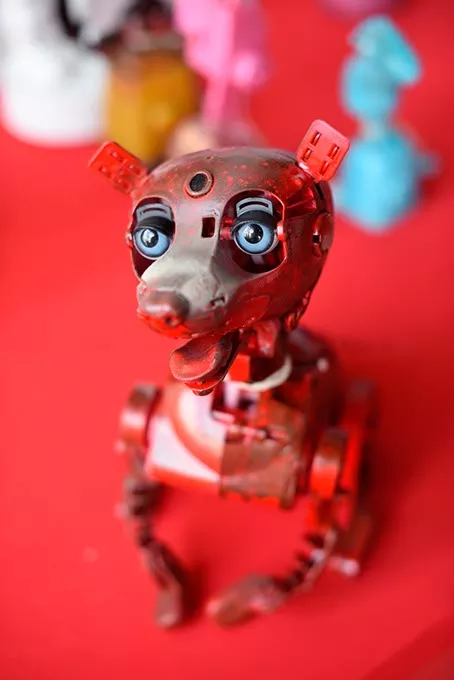 Garett Fisbeck
Art by Allin KHG at Kasum Contemporary Fine Art, Thursday, April 14, 2016.
The process
KHG said these days, his father has taken on a different attitude about his work.
"He's actually been really proud of it," he said. "Instead of ending up in the trash like a lot of these [toys] would anyway, I did something better and different with it."
Though his first piece dates back to 1989, KHG didn't seriously begin work on his reimagined playthings until about four years ago, when he began making them in earnest for a movie project he was working on. To his surprise, people began asking him if they could buy them.
His hard drive crashed while making the film and KHG lost about two-thirds of his footage.
The sale of his toy creations is an attempt to bounce back from that devastating blow.
"Because money doesn't grow on trees, a lot of the money from the sales is going to saving up to get that hard drive restored," he said. "People don't just walk up and hand you $2,000."
Toys can take KHG as little as 20 minutes or as long as several hours to complete. He usually has a dozen or more of these projects going on at the same time.
His source material rarely comes straight out of the package or from an Amazon order.
Those toys are new, and kids might actually want to play with them. Instead, the artist usually gets second or third-hand toys from thrift stores.
Friends and family will often give him things to work on.
The bulk of KHG's work is usually repairing or finding a way to salvage and recycle the original piece.
"A lot of these are close to just being thrown out," he said. "For a lot of them, it's almost a rescue effort."
Getting reactions
There was a time when KHG tried hard to keep children away from his
Muses for a Nightmare
cast. He built his eerie toys with himself and other adults in mind, not kids.
He was terrified one of his creations could be responsible for emotionally scarring a child.
What if they recognized one of his mangled figures as a toy they kept for themselves at home?
Instead, as the artist started attending vending events with his figures, he found that kids are always the most eager to approach his table.
Some even recognize a modified toy as one they own themselves, but it doesn't seem to bother them.
KHG recalls a visibly impressed little girl coming up to his booth at the first event he ever attended with his toys.
At a later show, the girl's mother approached him and said his work had affected her daughter so deeply, she went home and colored in the faces of all of her dolls with crayon.
Embarrassed, KHG began apologizing profusely for influencing the girl in the wrong way, but the woman stopped him.
"Her mom was like, 'No. I loved it. It was great to see that kind of creativity,'" he said. "The fact that it wasn't just scribble, it was carefully colored in; things like that really touch me. That's why I was like, 'Why am I keeping them away from the kids?'"
KHG said ultimately, his work is for anyone interested in having fun with it, no matter their age.
His pieces might be housed in an art gallery, but they're not meant to be kept behind glass.
"A lot of this is play," he said. "As much as it's art, it's play at the same time. They're meant to be played with; they're meant to be touched."
For more information on KHG's work, visit facebook.com/AllinKHG.
Print headline: Toyland terrors, Allin KHG's Muses for a Nightmare put a dark twist on childhood trinkets.