National Cowboy & Western Herita
Moose Hunting by Philip R. Goodwin (1882-1935), oil on canvas, circa 1930. Private Collection
February is a busy time for the National Cowboy & Western Heritage Museum. Four new exhibitions launched this month with subjects from neckties to weather. Each demonstrates how the American West affects life and art.
The National Cowboy & Western He
IMG 0767 Figure 33 Victor Cedarstaff (American). Bolo ties made by the artist for Sunset Trails, 1 3/8" height. Victor Cedarstaff designed bolo ties in the early 1950s. The ties are stamped inside the slide with either "Vic" or a stick figure man.
Fashion pieces
Native American Bolo Ties: Vintage and Contemporary Artistry celebrates the art and history of the bolo tie. The exhibition contains approximately 370 examples of an accessory whose origins range from Mexico to Alaska and differ in story and subject.
The exhibit is on loan from Heard Museum in Phoenix, Arizona. The majority of the show's ties were owned by collector and author Norman L. Sandfield, who amassed the collection over 10 years.
"This show really is two different shows in one. It's about the history, and it's about the art," Sandfield said.
While the true origin of the bolo tie is a bit murky, Sandfield's research indicates the neckpiece goes back to at least 1947 or 1948. As word-of-mouth and visual influence spread, popularity grew. By 1955, they were found in catalogues, television shows and movies.
Sandfield said the components from which the bolo tie is created tells of the tie's geographic origin.
"They may be popular here, but Southern Plains [Oklahoma and Texas] people are going to be doing more beading than silver. Silver is popular in the Southwest, Arizona, New Mexico, that area," Sandfield said. "You go down to the far end, you will see pieces from Alaska and the Northwest coast, and they are made out of whale bones, baleen, walrus ivory — different materials, completely different styles."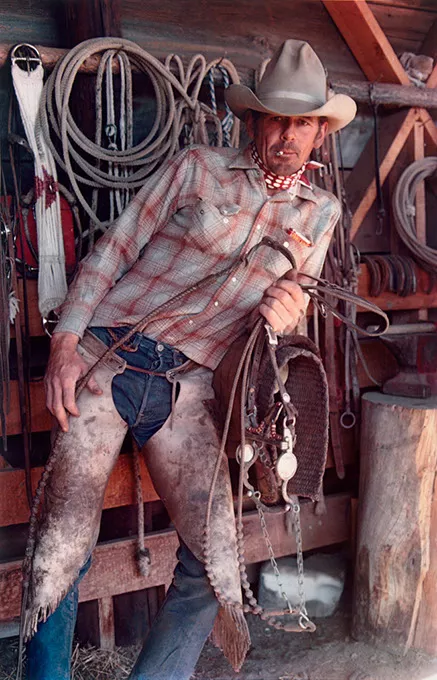 National Cowboy & Western Herita
NewEraScans Bank Langmore. ZX Ranch – Paisley, Oregon 1974 Dye Transfer print.
Everyday cowboys
The separate works of a father and son whose photos depict the daily life of cowboys can be compared and contrasted in The Cowboy Returns: Photographs by Bank and John Langmore.
The Cowboy, a 1975 book of photography by Bank Langmore, details the story of those who worked big outfit cattle ranches and is a landmark in the history of American West culture.
Rather than filling pages with stereotypes like riding into the sunset or showing off a sidepiece, Bank chronicled everyday tasks such as calving and livestock tending.
"I think his purpose was and would be the same as mine, was to authentically tell the story of the working cowboy," said son John about their photography goals. "Take them out of the overly romanticized view of their lifestyle and paint a meaningful, complete picture of who these people are and how they lived their lives."
Starting in 2012, John returned to some of the same big outfit ranches he visited with his father for earlier projects to document today's cowboys. The result is a traveling exhibition of 100 black-and-white and color photographs depicting cowboy life from 1974-75 and recent years from Mexico to Oregon.
Great outdoors
On Feb. 19, the museum also launched Philip R. Goodwin: America's Sporting & Wildlife Artist, A Private Collection. Born in 1881 in Norwich, Connecticut, Goodwin is considered one of America's premier illustrators of Western art.
Throughout his career, he created works for publications such as Harper's Magazine, Scribner's Magazine and The Saturday Evening Post. His work's primary focus was the great outdoors and what it offered, including hunting, fishing and camping.
Mike Leslie, museum assistant director, said the exhibition contains 80 works of art, plus examples of calendars, magazines and illustrations, and allows the viewer to see Goodwin's method of creation.
"Most of the works in the show are small studies, so not only will people get to see works that are reflective of a time and place about the great outdoors, but also for people who have just an interest in art," Leslie said. "They will get to see a process of how Goodwin thought through, designed composition and subject matter and created what he thought was the best overall narrative."
Western weather
Riding the Whirlwind: Weather in the West looks into how weather and the American West are interwoven.
"The exhibition is important for us because it looks at the West through a different lens," said Steven Karr, museum president. "Weather, in many respects, defines the American West."
The exhibit is comprised of multiple interactive stations demonstrating climate phenomena — such as microbursts, lightning and the water cycle — that occur in the West.
Also included are garb protecting cowboys from the elements and a weather station. The presenting sponsor for the exhibit, KFOR, donated a green screen and teleprompters, allowing visitors to present weather news.
The museum is open 10 a.m. to 5 p.m. daily at 1700 NE 63rd St.
Print Headline: American experience, The National Cowboy & Western Heritage Museum launches four distinctive exhibits this month.