Tracey Ng / provided
Kero Kero Bonito
Kero Kero Bonito are the good kind of weird, widely known for an upbeat and colorful combination of sounds that makes you want to throw on some neon, eat some glitter, and frolic through the nearest city street. Intertwining the likes of J-pop, punk, and video game samples, KKB focus is on positivity on their second album, Time 'n' Place.
Oklahoma Gazette
wanted to know what keeps them so damn happy all the time, so we went headfirst in asking the most basic and tasteful questions.
Oklahoma Gazette:
What does Kero Kero Bonito mean, and were there any other band names you guys considered when first establishing your sound?
Gus Lobban, drums and keyboards:
Oh wow! um. So, uh, the band name.. Sarah has a Japanese mother and a British father. She moved to England when she was thirteen. So, Kero is actually Japanese and Portuguese meaning "I want." Kero is a type of bird as well. And Bonito, well it's Japanese word for a type of fish they often use when cooking. It's kind of a global word, really."
OKG:
Sarah, you go back and forth between Japanese and English. Can everyone in the band speak Japanese? Can you tell me a little about your upbringing?
Sarah Midori Perry, vocals:
I'm the only one that speaks Japanese in the band. I grew up in Japan until thirteen, and um, it was just a part of my generation. I rapped in Japanese and sang in British. I think the reason I wanted to do that was due to identity confusion growing up. The cultures, you know, I just really wanted to find someone like me, someone to look up to, someone who had a similar experience. Everywhere I went, people saw me as a foreigner. What I wanted to do in the last album, by using those two languages, was that I wanted to show the world that you can be both. It's okay to be both (to come from more than one background). It's my way of being a rebel, really.
OKG:
Can you also tell me a little bit about radical positivity and your writing process as a positive lyricist? Do you choose to exert your energy elsewhere when you're feeling down? If so, what is that?
Perry:
All three of us have gone through personal things. our way of writing isn't just unicorns and rainbows — we've been through a lot. If you don't experience the dark, you don't know what light is.
OKG:
I love that.
Perry:
Yeah. I mean, it comes from us going through the darkness. We've been through the darkness, so we decide to be positive.
OKG:
So then who writes the lyrics?
Perry:
It depends on the song — it's a collaborative project. The Japanese is me, but the other stuff is a mixture of the band.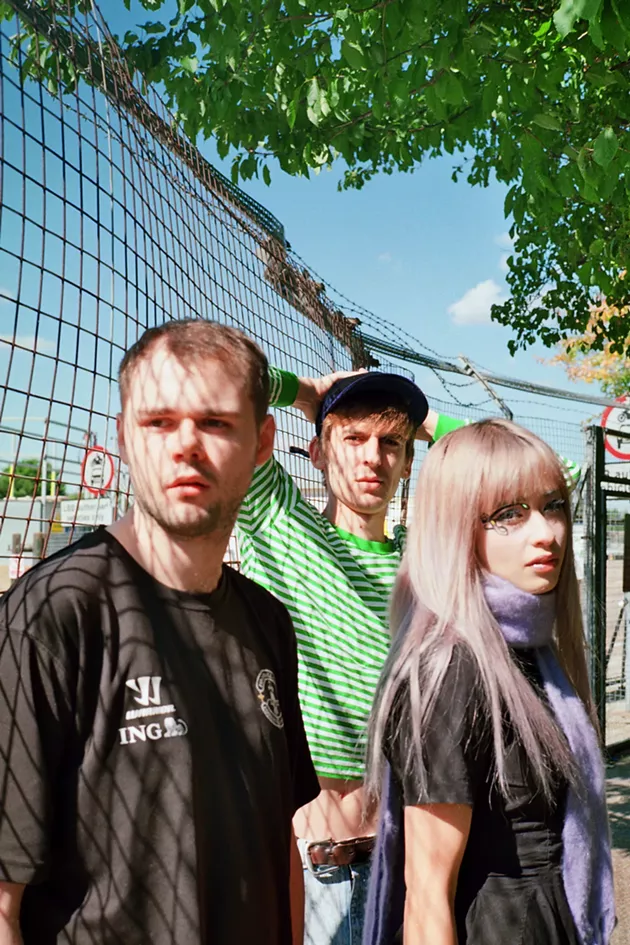 Tracey Ng / provided
Kero Kero Bonito
OKG:
When you think of happiness, what are the first three things that come to mind? For example, mine are sunlight, music, and vodka.
Perry:
Oh wow. Happiness? Rare. Should I pass on to someone else?
Lobban: Music. Nature. Brumley [England].
OKG:
When you think of touring, what are the first three words that come to mind?
Lobban:
Bus. Van. Road. Burgers.
OKG:
When you think of Donald Trump, what are the first three words that come to mind?
Jamie Bulled, bass and vocals:
Not. My. President. I mean, I am British, after all.
OKG:
I've read some interviews with KKB about combining the likes of J-Pop, Punk, and 90's video games. What are some video games and musicians that inspire you most?
Lobban:
Video games that inspire us? Yeah, definitely. The ones that we think about are the ones that we grew up with. EarthBound. It's genuinely artistic. It's had a real influence on KKB. Yeah yeah yeah. The game has got this really crazy, surreal, interpretation of American culture from a Japanese perspective. The soundtrack is crazy, postmodern. It's, like, really abstract.
OKG:
It'd be so fun to have that job, just to make sounds for video games.
Lobban:
I'd love to do that. I'd love to do that for a game where I can do something ... weird.
OKG:
If Kero Kero Bonito had one chance to headline tour with any band in the world, living or dead, who would it be?
Bulled:
Prince. He's got to support us though, obviously.
Lobban:
well, I mean we've already got Frankie Cosmos. It's a dream come true!
OKG:
If you could give one piece of advice to a child who wants to become a touring musician, what would it be?
Lobban:
Oh my god. I would say know what you stand for. That's what I would say. Know what you, as an artist, stand for.
Bulled:
Get a tour manager. Make sure it's all organized properly.
Perry:
Wow, that's so hard. My answer is simply ... enjoy it. And bring friends!
Kero Kero Bonito song recommendations: "
Only Acting
," "
Flamingo
," "
Break
," "
Trampoline
"