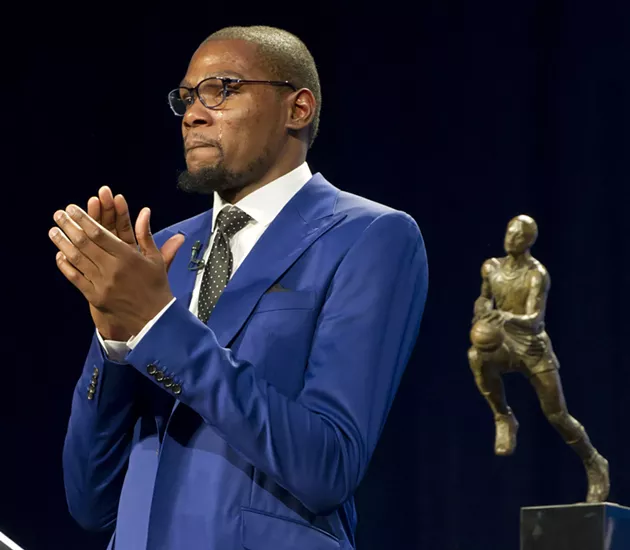 Kevin Durant accepted the NBA's MVP award.
Kevin Durant was already a global sports star. However, the announcement of his first National Basketball Association (NBA) Most Valuable Player award on Tuesday solidified his status as a sports icon that has not only fueled the Oklahoma City Thunder but has also helped put our city on the map.

"Having an athlete like Kevin Durant playing in our city only makes our job easier," said Tim Brassfield, executive director of Oklahoma City All Sports Association, which works to bring professional and amateur sporting events to the city.

"I think the Thunder have helped us move at a quicker pace in becoming a [global city]," Brassfield added. "Durant is a big part of that."

Durant's presence on the team has helped OKC buck the norm of relocated franchises wading through years of losing before building a winner. Almost from the very beginning, the Thunder has been a premiere NBA team bringing global attention to the metro area. "Kevin's importance to our community has grown along with his basketball career," said OKC Mayor Mick Cornett.

Durant, who is regularly thought of as the league's second-best player — after LeBron James — finally captured the league's top individual award after finishing second in voting three times before.

During a ceremony to present him with the MVP award on Tuesday, Durant took time to thank his teammates and coaching staff. He also reflected on his upbringing and how he never dreamed about making it to the NBA.

"It felt like it was a box. There was no getting out," Durant said about his childhood growing up in poverty outside Washington, D.C. "I never thought I could make it to college, the NBA or make it here today."

Durant's on-the-court accomplishments are historic. By winning the league's scoring title this year for the fourth time in five years, Durant joined Wilt Chamberlain, George Gervin and Michael Jordan as the only other player to reach that feat.

Durant also scored at least 25 points in 41 consecutive games this season, which is the third longest streak in NBA history.

While KD's statistics have made him one of the game's greatest players, it has also helped bring attention to OKC, which is the sixth smallest market in the United States to be home to one of the main four professional sports leagues (MLB, NFL, NHL and NBA).

Durant has endorsement deals with global brands like Nike and Gatorade and, in 2012, was ranked No. 14 on Sports Pro Media's list of the top 50 most marketable athletes in the world. Also, his jersey was the second highest in sales this season, according to NBAStore.com.

Durant might be a sports superstar, but those around him say he carries himself like someone from middle America.

"It's really refreshing that this award was given to Kevin just through him doing his work and committing to the things that are most important to the team," said Sam Presti, general manager of the Thunder. "I don't think it could have been earned any more purely."

Thunder head coach Scott Brooks was also quick to praise Durant's work ethic and humility on Tuesday.
"He does it with such a pure heart," Brooks said. "He gives everything to his team. He gives everything to his community. What you see is what you get. He is as humble a superstar that you will ever run across."

Durant displayed that humility on Tuesday as he spent the bulk of his speech at the ceremony talking about his teammates, coaches and family.

Durant also praised the city.

"This city, all they want us to be is ourselves," Durant said. "You love us for who we are. I thank you so much for embracing us."

Durant also said he was proud to play in a community that seems to embody fighting through adversity.

"There are so many things that try to bring us down here in Oklahoma," said Durant, referring to the state's history with natural disasters and terrorism. "We finish second, but we keep fighting until we finish first. This is the perfect place [for me]."