Update 8/11/2017: The date of Cat Video Festival has changed from Saturday to Aug. 16 due to Oklahoma weather.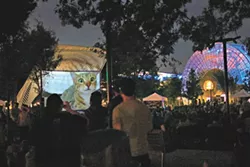 provided
Internet Cat Video Festival on the Great Lawn of the Myriad Botanical Gardens.
Cat videos have been done a great disservice. The delightful clips of felines in all manner of attitudes, poses and behaviors are usually viewed on a smartphone or a computer screen and perhaps even alone.
Fortunately, there is an alternative; one that conveys the true majesty of these domesticated animals.
Cat Video Festival returns 7:30-11 p.m. Aug. 16 to Myriad Botanical Gardens, 301 W. Reno Ave. It's held on the Great Lawn, and admission is free. Visitors are encouraged to bring their own lawn chairs or picnic blankets.
Alternative rock act Jenkins Valley performs 7:30-8:30 p.m., and videos run 9-11 p.m. Other paid events that night include Wine & Palette painting with a selection of multiple cat-themed options, face painting by Kaleidoscope Arts and "cattoos," a feline-related riff on the traditional temporary body art.
Visitors can also purchase dinner or a late-night snack from food trucks, including The Hall's Pizza Kitchen, The Healthy Hippo, Cutie Pies Concession, The Brown's Kitchen OKC, Parking Lot Party (PLP) Food Truck, Katiebug's Shaved Ice and Hot Chocolate, Fresh Ice and Pitchfork in the Park and drinks from Holloway Restaurant Group.
Walker Art Center in Minneapolis hosted the now-beloved Internet Cat Video Festival in 2012 but halted its events after 2015. However, support for the OKC fest has remained strong.
"We just didn't even know if it was going to be on the calendar this year," said Leslie Spears, Myriad Botanical Gardens marketing and public relations director. "I would like to see us always have it on the calendar. I'm a big proponent of this event."
It's not often that thousands of cat lovers descend upon a public park to celebrate their felines.
"It's an amazing crowd," Spears said. "It's people that have cats; it's people that don't have cats."
Another way mouser enthusiasts show support is by sporting cat-themed T-shirts and wearing kitten ears. Spears said the event also includes a "cat language" common to feline fans. Rife with puns like "Caturday," "catitude" and "claw-some!" the festival highlights the unique playfulness of kitty culture.
The 75-minute collection of curated cat videos is the product of submissions from pet owners and lovers.
"It's really well produced," Spears said of the film, which she said ranges in tone from humorous to artistic.
A popular element this year is Snapchat filters transposed onto cats.
Featuring different "cat-egories" and animation, the collection takes the experience of cute cat videos to a new level in a context unique to the event. Spears said that cat owners should watch for next year's deadline if they want a video to be considered for the 2018 event.
Cat Video Fest features a photo contest via a Facebook campaign. Pet owners can submit photos until Thursday. Contest winners will be determined by the most Facebook votes as well as a sponsor's pick and a Myriad Botanical Gardens' pick.
The festival also celebrates real-life OKC cats that still need forever homes. Oklahoma City Animal Welfare hosts a pet adoption. Visitors can stop by and bring some of the joy home with them.
"Cat people unite for one night," Spears said.
Visit myriadgardens.com.
Print headline: New Cat-itude, Myriad Botanical Gardens brings Cat Video Festival back for a night of food and purrfectly funny clips.