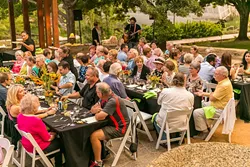 Imagine dining under an Oklahoma sunset in a setting somehow more beautiful than the sunset itself.
Picasso Cafe's chef Ryan Parrott prepares a vegetarian dinner 7-9 p.m. July 28 as part of Myriad Botanical Gardens' third summer hosting its Outdoor Dining Series at 301 W. Reno Ave.
"We have more of an upscale dinner, and we do it in our Meinders Garden Terrace, so it's outdoors normally unless it's just incredibly hot; then sometimes we'll move it inside," said Ashley Elkins, director of public events.
Each year, Myriad Gardens works with local chefs to create delicious meals for attendees. In the past, the series has included barbecues, farm-to-table dinners and even meals made only with Oklahoma foods.
"Last year, we did an outdoor series for the whole summer starting in May and ending in September," Elkins said. "This year, we scaled it back a little more like the first year, where we just did three outside. I think last year was too overwhelming."
One of the two remaining summer events brings in Kamala Gamble of Kam's Kookery, who prepares farm-to-table meals. Another features Dustin Dunaway of C2 Catering, who will present smoked meats.
Admission for the July 28 event is $65-$75.
"[Chefs] come in and prepare meals, we charge a fee and everyone gets to enjoy a nice dinner outside in the gardens," Elkins said.
Each chef determines their menu, which is one aspect that makes each dinner unique and draws diners to the series.
Parrott's Outdoor Dining Series: Summer Vegetarian Dinner event menu includes King Oyster mushroom scallops made with kale pine nut risotto, charred scallions, pickled radishes and aged balsamic vinegar; heirloom tomato-asiago bisque featuring truffled eggplant frites and basil oil; panzanella made with Artisan bread, burrata and roasted bell peppers; spaghettini with pistachios, dill, charred tomato; and goat cheese and saffron panna cotta featuring brandy poached peaches, lavender roasted fig and honey cardamom fluid gel.
The meal also includes wine provided through a donation from the Arnall Family Foundation.
"I think it's going to be really popular since we have so many people that sign up for the dinner and then they're like, 'I'm a vegetarian, so I can't eat certain foods,'" Elkins said.
The Outdoor Dining Series also raises funds needed to help keep Myriad Botanical Gardens operating.
"A lot of people don't realize that the gardens are a nonprofit organization, so almost all of the events that we do are a way to actually bring in funds to the garden to help sustain and keep us open," Elkins said. "We also do it because our mission as a nonprofit is to activate the gardens and create a space where people can come and enjoy it."
Another goal of the Outdoor Dining Series is to draw in people who might not have experienced the gardens before.
Seating is limited. Diners must be at least 21 years old to attend and must register by July 27.
Visit myriadgardens.org.
Print Headline: Al fresco feast, Myriad Botanical Gardens' Outdoor Dining Series gets fresh with its Summer Vegetarian Dinner prepared by chef Ryan Parrott.