Jacob Threadgill
Joe and Rebecca Sparks, along with chef Benjamin Spears, are the driving forces behind Legend's.
The hand-built wooden wine cases overlooking the dining room at Legend's Restaurant in Norman are remnants of Oklahoma's archaic liquor laws. They are converted liquor lockers from the days when bottle clubs were needed to get around the state's liquor-by-the-drink ban until 1985.
The cabinets are surrounded by wrought-iron railings and chandeliers rescued from the Huckins Hotel, which briefly served as the state Capitol in Oklahoma City before being lost to urban renewal in 1968.
Much like its menu, the décor inside Legend's, 1313 W. Lindsey St., has modern conventions standing next to living history. As Legend's celebrates its 50th anniversary later this year, owner Joe Sparks has watched his restaurant grow with Norman.
"When I first came here, there was nothing on the other side of Interstate 35; now, it's a city over there," Sparks said, noting that as University of Oklahoma has grown, department recruitment often happens in Legend's dining room. "When we first started, that all happened at people's homes. Several university presidents have been hired right here, and a lot of professors and department heads. There are a lot of deals done in here. Not that we take credit, but we get to observe."
Making a Legend
It's a tradition that traces its influence back to former OU President John Herbert Hollomon, who was an original shareholder in Legend's. Sparks became the sole owner by 1981. Sparks arrived in Norman after finishing a tour of duty as commander of a U.S. Army missile unit in Germany, where he was also in charge of the mess hall. Sparks accepted a job with U.S. Steel in Pittsburgh, Pennsylvania, but an Army friend convinced him to check out Norman first.
"I had done four years in an all-male college, and then I did two years in Germany in the middle of a wheat field with nothing but army troops for companionship. It was most fun to be immersed in co-ed society," Sparks said with a smile.
He arrived shortly after Legend's began as a pizza and sandwich delivery shop for Norman's South Navy base, and just a few months after it relocated to its current location on Lindsey Street. Legend's got rid of paper plates and became one of Norman's first fine dining establishments at a time when fine dining was limited even in Oklahoma City. In the early '70s, the Steak and Ale chain came to OKC.
"It was the first upscale chain restaurant, and then everything chain exploded," Joe Sparks said. "In the last [five to seven years,] there has been an explosion of very high-quality independent restaurants. Oklahoma City was a culinary wasteland for a long time."
He met his wife Rebecca at Legend's; she began as a waitress and is now executive chef and general manager of the restaurant.
"We clash every once in awhile over little things, but we love working together," Rebecca Sparks said. "Legend's is like a toddler that never grows up. It always needs watching and babysitting. There is always something wrong in a 50-year-old building. It is like a living being or organism."
Over the decades, Legend's has employed thousands of Oklahomans, including many in the food and beverage industry, business leaders and even a former waiter who became an ambassador under Secretary of State Madeleine Albright, Joe Sparks said.
"We run this as a small family business and don't ever want to get out of it," Rebecca Sparks said. "We never want to open another Legend's somewhere because what we have here is that the people are on board and they feel like they own it."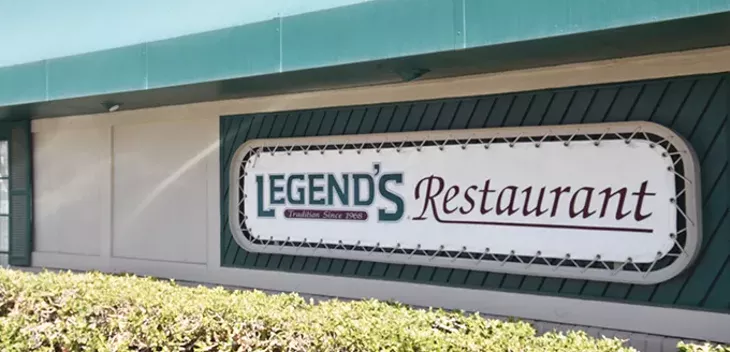 Jacob Threadgill
Legend's is located at 1313 W. Lindsey St. in Norman.
Food time capsule
Rebecca Sparks and head chef Benjamin Spears find themselves in a balancing act. They have to pay homage to the restaurant's history while also giving diners new options. Standards like chicken crêpes, chicken salad made with water chestnuts, candied ginger, and curried soy sauce marinade are examples of popular dishes that can never be removed from the menu.
"We would've loved to discontinue the salad bar 20 years ago, but we have customers who won't let us," Rebecca Sparks said. "There are a lot of things that seem old-school, but to pull them off [the menu] is to cause a riot in Norman."
Spears creates a seasonal menu four times a year, and the latest spring menu features tomato fondue, tomato risotto, smoked duck breast, brown butter sauces and even a red chimichurri sauce. Popular seasonal items rotate on the full-time menu with quite frequency, like the recent addition of Filipino chicken adobo.
"We do international food because we feature every region of the world," Spears said. "Our classical menu features items that have been perfected over the years and consistently asked for."
Legend's has been featured in national publications like Southern Living and Bon Appetit for its lemon cake, chocolate mousse and daily varieties of cobbler and bread pudding. Everything is made daily from scratch, including soups.
Rebecca Sparks arrived at Legend's in 1979 and worked through the state's oil boom of the first part of the decade.
"The place would be packed with guys handing out $100 tips, and everyone was flush. It was great until it wasn't there anymore," Rebecca Sparks said.
"Everyone clawed their way through the second half of the '80s," Joe Sparks said of the oil bust, noting that all but one Norman bank closed during that time.
Legend's recently endured a three-year stretch of Lindsey Street construction that slowed business somewhat, but thanks to loyal customers, it came out the other end focused on remaining open another 50 years.
"It might have to be someone else managing by then, but we hope so," Joe Sparks said.
Visit legendsrestaurant.com.