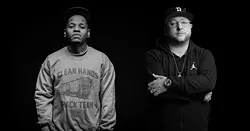 Boston-born DJ and hip-hop producer Statik Selektah, like most other people in rap music's highest echelon, does not keep Oklahoma's local scene on his radar. For Jabee, however, he makes an exception.
"I really respect the hustle [from Jabee] coming out of Oklahoma City, where I can't even name anyone else from there," Selektah, born Patrick Baril, said in a recent Oklahoma Gazette phone interview. "It must have been hard for him to break out that way, but he's made a name for himself nationally."
Selektah performs during the Oklahoma City rapper and community activist's birthday celebration 7-11 p.m. Aug. 11 at Tower Theatre, 425 NW 23rd St. The show lineup also includes DJ Keilo, DJ Reaper and experimental hip-hop and rock band Flock of Pigs.
The event is part of the weeklong JabeePalooza celebration Aug. 9-13 that includes a series of concerts and special events at local venues. (Visit facebook.com/jabeemusic for more information.)
Selektah is known as one of hip-hop's most talented producers and a serial collaborator, having ties to artists in both the rap underground and radio elite. He also hosts the weekly ShowOff Radio show on Sirius XM Satellite Radio's Shade 45.
His production can be heard on Jabee's tune "Exhausted" on the 2016 album Black Future. Though Oklahoma might not enter his music consciousness very often, the Tower Theatre show marks the second time Selektah has performed in the state.
His first visit was in 2008 at Southwestern Oklahoma State University in Weatherford as part of a national tour promoting the video game Major League Baseball 2K8. He said what he remembers most about his earlier visit here was the sale of low-point beer.
"Yeah, that was hilarious," he said.
He said his advice for rappers and producers in Oklahoma is to learn from Jabee's blueprint. He said networking is key — both locally and with national recording industry professionals.
"Invest in yourself," he said. "You got to spend a little money and go out to different festivals. Align yourself with some names that are already out there, whether it's a producer or another artist."
He is signed to Roc Nation, the record label owned by New York hip-hop mogul Jay-Z. Selektah's new studio album, Eight, is planned for a late September or early October release. Its first single, "Man of the Hour," was released in July and features rappers 2 Chainz and Wiz Khalifa. A collaborative album with 2 Chainz is also scheduled for release later this year.
Selektah's albums are usually grand conglomerations of rap talent. His last album, 2015's Lucky 7, featured guest vocalists from Action Bronson, Joey Bada$$, Big K.R.I.T., Bun B and more.
The producer said his studio album approach grew out of his experience creating mixtapes as a radio DJ.
"I reach out to people I'm cool with and put together combinations that you don't usually hear," he said.
Selektah said fans who come to see his collaborative set with Jabee can enjoy a unique musical experience.
"I got a lot of ideas and a lot of exclusive mixes that I'm going to do there," he said. "It's going to be dope."
Print headline: Sparks fly, Statik Selektah makes a rare Sooner State appearance for Jabee's birthday celebration.