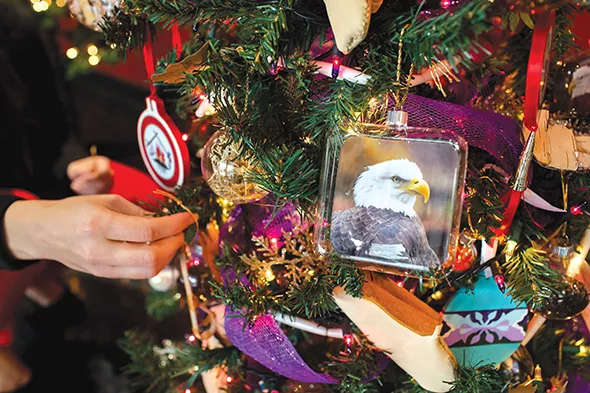 provided
Red Earth Treefest showcases tribal culture through individual Christmas trees.
Shining bright with the holiday spirit, Red Earth Art Center welcomes visitors to join them for Treefest, a gleaming display of 23 Christmas trees decorated with handcrafted ornaments representing Native American cultures from across the state.
Unlike holiday events that often take a more conventional approach in bringing people together for the holidays, Treefest features handmade ornaments from 19 Oklahoma tribes showcasing the traditional customs integral to their way of life.
"Everybody loves Christmas trees, and everybody loves Christmas ornaments," said Eric Oesch, Red Earth Art Center co-director. "Each of the trees are so different, and it reflects how each of our tribes are different."
A few years after the transition to Red Earth's new gallery space, Oesch and his colleagues thought to create an event tailored to the holiday season. Inspired by the Holiday Treefest housed in its former location, now Oklahoma City Museum of Science, the Red Earth team decided to put a unique spin on an old holiday favorite.
What used to be a display of trees paying homage to the vast array of countries essential in their contribution to the statewide melting pot quickly transformed into a spectacle expressing the range of native cultures that weave "the fabric of our state," Oesch said.
"We're not a bit ashamed to say we took a great idea," he admitted. "We just gave it a new name and called it Red Earth Treefest."
Four years after its debut, the festival is still going strong. Last year, the art center had over 2,000 visitors walk through its doors, feasting their eyes on the spectacle of trees that stood before them. They expect an even greater attendance in 2018.
However, the event doesn't operate for the sole purpose of entertainment. Red Earth hopes the experience will be as educational as it is dazzling. Drawing in crowds from across the nation, Oklahoma City offers an abundance of Christmas events for travelers and their families, many in search of an authentic experience only Red Earth Treefest can offer.
Oesch recounts the times visitors have entered expecting to find the archetypal Native American or, as he puts it, the Hollywood representation that doesn't necessarily hold true for all tribes.
"We have people come in here all the time that go 'Where can we go to see the Indians that live in the teepees?' or 'Where can we go to meet a real Indian?'" he said. "Well, chances are half the people that you've met while you've been here have some type of Indian heritage, whether they have blue eyes or brown eyes, because Native culture is so prominent in our state."
A friendly host happy to educate his audience on the reality of Oklahoma-based tribes, Oesch feels the trees act as an easy and intriguing way to tell their stories. All people have to do is slow down and enjoy.
"[The audience] could learn about the culture without really even having to try — by just looking at the ornaments on the trees," Oesch said.
According to Oesch, both Indian and non-Indian viewers alike will often take time to stare at the trees and reminisce, conveying an obvious sense of authentic appreciation.
Those hoping for a warm Christmas sight aren't the only ones who appreciate the event. Members of the participating tribes also come to see the trees symbolizing their heritage.
"Some of these tribes, they're just so proud to say, 'Here we are. We're here today, and we're not just a faded memory,'" he said. "'We're here, and our Christmas tree proves it.'"
Anticipating the event to come, many tribes will begin working on their ornaments as early as July or August. For them, the idea is to put on a quality display of aesthetic appeal that serves as an honest representation of their culture.
Each participant is given a tree that acts a blank canvas for their creative adornments. Sometimes the ornaments will be recycled from the year before, while at other times the display might be entirely different from the ones in the past.
"They go to town on decorating the tree," Oesch said. "We never know what to expect, but every year, it turns out real pretty."
Most of the tribes featured are originally from other regions across the United States, moving to Oklahoma after their relocation was mandated in the 1800s. Each of these tribes — like the Delaware Tribe of Indians, who originated in New York City; the Seminole Nation from the Florida Everglades; and Citizen Potawatomi Nation from the Great Lakes territory — bring to the table a rich collection of ornaments bound to the historical roots of their ancestral traditions.
For example, Citizen Potawatomi Nation reflects on its Great Lakes origins with birch bark canoes that hang from the branches and glass ornaments filled with ceremonial plant material like cedar, sage and tobacco. They've even added decorations with pictures of eagles they've rescued at their aviary.
Also hailing from the Great Lakes region originally, the Sac and Fox Nation took a somewhat different albeit unique approach, opting to cover their tree with sock monkeys donned in their native regalia.
Though other tribes who have been in Oklahoma for hundreds of years might offer a more familiar display, that's not to say their work is any less interesting. Take, for example, the Comanche Nation, which took extreme care and diligence with its intricate beadwork and tree-topper made of eagle feathers.
"What we're able to showcase," Oesch said, "is how diverse our Oklahoma Indian heritage is, and it's reflected by how diverse each of the Christmas trees are that are featured at Red Earth Art Center."
Each tree may contain either a few big ornaments or up to a couple hundred smaller pieces contributing to a grand total of roughly 2,000 decorations. In addition to the 19 tribal trees, Red Dirt will have four other trees filled with items available for purchase. The funds will be split between the art center and the tribes who designed them.
For those planning to set their sights on the alluring demonstrations the festival has to offer, it might be worth looking into the Stay & Play in OKC Holiday Getaway Package, which gives a discounted rate on a room at the Wyndham Garden Hotel, 15 percent off Oklahoma City Ballet's The Nutcracker when purchased in advance and 20 percent off a group ticket package to The Christmas Show presented by Oklahoma City Philharmonic.
"Oklahoma City is kind of a mecca for Christmas activities," Oesch said. "Our hope is that we can get people from other places to come into Oklahoma City to spend a night or two and take advantage of all the holiday offerings that are here in town."
Those interested in Treefest can visit Red Earth Art Center located at 6 Santa Fe Plaza in Oklahoma City. The exhibit is open 10 a.m.–5 p.m. weekdays.
Visit redearth.org.