In a city in which community forums to plan neighborhood business and community development result in standing-room-only crowds, few things excite the locals more than the promise of what the future holds.
"You can't make people care about their community, and you can't force people to look ahead in the future, but that's what we have here in Oklahoma City," said Aubrey Hammontree, the city's planning director, who said her job is made easier because of the excitement citizens have for planning for the future.
Wheeler District
When planners were in town this summer to help with the creation of the new Wheeler District development southwest of downtown, many said record-breaking numbers of people attended forums to discuss what the area should look like.
Planning sessions like those for the Wheeler District, block parties like Open Streets OKC and Better Block OKC and online forums such as OKCTalk, which includes dozens of chat threads on new development around town, are popular here in ways not seen elsewhere.
"This is a special time because of what's going on in Oklahoma City," Hammontree said. "And because people care."
Excitement in the future is all about realizing what has been done in the past, Hammontree said. It's easier to anticipate a redevelopment plan or new building after witnessing the success of similar projects in other areas of the city.
"People have seen what it can look like when we invest in ourselves," Hammontree said.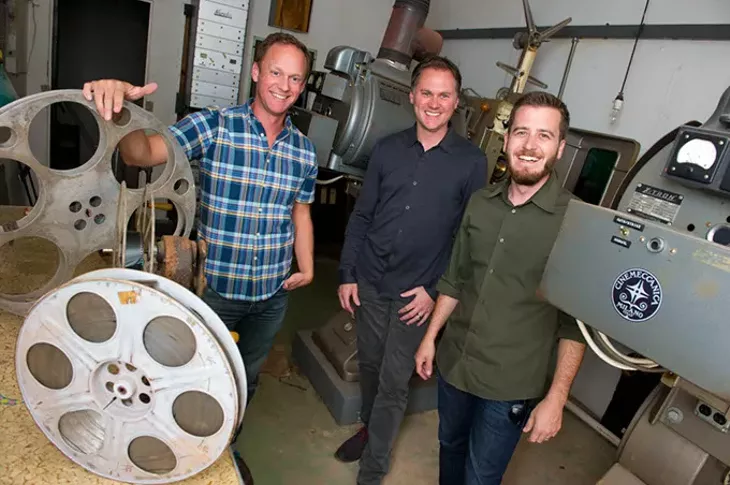 Shannon Cornman
From left, Ben Sellers, Jonathon Dodson, and David Wanzer stand in the old projector room above the balcony in the Tower Theater.Photo/Shannon Cornman
Tower Theatre
For example, the excitement created this month when new owners emerged for the vacant Tower Theatre on 23rd Street might have been nonexistent without prior positive growth experiences in the surrounding neighborhood.
Owners David Wanzer, Ben Sellers and Jonathan Dodson plan to turn the historic building into a mixed-use development, which includes the restoration of the old theater.
All three say they have witnessed not only what the passion for development means for citizens, but how it can help when it comes to securing financing.
"There is a good group of bankers here who understand the urban community," Wanzer said.
Development
Dodson said the exodus by many residents and developers to the suburbs 20 years ago has created a vacuum that allows a new generation to come in with new ideas and plans.
"You don't see this in every city," Dodson said.
Dodson, who has helped secure funding for many urban renewal projects in OKC, said the excitement citizens have for new development can help just as much as strong traffic counts in retail studies.
"If I have an immediate connection to a neighborhood, I am going to fight [for it]," Dodson said. "People really care because they realize this stuff actually matters."
Another unique aspect of OKC might be how smaller projects, like the Tower Theatre, create more buzz than large-scale development, such as the announcement of a new skyscraper.
"[People] feel more of a connectivity to these smaller projects that fill in the gaps of the urban fabric, and they can relate to a smaller scale project because it's their community," Wanzer said.
Momentum
In addition to the coming redevelopment of the Tower Theatre, other street-level projects in the works include The Rise, a mixed-use development a few from blocks from the theater on 23rd Street. There is also the Main Street Arcade (another Wanzer project), the Mideke Building restoration in Bricktown and a new restaurant and office building in the Paseo Arts District.
There are also larger projects, such as three or four new apartment and hotel buildings at over 20 stories downtown, at the site of the old Stage Center theater.
In his office at City Hall, Brent Bryant, OKC's economic development program manager, has a satellite photo of downtown OKC on his wall. It's only two years old, but it's already out of date.
"This is there now, and this is also here," Bryant says pointing out vacant lots or old buildings on the map that are now home to new developments. "Then you have this going in over here."
OKC's continued revival has been well documented, but as the number of new buildings and renovation projects increases, so does the excitement from city planners, developers and residents for what the future holds.
"This is really exciting stuff," Bryant said. "So much is changing."
print headline: Buzzworthy, Neighborhood business developments, including Tower Theatre, gain momentum quickly in OKC, and many credit its residents.